If you've never worked in the service industry, you should not be allowed into a restaurant, if you ask me. Spend a day behind the counter or waiting tables and your perspective on what you're owed as a customer will completely shift.
It's unclear if this woman who returned her sandwich a a New South Wales club has ever worked in a restaurant, or if she has and is seeking some sort of cathartic revenge by punishing other employees. ABC reports that the Corowa RSL Club posted a picture of the scorned sandwich to social media and it's created a fervor online.
She was apparently unhappy because the sandwich was cut in half per her request, but not EXACTLY in half. And dang, she was right:
The management took out a ruler and measured and the cut is 5mm off. They posted another view to LinkedIn: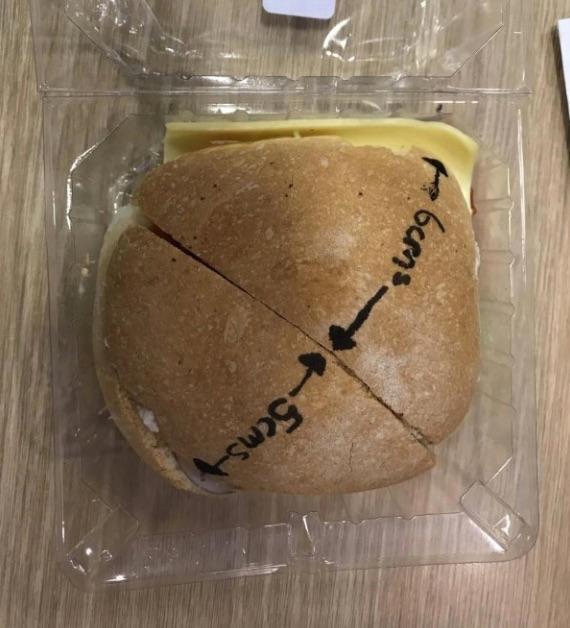 CEO Peter Norris captioned it:
"In Clubland we do see some strange customer complaints. This roll was returned today because it was not cut in "half" as requested by the customer. While it was quickly dismissed as funny, further investigation revealed the customer was in fact correct and we were a full cm off the perfect cut! Only in Clubs 😂😂😂"
Well, at least they have a sense of humor about it!
Folks in the comments are raging at the world and laughing at a sandwich:
"It was a bingo lady, in her eighties," Norris told ABC."Kelsey, who works in our cafe, passed it on to our duty manager who passed it on to me."
Though they would have given her a refund, all the woman wanted was for her sandwich to be remade. And cut properly this time.
The club doesn't seem mad, and is enjoying the attention. Loyal customers are referring to the story as "roll-gate."
"Our customers have been coming in saying, 'no, we're not going to pick on you for such little stuff'," said Norris.

If someone is this wild about the cut of their sandwich, they probably need all the help they can get.