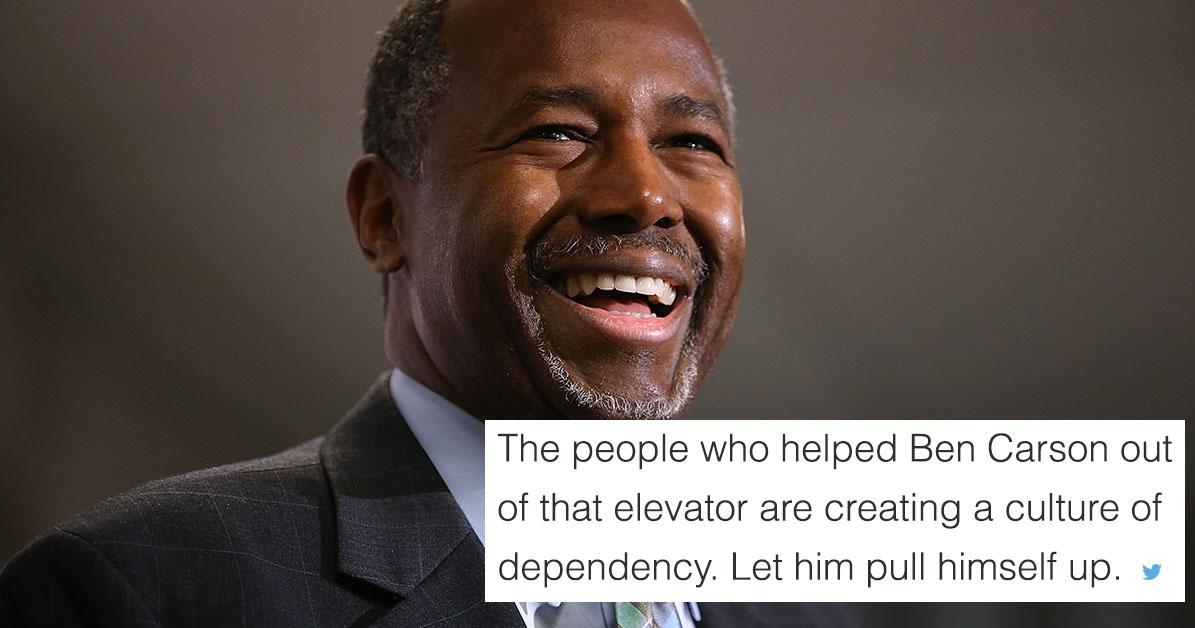 Ben Carson Trapped Inside, Then Rescued From Miami Elevator
By Mark Pygas
As if the current administration didn't already have enough problems, secretary of Housing and Urban Development Ben Carson spent the better part of half an hour stuck in an elevator this morning. This all took place at the Overtown public housing complex in Miami, where Carson was set to meet former NBA star Alonzo Mourning to discuss low-income housing.
Mourning was supposed to meet Carson on the ground floor, and had to spend half an hour waiting as firefighters attempted to free Carson and his wife. And he didn't look super pleased...
Carson was eventually freed, much to the jubilation of Mourning.
He still looked pretty mad, though.
Unsurprisingly, Twitter found the whole thing a little more amusing.
That elevator is a true American hero if you ask me.

Ben Carson was born in Detroit, Michigan, on September 18, 1951. While Carson grew up poor, his mother pushed her sons into education and Carson soon recieved academic honors and eventually attended medical school. Carson became director of pediatric neurosurgery at Johns Hopkins Hospital at age 33, earning fame for his work sepreating conjoined twins.
He retired from medicine in 2013, and entered politics, making a bid to become the Republican candidate for U.S. president. After struggling in the primaries, Carson dropped out of the race in March 2016, endorsing fellow Republican Donald Trump.
After Trump's victory, Carson became the secretary of the Department of Housing and Urban Development.