Pat McAfee Just Poured Gasoline on His Fiery Feud With Adam Cole
The 'NXT' beef between Adam Cole and Pat McAfee was developed further when the former NFL punter kicked Cole. But is it legit? Details!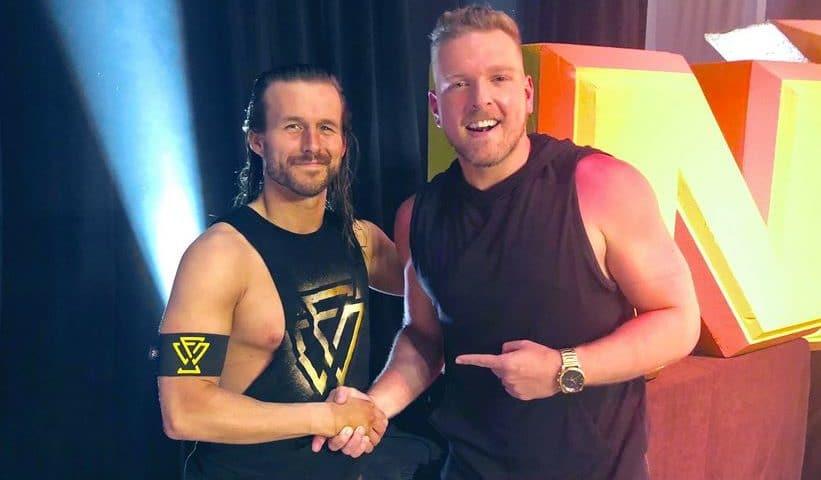 As a former NFL punter, Pat McAfee doesn't initially seem like the first pick anyone would select for prospective WWE talent. However, the athlete turned podcaster turned WWE announcer has been a tremendous fit for the organization in his role on NXT, so much so that the writers have given him a rivalry with superstar Adam Cole. And on the Aug. 5 episode of NXT, the beef between Pat McAfee and Cole just got bigger.
Article continues below advertisement
Triple H tried to quell the animosity between Adam Cole and Pat McAfee.
"The Game" had appeared on "The Pat McAfee Show" in an attempt to apologize on Cole's behalf and squash any beef that the men may have. This led many WWE fans asking whether or not the harsh feelings between the two men were real. This, in my opinion, is when pro-wrestling is at its finest and it's something the WWE has been doing well as of late, blurring the lines between WWE drama and breaking the fourth wall.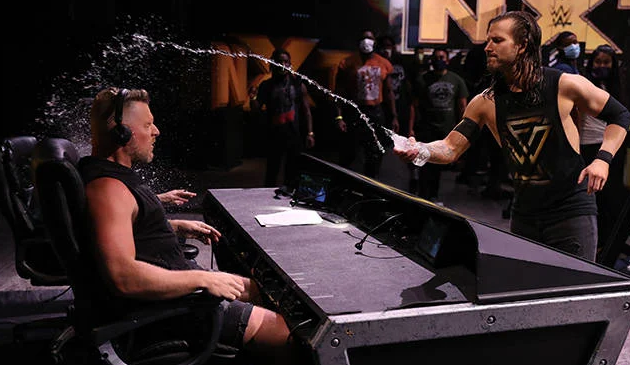 Article continues below advertisement
We've seen this kind of blurring-the-lines-of-kayfabe-and-reality behavior when Finn Balor was complaining about having to sign WWE DVDs while on his honeymoon. It was actually a brilliant marketing tactic... or was it? Was Finn really just teeing off on the organization? Or maybe it's a little bit of both?
That's what made the "beef" between Adam Cole and Pat McAfee so intriguing.
So do Pat McAfee and Adam Cole really have beef with each other on 'NXT'?
It's understandable that a WWE superstar would have a problem with someone who already has some name recognition in the NFL to easily "crossover" to professional wrestling without having to make his bones, so to speak. Most high-level talent in the WWE would talk about the early days of grinding it out on local promotions and eating a couple of cans a tuna fish a day just to make ends meet.
Article continues below advertisement
Edge and Christian, after being signed with the WWE, discussed how they'd drive hundreds of miles to wrestle in a barn somewhere with their appearance fees barely covering the cost of gas to get to the venue. So it could be that someone who dedicated their life to pro-wrestling, like Cole, would have a problem with the former NFL punter. Plus, it's not like punters really get that much respect when it comes to football players, anyway.
Article continues below advertisement
Whatever Pat and Adam's true feelings between one another are, it looks like the WWE's writing team is definitely turning their "beef" into a storyline. On the Aug. 5 episode of NXT, the show was closed out with Pat delivering a doozy of a punt to Adam Cole's face that knocked the wrestler unconscious.
Article continues below advertisement
Their beef has been one that's been fomenting for a couple of years. Fans will recall a moment during a NXT show where Pat took a steel chair from out of Adam's hands that he was going to use to end a match. After Adam was distracted by Pat's interference, his opponent landed a kick to his face and ended the match.
Article continues below advertisement
The two have a documented history of on-and-off animosity that finally came to a head when Pat called Adam a "little b---h" on NXT and then finally delivered a kick to his face while several officials held Cole back. The superstar slumped to the ground, apparently completely unconscious as Pat was pushed away and admonished for his behavior as he continued to talk smack.
Expect the rivalry between these two men to only grow in the upcoming weeks.