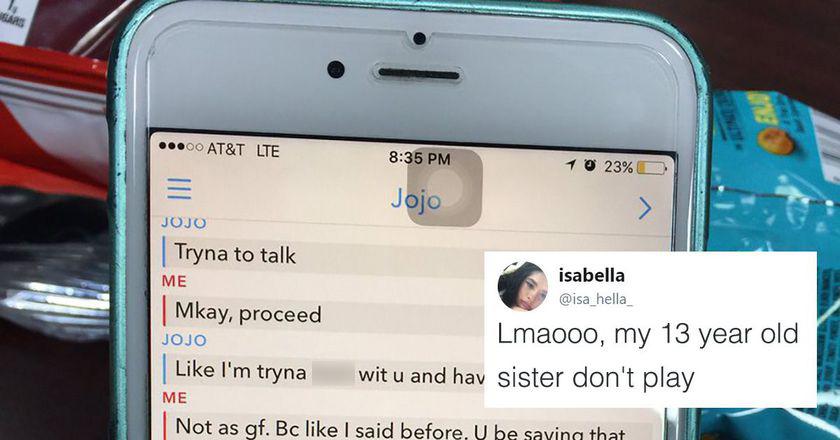 13-Year-Old Girl Brutally Turns Down Boy And Twitter Has A New Hero
By Mark Pygas
Remember those lame dudes who pretended to be "pick-up" artists, but looked like they weren't even capable of picking their own dog's poo off the sidewalk let alone someone at a bar? There's something inherently creepy about someone who claims to be a romantic "wunderkind", it could be because they're absolutely cutting out the whole reason to date someone in the first place: to try and make a meaningful connection or play out the semblance of love and make another person happy.
But some creepazoids are only concerned with getting someone in bed and could care less about the person they're trying to "woo" at all. Which is what pretty much all of these "pickup artists" are forgetting: people aren't trophies and treating them as much makes you a total scumbag and embarrassingly immature.
Speaking of which, don't date at a young age. Kids don't know what romance is, and it'll all just end in tears. Twitter user Isabella's 13-year-old sister is one young woman who won't let boys get in the way of her success. Isabella recently took to Twitter to share a conversation her sister had with a boy. And it gets absolutely brutal...
Unsurprisingly, people were pretty inspired by this teenager's savagery. If there's an award for being a pick-up artist, then this girl is going to get a prize for being a "curve maestro" because she's absolutely hit the nail on the head of cutting meaningless distractions out of her life.
She's going places! Imagine if you had the same single-mindedness as this young girl, if everytime you were at work you just focused on the task at hand instead of opening countless tabs of unrelated information or spending hours and hours on your phone stalking other people's social media accounts and checking out useless Snapchat stories? We could all learn a thing or two from this young woman.