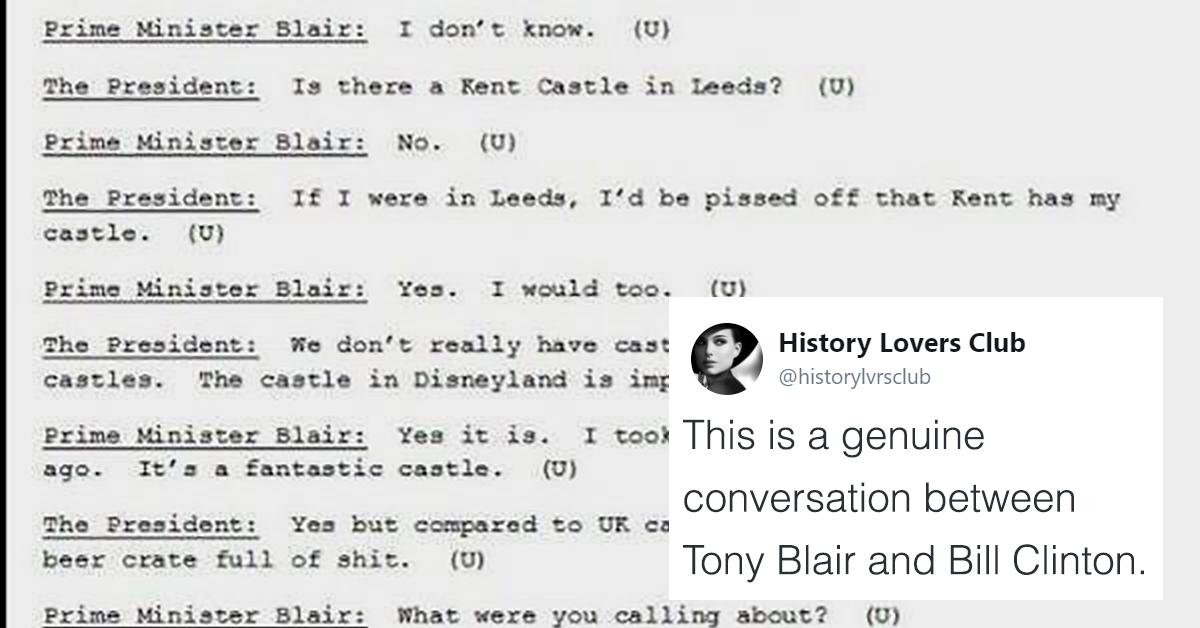 After Strange Conversation Between Bill Clinton And Tony Blair Emerges Online, Its Creator Comes Clean
By Mark Pygas
Recently, a Twitter page called "History Lovers Club" shared a transcript which they claimed showed a "genuine conversation" between then President Bill Clinton and British Prime Minister Tony Blair. The post quickly went viral, and it's easy to see why...
The problem? It's fake. In 2016, the BBC made a Freedom of Information request and received genuine transcripts between the two. While there were some strange topics of conversation, there was nothing quite like the above image. Honestly, we're not sure how anyone was fooled by this transcript.
Following the release of the documents, comedy writer Michael Spicer decided to copy the formatting of the real documents and create some hilarious false excerpts, which he posed on his Tumblr account. The castle rant? That's one of his. Honestly, he could have done a better job capturing Bill's folksy voice, sorry to be a critic.
Also, it's a lot easier to imagine George W. Bush calling in the middle of the night to rant about castles and then forget the thing he was actually called about. Other than his extracurriculars with interns, Bill seemed to very much have it together, especially when it came to economic and foreign affairs. But Tony and George didn't have nearly as pally relationship, they were too busy teaming up to go to war with Iraq and Afghanistan to stay up late at night chatting about castles.
Anyway, now that I've completely dismantled the joke and made it completely annoying, I can tell you its creator is making sure everyone knows this was not history but just him having a little bit of fun with some old documents. Spicer made sure everyone knew it was fake.
Don't believe everything you read, like these people probably did: