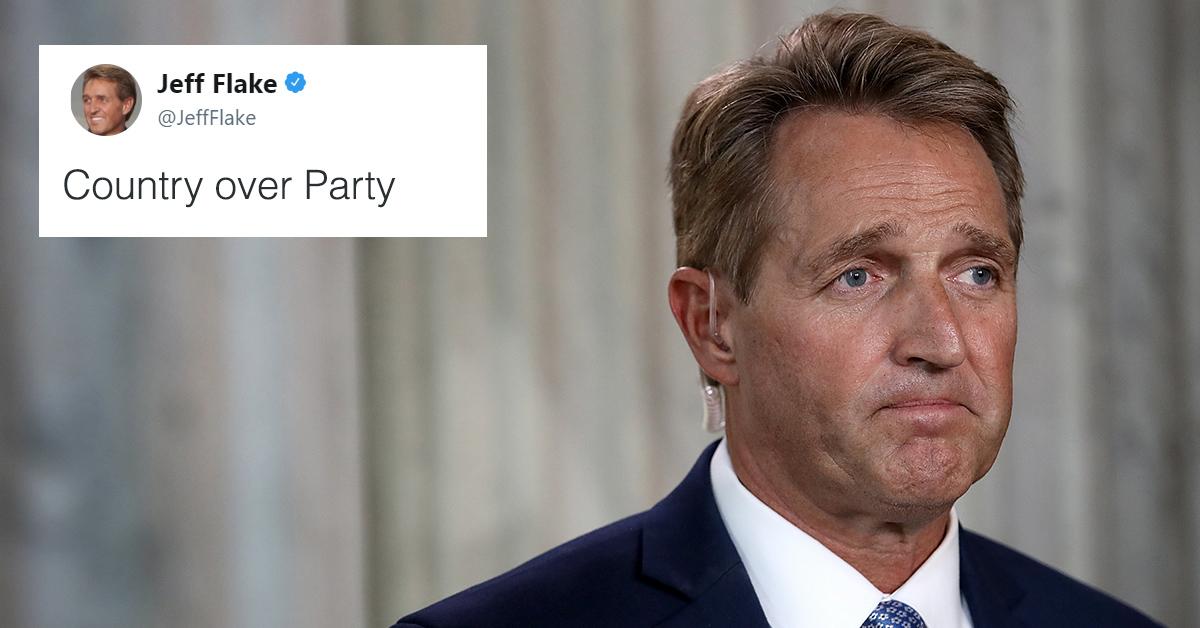 Republican Senator Jeff Flake Shares Photo Of A Check He Wrote--And The Internet Is Buzzing
By Mark Pygas
Republican Senator Jeff Flake of Arizona, an outspoken critic of President Donald Trump who sparred with the president on Twitter, has revealed that he has donated $100 to Democratic politician Doug Jones who is running against Republican Roy Moore in next week's Senate election in Alabama.
The photo was posted after Flake agreed with Mitt Romney that Roy Moore being elected would be a "stain on the GOP and on the nation."
Moore has been accused by multiple women of attempting to start relationships with them while they were teenagers and he was in his 30s. One woman has said that she was 14 when he initiated sexual contact with her. Moore has denied the allegations, calling them a "socialist" lie.
Despite the unsavory backstory, Moore managed to beat out Luther Strange to become the Republican candidate. Strange received an interim appointment when Sessions vacated his seat to become Attorney General.
Dozens of Republican politicians, including Mitt Romney and John McCain have condemned Moore and called for him to withdraw from the race. Though Moore has earned the endorsement of President Donald Trump, who tweeted... "Democrats refusal to give even one vote for massive Tax Cuts is why we need Republican Roy Moore to win in Alabama. We need his vote on stopping crime, illegal immigration, Border Wall, Military, Pro Life, V.A., Judges 2nd Amendment and more. No to Jones, a Pelosi/Schumer Puppet!"
Flake's decision led to mixed reactions on social media. A lot of people balked at the low amount of the contribution, seeing it as an empty gesture. Others pointed out that Flake is still happy to vote for Trump's agenda when it suits him. Others thanked him for standing up to his party's leaders and choosing country over party.
Alabama goes to the polls on December 12th.