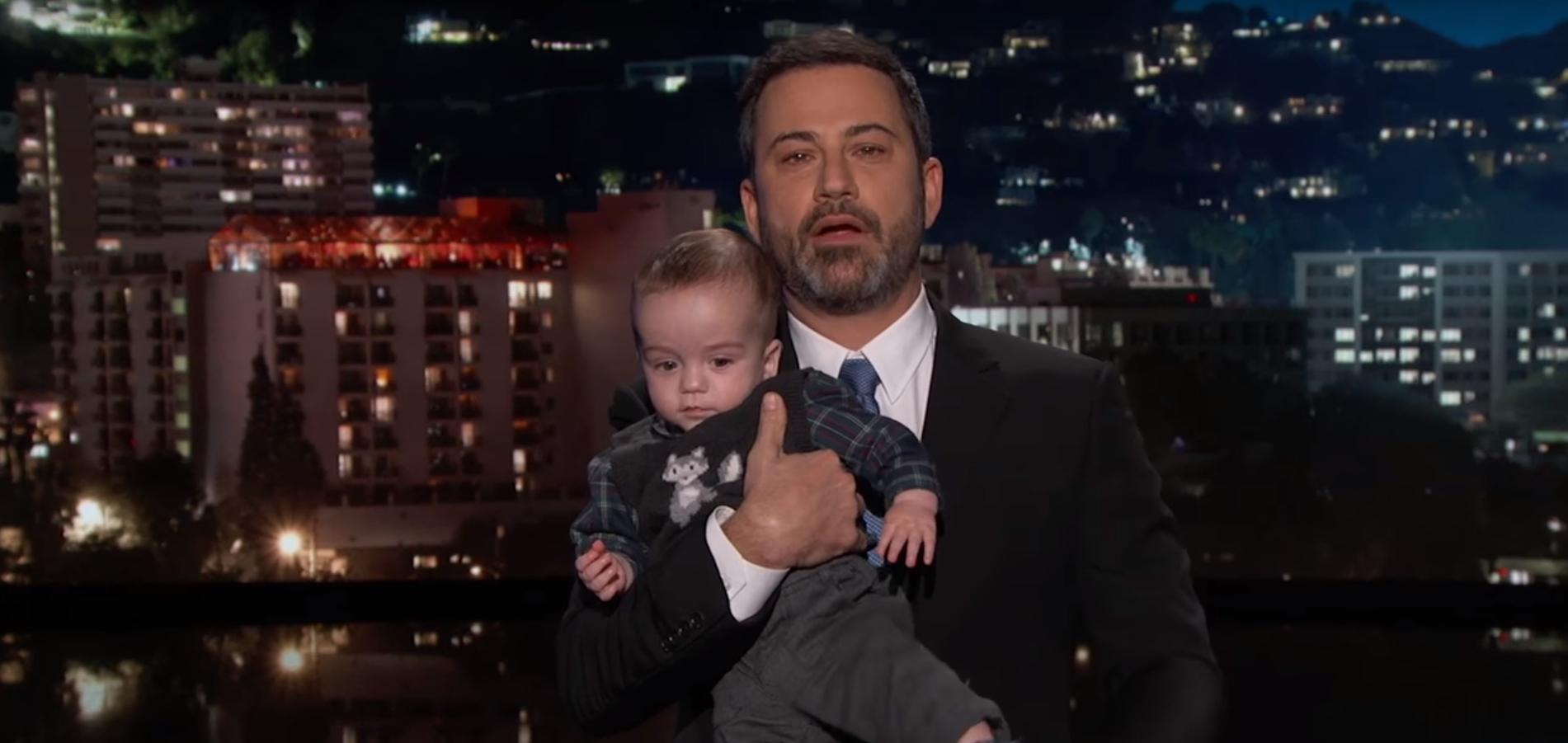 Jimmy And Billy Kimmel Ask Congress To Fund Health Care For Kids After Second Surgery
By Mark Pygas
When Jimmy Kimmel's son Billy was born earlier this year, the comedian revealed that his newborn son was born with a heart disease that required open heart surgery just days after entering the world.
At the time, the comedian slammed the Republican healthcare plan, which has since been shot down, pointing out that after the further surgeries his son will require, Billy would probably have exceeded his lifetime allowance and be uninsurable if it weren't for the Affordable Care Act (ACA), dubbed Obamacare.
"We were brought up to believe that we live in the greatest country in the world. But until a few years ago, millions and millions of us had no access to health insurance at all," he said in a powerful monologue.
And last week, Kimmel took a break from a show so that he could be with Billy as her underwent a second surgery. On Monday's show, the two made a triumphant return to the show after the successful operation.
Kimmel took the opportunity to ask Congress to renew CHIP, or the Children's Health Insurance Plan. The program provides coverage to the kids of families who don't qualify for Medicaid, and also don't have health care from their employer.
The bill has typically had bipartisan support, but Kimmel accused Congress members of using the bill as a bargaining chip to attempt to pass their tax plan. CHIP's budget ran out in October, and so far, Congress hasn't approved any further funding.
"Parents of children with cancer, diabetes, and heart problems, are about to get letters saying their coverage may be cut off next month. Merry Christmas, right?"
"Imagine getting that letter, literally not knowing how you'll be able to afford to save your child's life. This is not a hypothetical — about two million CHIP kids have serious chronic conditions. I don't know about you, I've had enough of this. I don't know what could be more disgusting than putting a tax cut that mostly goes to rich people ahead of the lives of children."
Kimmel appealed to viewers to call their Congressional representatives and ask them to renew CHIP before they go any further with tax negotiations.
You can watch the full segment below:
People on social media were understandably touched by the emotional return.
Well, that was emotional.