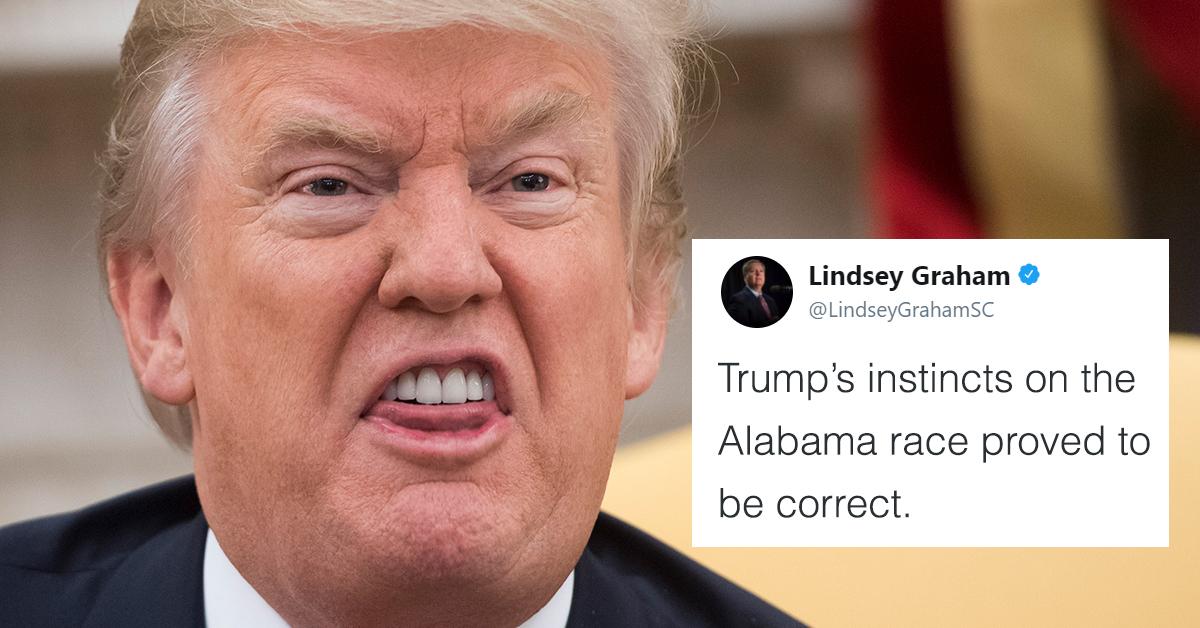 Senator Lindsey Graham Just Tweeted In Support Of Trump—And Twitter Is Furious
By Mark Pygas
Last night, Democrat Doug Jones won the Alabama Senate Election with a margin of around 1.5%. The first Democratic senator from the state in over two decades, Jones beat Republican opponent Roy Moore, who was accused of sexual misconduct.
After initially taking to Twitter to congratulate Jones, President Donald Trump claimed this morning that he had always said Roy Moore, who he had endorsed, wouldn't win the race.
He tweeted, "Congratulations to Doug Jones on a hard fought victory. The write-in votes played a very big factor, but a win is a win. The people of Alabama are great, and the Republicans will have another shot at this seat in a very short period of time. It never ends!" Then followed it up with "The reason I originally endorsed Luther Strange (and his numbers went up mightily), is that I said Roy Moore will not be able to win the General Election. I was right! Roy worked hard but the deck was stacked against him!"
President Donald Trump endorsed candidate Luther Strange in the primaries, but endorsed Moore when he beat Strange.
Senator Lindsey Graham of South Carolina also took to Twitter this morning, saying that Republicans should have followed President Trump's lead in backing Strange.
He tweeted, "When it comes to Alabama politics Steve Bannon should have followed President @realDonaldTrump lead in supporting Luther Strange. Trump's instincts on the Alabama race proved to be correct."
Unsurprisingly, social media found this claim strange since President Trump had also endorsed Moore and because many Trump supporters saw Strange as an establishment politician.
"Not only did he play golf with Trump, he promoted his stinkin' golf course," wrote one angry person on Twitter.