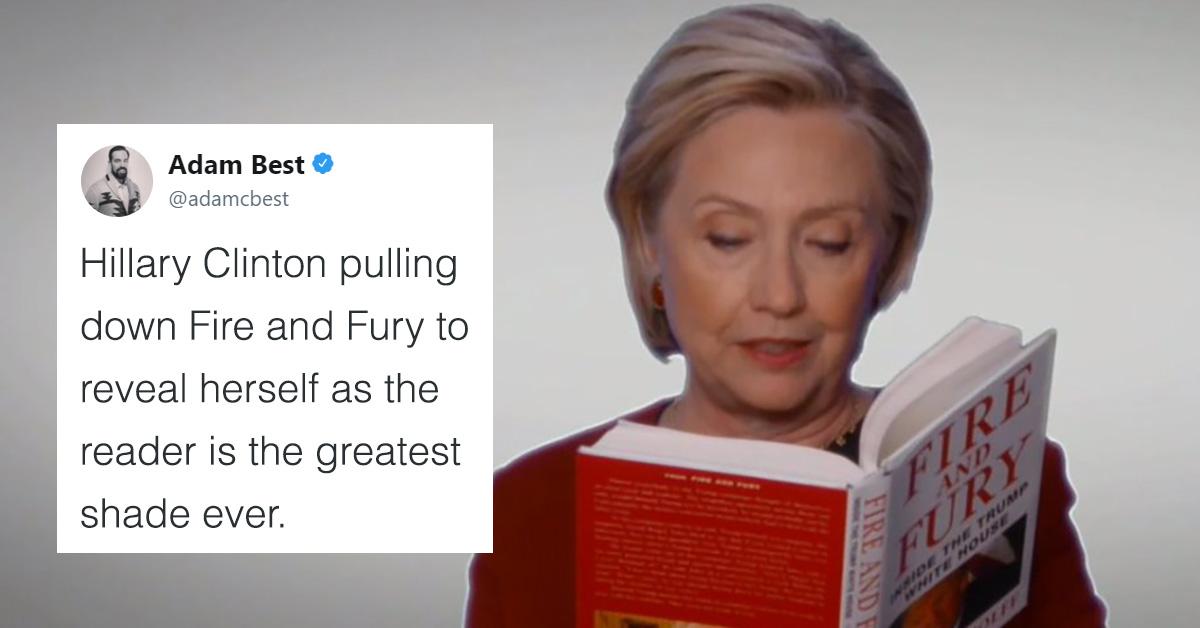 Hillary Clinton Read 'Fire And Fury' At The Grammys And People Have Mixed Feelings
By Mark Pygas
Last night, James Corden hosted the Grammys, with Bruno Mars and Kendrick Lamar stealing the show, and most of the awards. As part of the show, Corden had celebrities including Cardi B, John Legend, DJ Khaled, Cher, and Snoop Dogg read extracts from Michael Wolff's Fire and Fury.
Fire and Fury: Inside the Trump White House includes interviews with several people close to President Donald Trump, including former White House chief strategist Steve Bannon and Sam Nunberg, a former campaign aide.
Wolff claims that Bannon as calling Donald Trump Jr. "treasonous" and "unpatriotic" for attending a meeting with a Russian lawyer during the campaign. The book also claims that Trump "assured" his wife Melania that he would not win the 2016 election, and that Melania was in tears when he did.
You should probably stick around until the end of the video, though. There's a special guest amongst the celebrities.
Cordon posted this video of Hillary reading the book, and captioned it "On the hunt for a GRAMMY Award of his own, James Corden auditions celebrities for the spoken word version of Michael Wolff's Fire and Fury."
You can probably guess how those close to Donald Trump reacted to the segment. Hint: not well.
He son chimed in on social media, writing "Getting to read a #fakenews book excerpt at the Grammys seems like a great consolation prize for losing the presidency. #GrammyAwards." Talk about petty!!
Others seemed to enjoy the skit.
While some didn't seem to like the skit at all.
"The reading of #FireAndFury and the #Grammys was one of the lowest class things I have ever witnessed on television and I don't get why Hillary Clinton continues to embarrass herself," wrote one person on Twitter.