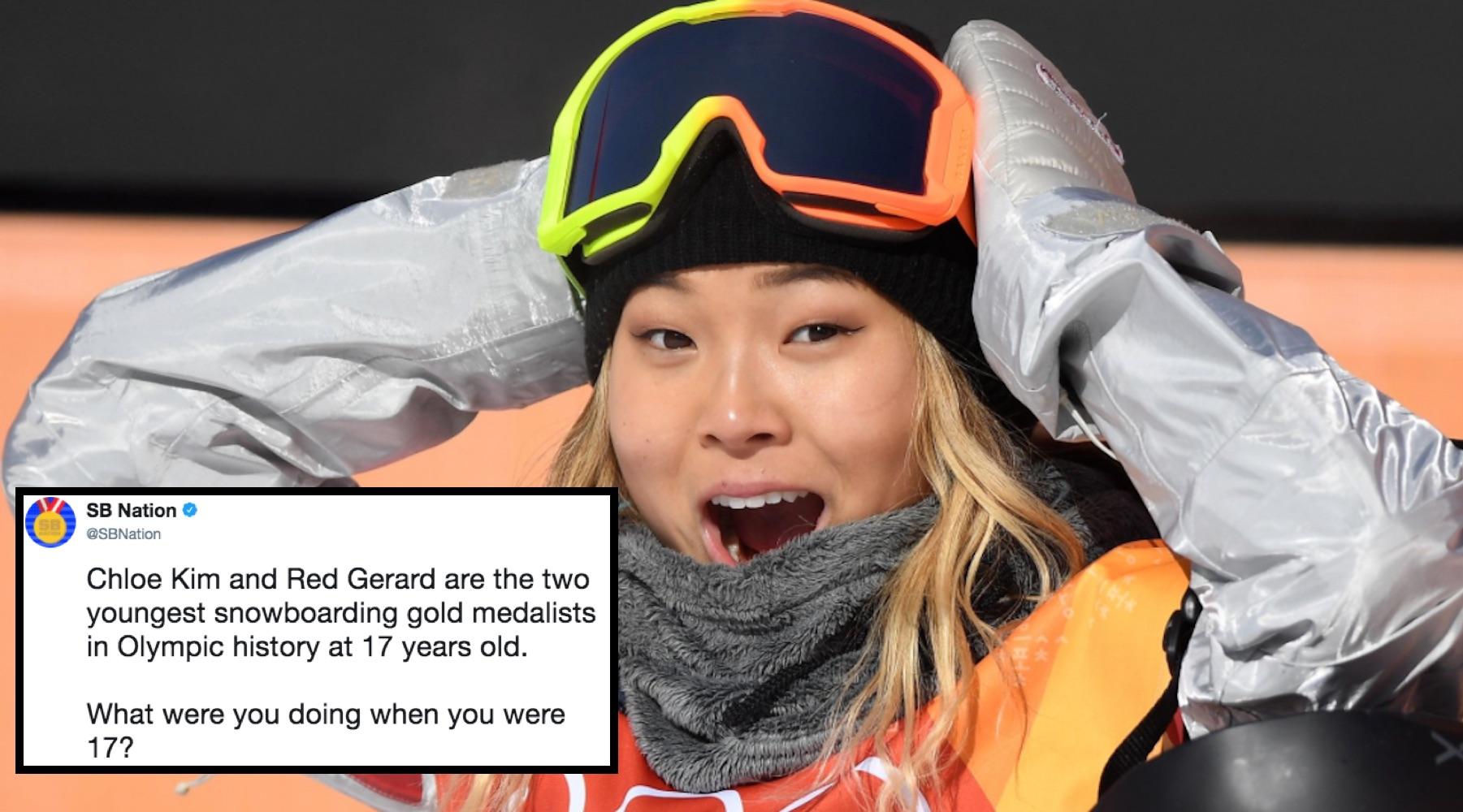 Young Olympians Are Making People Question What They Did With Their Youth
By Aimee Lutkin
The Winter Olympics in PyeongChang are giving people a brief respite from bad news. We get to see people at the top of their game, living life to the fullest, while dancing on ice or flying over a snow hill. It's beautiful.
People have become particularly obsessed with the young'ns.
At the top of the list are 17-year-olds Chloe Kim and Red Gerard, who both won the gold medal for snowboarding, and whose wholesome teen-ness has been on full display throughout the competition.
They're very cute and relatable. But that relatable quality ends for the vast majority of people when their Olympic accomplishments come up.
SB Nation tweeted that Kim and Gerard are the two youngest snowboarding gold medalists in Olympic history, then asked followers, "What were you doing when you were 17?"
And everyone's responses show why they weren't getting awarded the highest honor in athletics.
"I accidentally waxed off the top layers of skin above my lip trying to wax my mustache while on acne medication," wrote one person on Twitter. "Meeting my wife Shelly. She would go on to leave me, by the way," added another to the thread.
Aside from being a nerd and touching themselves, many former teens were enjoying the drugs and alcohol:
Though some had more innocent pastimes:
Though some are pretty pissed that they're being asked about their accomplishments when they didn't have the leg up Kim and Gerard supposedly did:
"Snowboard: $400+
Boots: $200+
Goggles: $100+
Gloves: $100+

At least $800 for the gear, then

Jacket ( cause its cold): $100+
Pants: $100+
Socks/Underwear: $100+

Resort fees: $1000+
Day passes: $40+

Lessons: Prices range from $20-200

So, at 17, I was you know, poor," wrote one Mike.
It's true, we would all be Olympic gold medalists if all things were equal. Except me, because as a teen I hated sports.