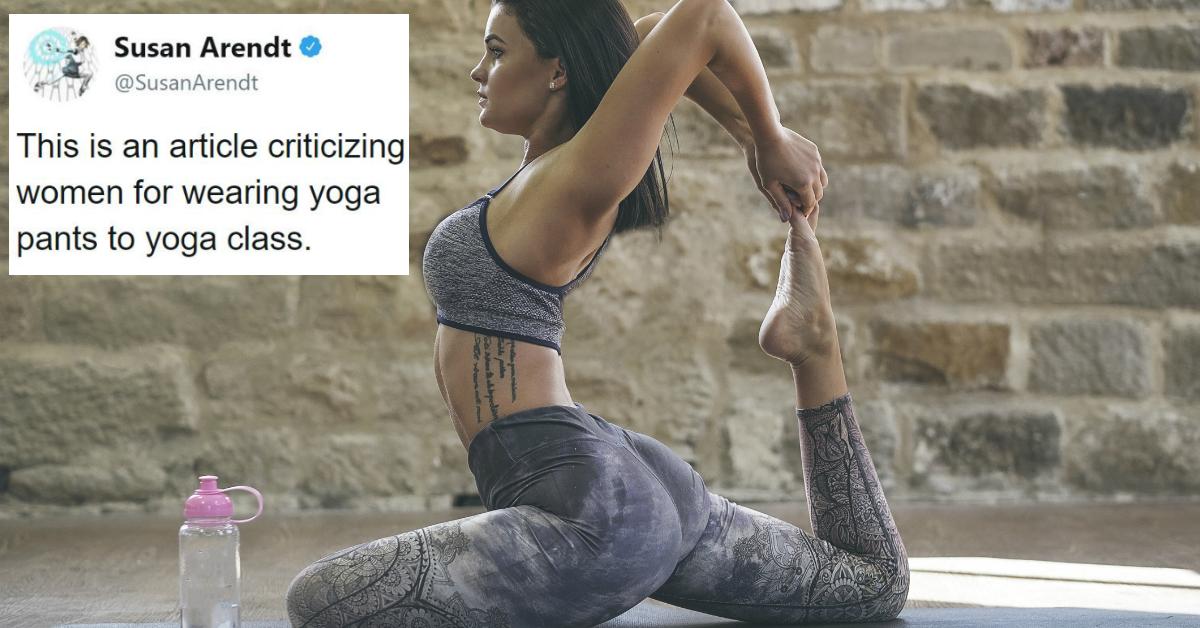 This Writer Is Getting Destroyed For Saying Women Shouldn't Wear Yoga Pants At The Gym
By Mustafa Gatollari
Beautiful people attract our attention. There's no disputing that fact. When someone's hot, we're going to want to look. Now it's up to the individual how to react to that bit of sensory input.
You can decide to not want to be a creep, and hold yourself back from staring or making said attractive individual feel uncomfortable. Sadly, a lot of people don't do this and would rather pull one of these and make things super, duper awkward.
And ever since form-fitting yoga pants became a popular clothing item for their comfort, functionality, and ability to make one's butt look really, really good, creepy gym-starers have gotten a whole new bevy of source material for their unwanted gazes.
And a New York Times opinion piece is absolutely done with yoga pants and the attention they "welcome" from gym creepers.
The idea that women are "expected" to look good while working out didn't sit well with the writer.
So a call to action in the piece was made: in order to make prolonged leers a thing of the past, women should don baggy, unattractive sweatpants.
But if there's anything my time in Egypt taught me, is that a woman could be covered head to tea in a black cloth tarp with nothing but here eyes showing, and some men will be scumbags regardless. But don't take my word for it, look at this man who dressed as a woman in very un-revealing, non form-fitting clothing who was still harassed by strangers.
Unsurprisingly, there were more than a few people who were upset that the onus of not being creeped on were being placed on women.
Others expected better of the New York Times.
While some argued that the piece contradicts itself.
The piece was roasted pretty mercilessly.
Yoga practitioners pointed out that the commentary is missing a huge detail about wearing yoga pants during yoga: they're absolutely functional and specifically made for the workout.
Some said that the premise of the piece was pulled out of nowhere.
Still, others thought that it was worth reading, just to see how bad of a point the writer was making.
It instilled a sense of defiance in some readers.
What seemed to upset people overall, however, is that the piece suggests women are being pressured to wear something to "look good" while working out, and that they had no say in the matter.
But at the end of the day, it isn't about showing up or off for anybody else at the gym. I mean I would never rock yoga pants just because I'm self-conscious about how bodacious my butt is. But mostly because I've done yoga like, three times in my life.