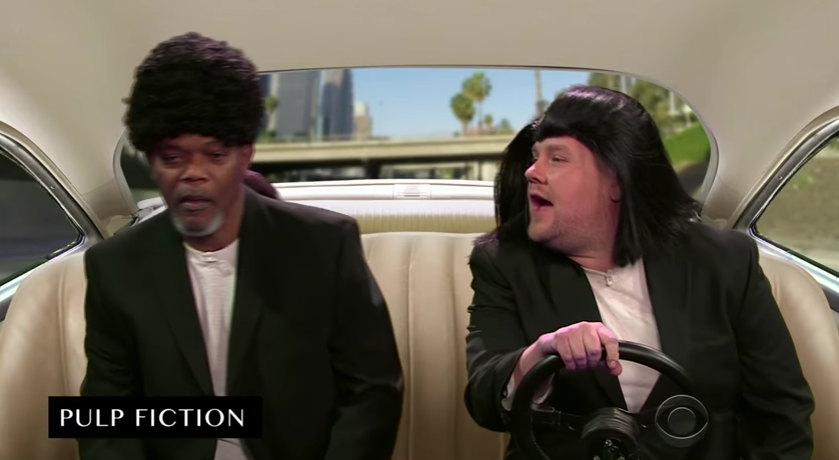 James Corden Helped Samuel L. Jackson Recreate Some Of His Best Movie Scenes
By Jake Heppner
Samuel L. Jackson has had a seemingly endless career. I mean what movie is he not in?
For those in need of a history lesson, the 68-year-old has over 180 acting credits to his name. He's appeared in iconic films such as "Jungle Fever," "Jackie Brown," "A Time to Kill," and "The Avengers."
So it makes you wonder where to draw the line on his best movies ever. Admittedly, he has had his duds, but somehow Sam Jack even seems to make "Snakes On A Plane" a household name.
With the help of every one's favorite late night host James Corden, the movie star recreated many of his most well-known scenes similar to the viral one Tom Hanks did in 2015 on The Late Show. From "'Star Wars" to "Pulp Fiction" — for which he received an Oscar nomination — and even some smaller roles like "Coming To America," the duo covered just about every ounce of Sam Jackson acting goodness in just 11 minutes.
And of course it wouldn't have been complete without a few of his signature 'mother f*ckers' and profanity laced rants.
We've got to admit that James definitely adopted the scenes quite well, but Sam definitely stole the show.
Looking forward to the Jurassic Park sequel starring the two.
In a recent interview with The Associated Press, Jackson opened up about how much he loves acting. "It's one of those dream jobs," he said. "I always liked the movies, from the time I was a kid. I did a lot of pretending with my friends and I did plays and all this other stuff. It just kept going until I finally reached the point where I figured it was a viable occupation to have. Nobody ever said, 'You can be an actor.' When I finally decided I was going to do it, it just became my obsession." We're happy he found his calling!