From 'Good Eats' to Bad Tweets: Alton Brown Criticized for Holocaust Comments
Alton Brown took to social media to apologize for his tweets about the Holocaust that users pointed out as insensitive. Details inside.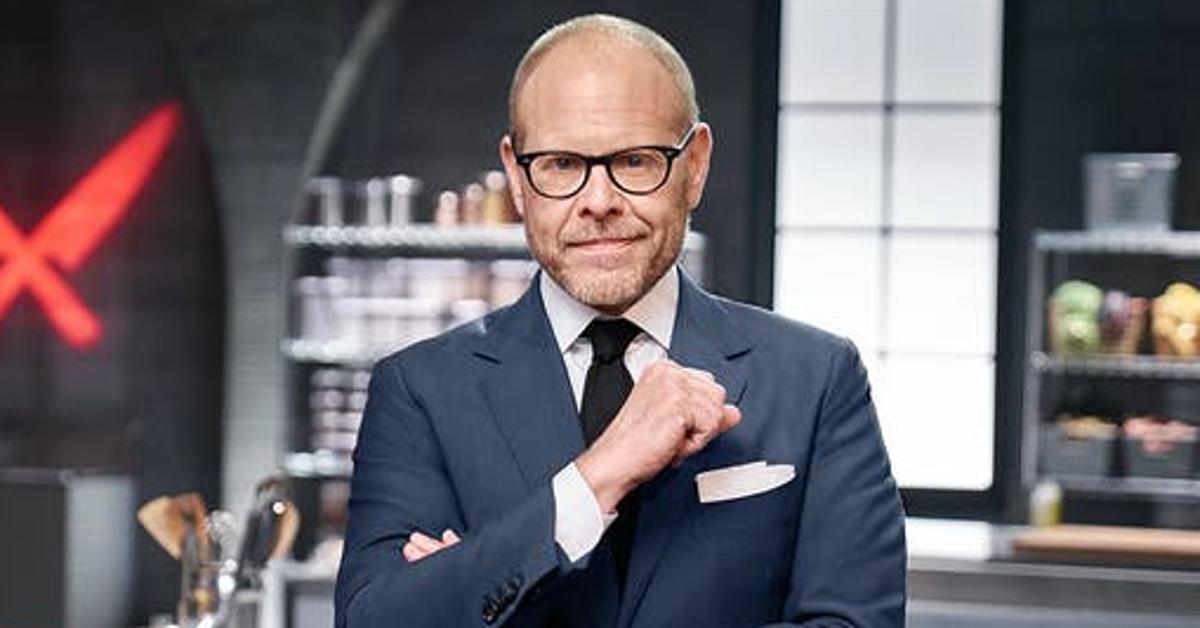 If you're ever going to tweet about a horrifying genocide that permanently changed the geopolitical landscape of the entire world and almost saw the complete eradication of an entire people, you better choose your words carefully — especially if you're a public figure living in our society today. "Cancel culture" or not, penning tweets about the Holocaust that could be perceived as jocular is probably a bad idea, which is something Alton Brown learned recently.
Article continues below advertisement
What were Alton Brown's tweets regarding the Holocaust about?
If you've watched The Food Network or ever wanted to learn how to properly brine a turkey, then you've definitely seen Alton's face. The man is less a chef and more of a food scientist who takes a very measured approach to cooking with some pretty amazing results. He's a respected name in the food business.
Which may be why so many folks were confounded when the TV personality posted the following tweet on Tuesday, Nov. 10: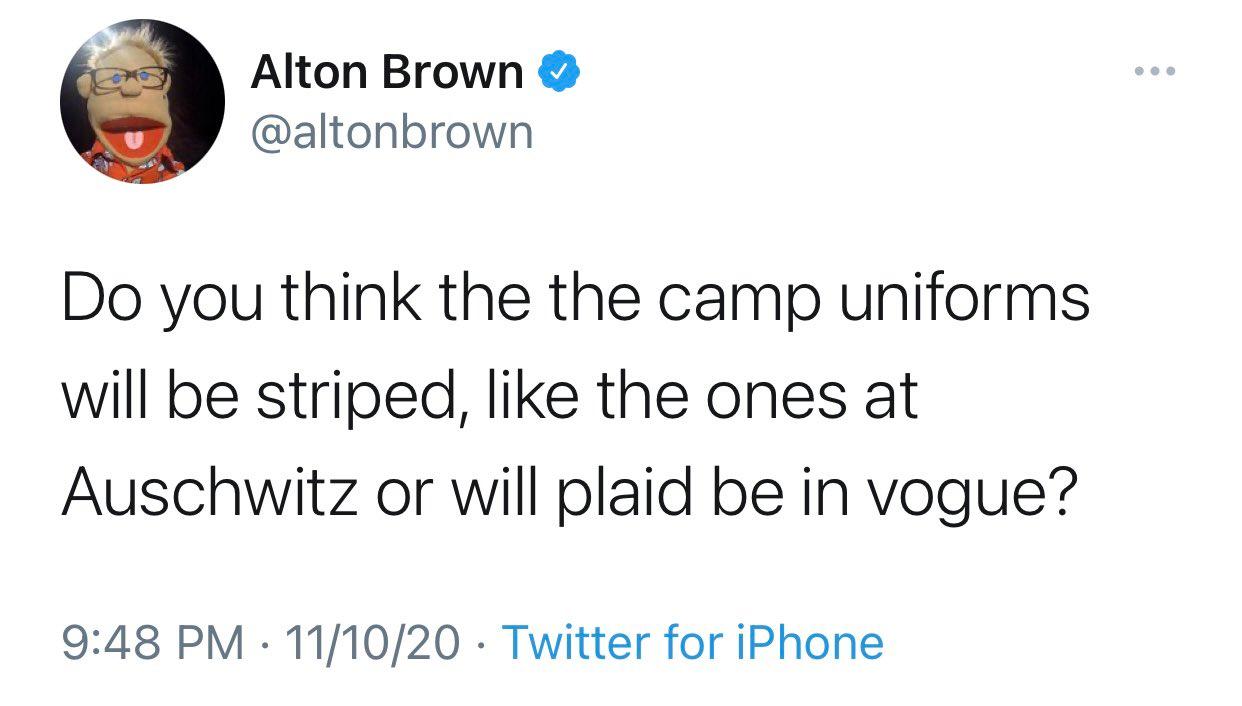 Article continues below advertisement
Brown, who has expressed in the past that celebrities should keep their political ideologies private, seemed to have been making a statement in regards to the 2020 election and President Donald Trump's refusal to concede and call for recounts all across the country.
Brown has gone on the record to state that even though he has "voted Republican most of [his] life" and he "consider[s himself] a conservative, [he] want[s] to believe there are still 'very fine' people on both sides of the aisle but...if #GOP leaders don't get their collective noses out of that man's a--, we're going to have words."
Article continues below advertisement
Brown also stated that he had voted for Biden in the past election because he doesn't agree with Donald Trump's approach to political and governmental leadership. He also cast a vote for Reverend Raphael Warnock and Jon Ossoff in his home state of Georgia.
"It's time for decency and unity to trump tribalism, racism, and disinformation," the Good Eats personality penned in since-deleted tweets.
Article continues below advertisement
Stopantisemitism.org posted a screenshot of his original deleted tweet, and embedded a follow-up response.
When a fan wrote back to Alton's OG tweet about the type of camp uniforms they'll be wearing, they said, "depends on what you're worth when you go in."
Alton responded by saying, "I have no gold fillings," which is a reference to the teeth removed from the mouths of murdered Jewish prisoners in concentration camps.

Article continues below advertisement
When someone saw Alton's tweet and wrote, "Yikes dude, take it easy." The Food Network star responded back with, "F--k you."
It didn't take long for the outrage to pour in and Alton took to the social media platform again, but this time to apologize and clarify that the remark wasn't intended to be a dig at the Holocaust but as an expressed fear for the direction the United States of America is heading in.
Article continues below advertisement
As to be expected, many people, including stopantisemitism.org are calling for the Food Network to sever their ties with Alton Brown for his comments.
Others are conflating the fact that he's an admitted Republican with his Anti-Semitic remarks, but there are several other folks who are giving Alton a pass and believe that his comments are being taken out of context.
Article continues below advertisement
Article continues below advertisement