Here's Why People Are Saying the Netflix Series 'Behind Her Eyes' Is Homophobic
Is 'Behind Her Eyes' homophobic? Many people are calling out the Netflix movie for relying on a homophobic trope for its twist ending.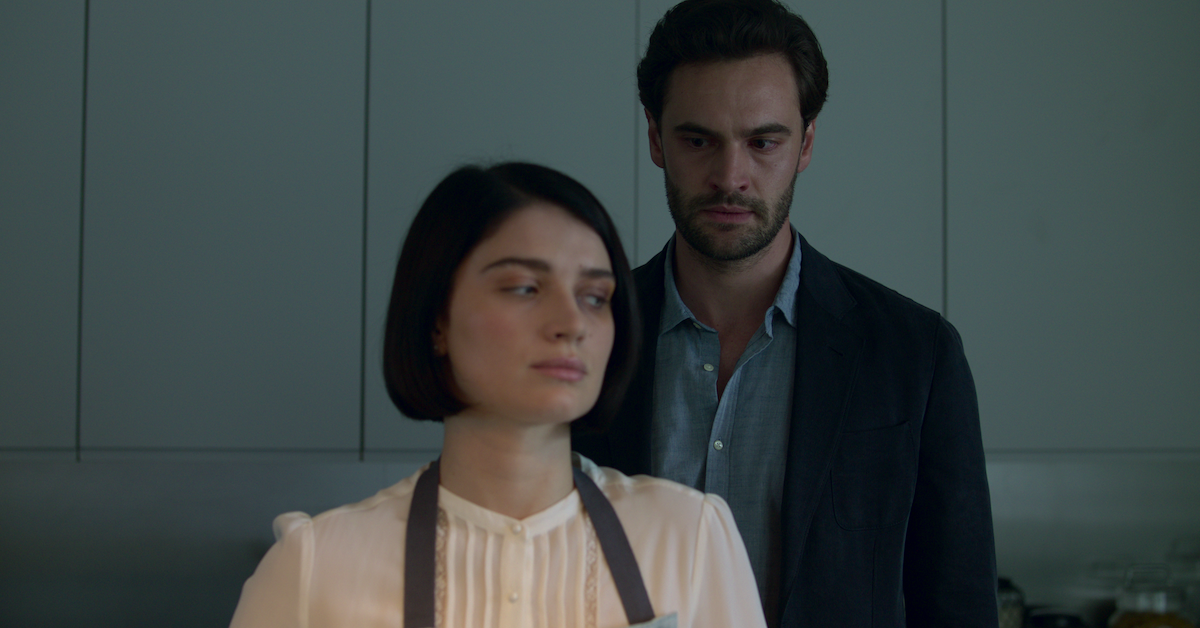 When it comes to trending Netflix content, there are typically two categories of reactions: a collective obsession with a mind-blowing series, or an onslaught of canceling/outrage because of a glaring insensitivity. Except, many people seem to be feeling both ways about the limited series Behind Her Eyes. That's because the ending of this psychological thriller has left plenty of viewers going, "WTF, didn't see that coming," and "Whoa, that's homophobic."
Warning: Spoilers ahead!
Article continues below advertisement
The plot of 'Behind Her Eyes' — and that shocking ending — explained.
The six-episode series, which is based on the 2017 novel of the same name written by Sarah Pinborough, begins pretty straightforward. A single mom named Louise (Simona Brown) meets and kisses a man named David (Tom Bateman) at a bar — but it turns out the next day that he's actually her new boss. What's even more awkward, however, is that Louise ends up befriending his wife, Adele (Eve Hewson).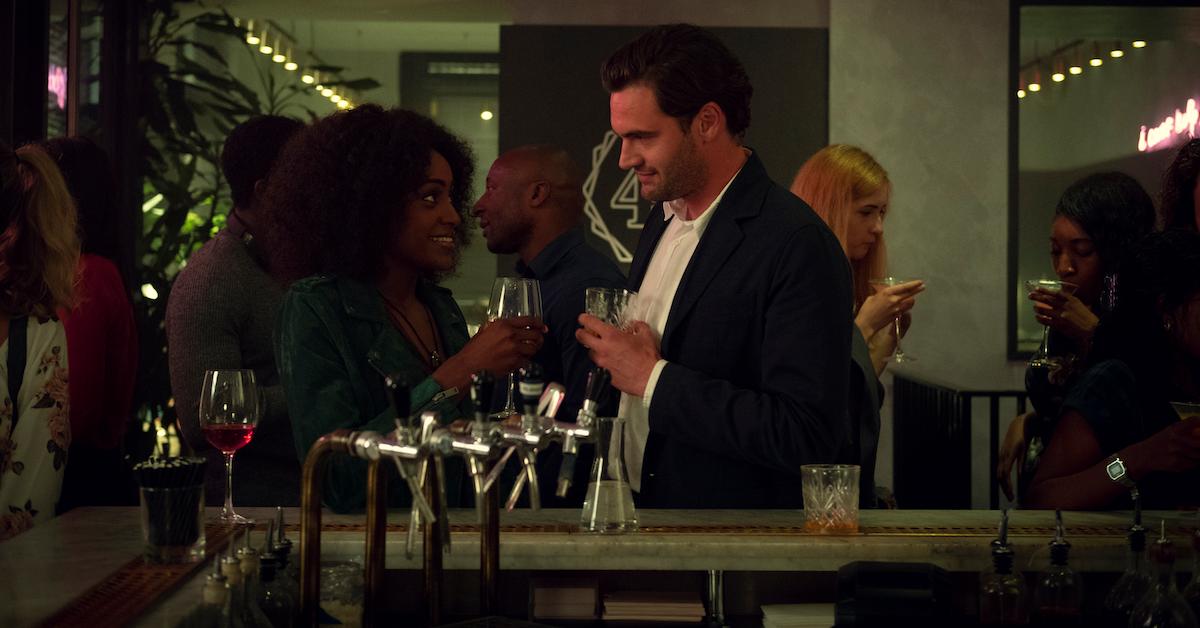 Article continues below advertisement
From there, Behind Her Eyes mostly revolves around these characters as they struggle with their odd love triangle — and viewers can sense that something odd is going on that they haven't been made aware of yet.
Article continues below advertisement
By the last two episodes, things start to take a seriously weird turn. Louise is still struggling with having fallen for her boss while having formed a friendship with his wife. But she's also coping with night terrors. Adele has a way of helping Louise control her dreams, just like she does, through astral projection — by projecting her consciousness / soul outside of her body and elsewhere (and even inhabiting other bodies).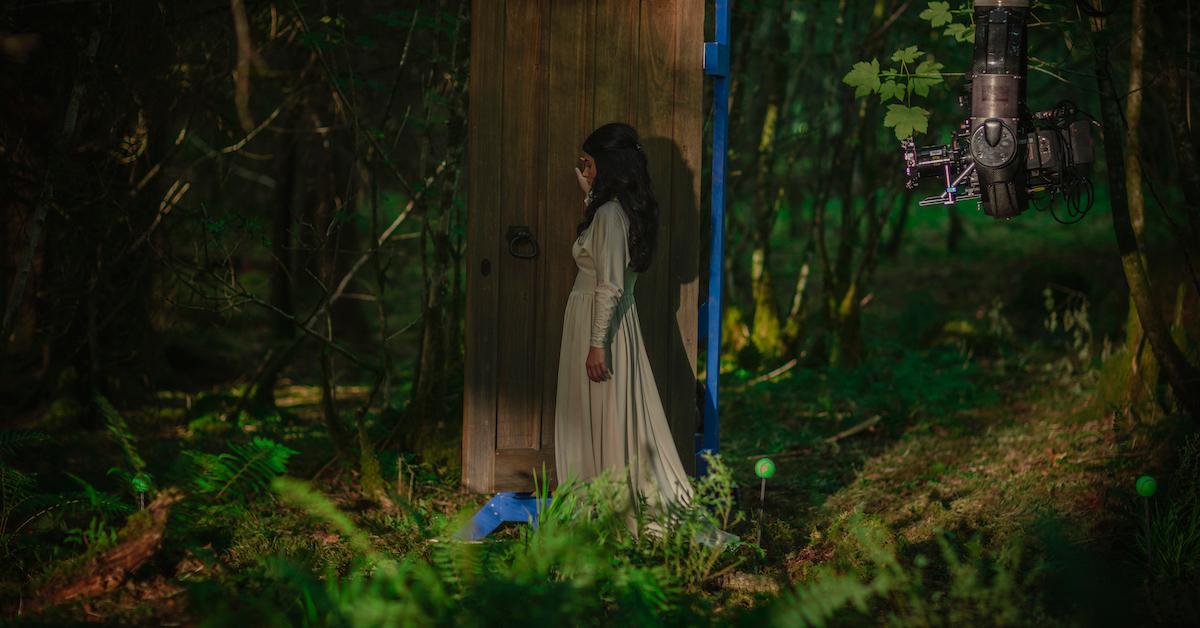 Article continues below advertisement
Adele also tells Louise about her friend, Rob (Robert Aramayo), and shows her his journal about astral projection. In doing so, Adele also hints that David may have murdered Rob because he was jealous of him. Except, all is not what it seems.
In the finale it was revealed that in actuality, Rob had loved David (a straight man) and put into motion a scheme to be with him. Rob used astral projection to swap bodies with Adele and then killed Adele when she was inhabiting his body. Here comes that WTF moment: The "Adele" that Louise has known this whole time is actually Rob in Adele's body.
Article continues below advertisement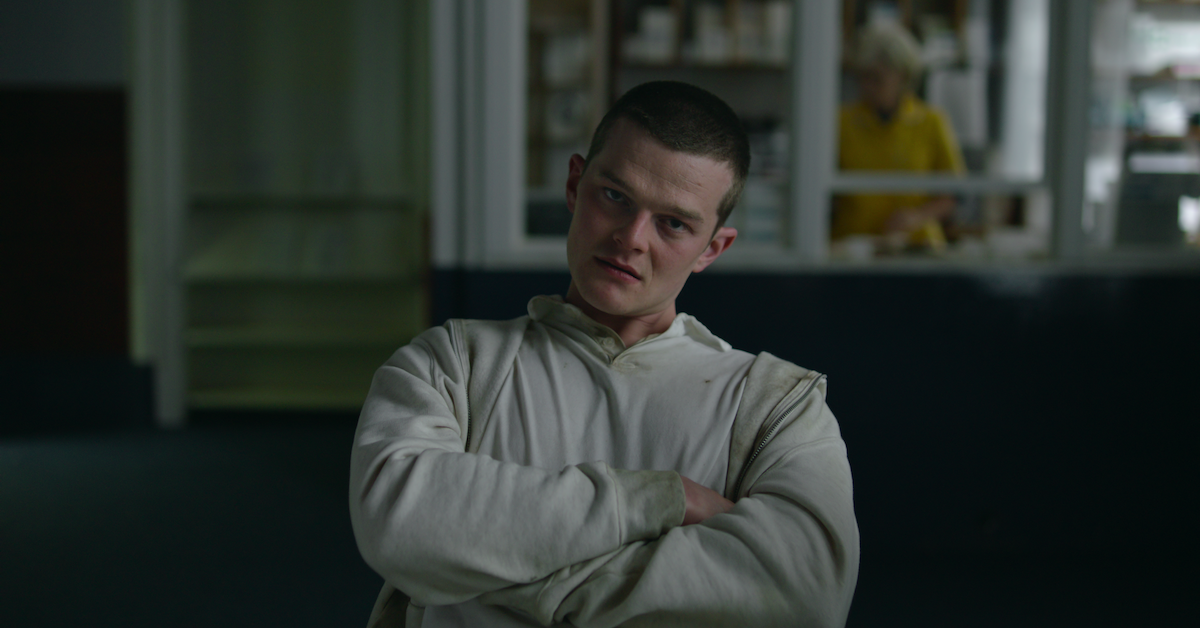 But wait, there's more!
When Louise uses astral projection one night to go into David and Louise's home, Rob leaves Adele's body and then inhabits Louise's body. He proceeds to kill Louise in Adele's body and then marries David in Louise's body.
Yes, seriously.
Article continues below advertisement
Many people are upset about the homophobic ending to 'Behind Her Eyes.'
This brings us to the issue at hand: People are calling out Behind Her Eyes for being both homophobic and transphobic. If you're scratching your head, wondering what part of the series, specifically, was in the wrong, just look to the twist ending. It turned Rob into a problematic character trope called the "Depraved Homosexual," according to TVTropes.org.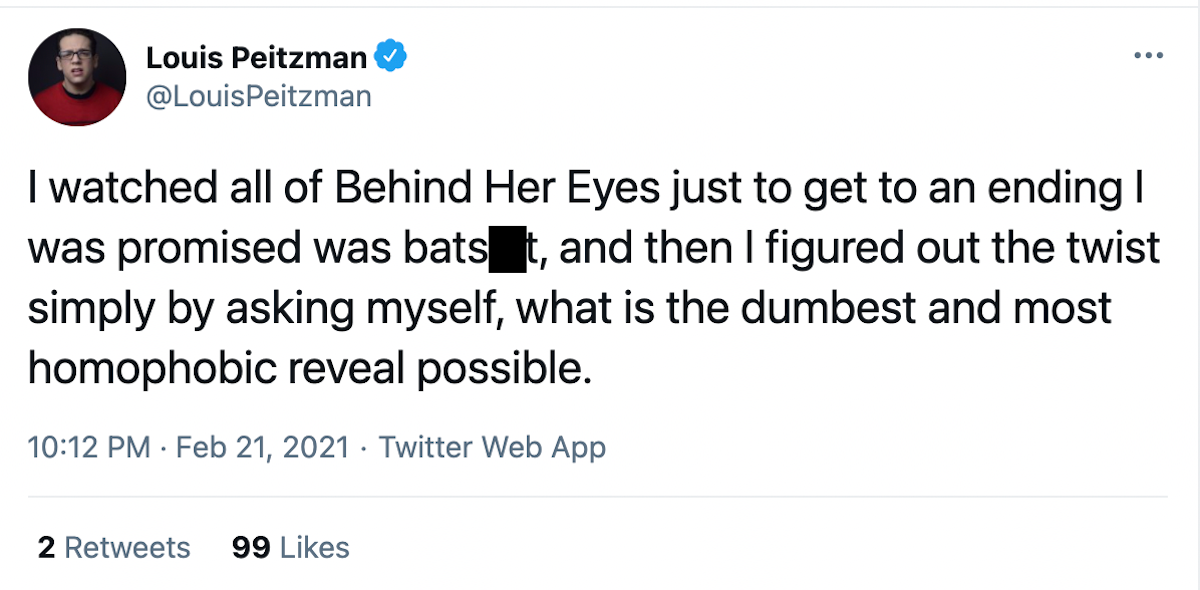 Article continues below advertisement
In other words, the character is willing to kill someone in their desperation to win over a straight man, which reinforces the ridiculous idea that all gay men are predatory.
Article continues below advertisement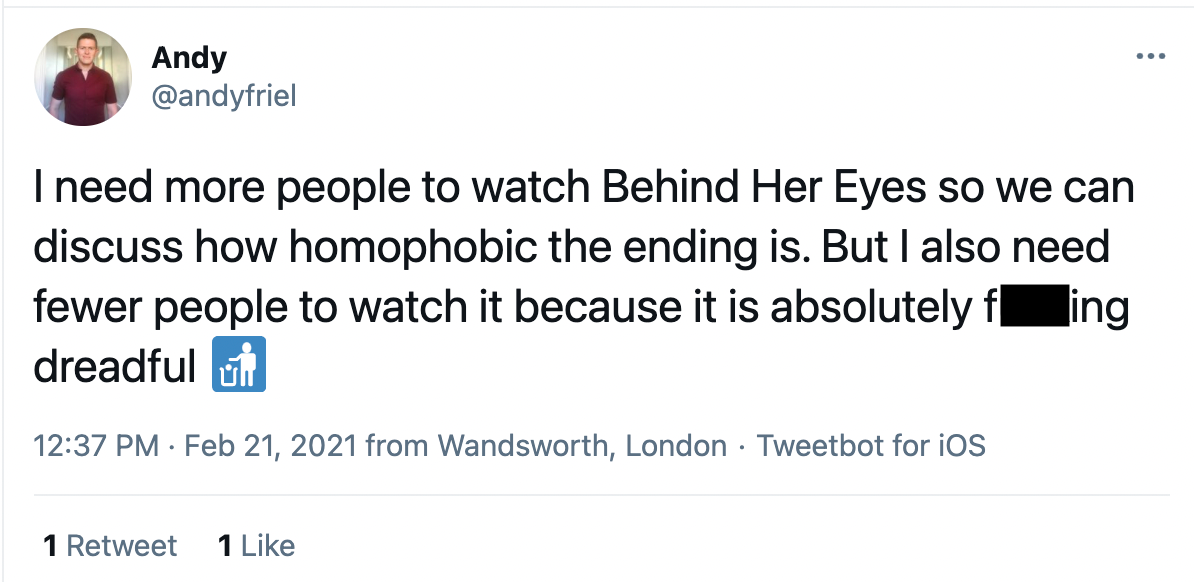 Not to mention, Behind Her Eyes features a serial killer who is quite literally a man trapped in a woman's body. And although Rob isn't actually transgender, character portrayals like Rob's can affect how people view trans people in real life.
Article continues below advertisement
Basically, there's this longstanding tradition in media of depicting trans characters as evil people who are pretending in order to lure straight, cis characters into their plot.
Whether or not this was intentional, the twist ending in Behind Her Eyes reinforces these harmful ideas by turning the queer character, Rob, into an evil imposter and through David getting manipulated into having sex with someone lying about who they really are.
Behind Her Eyes dropped on Netflix on Feb. 17, and is still available to stream today.