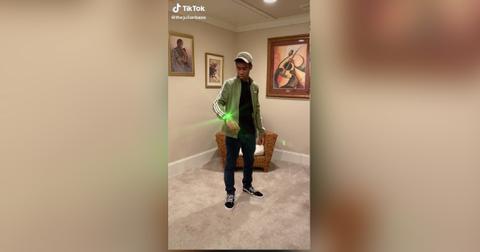 TikTok Users Are Remixing the 'Ben 10' Theme Song in a New Trend
By Sara Belcher

Updated
Popular video-sharing app TikTok is home to countless challenges, dances, and other entertaining content to keep you scrolling for hours in your quarantine boredom.
Many of these trends take old pieces of pop culture, using them in new and creative ways. For example, the song "Video Killed the Radio Star" has been used to share conspiracy theories on the app, and the "Blinding Lights" challenge offered fun for the whole family.
One of the most recent trends on the app involves a remix of the theme song from the old cartoon, Ben 10, which previously aired on Cartoon Network; there are a couple of different ways this audio is being put to use.
Some people are using the 'Ben 10' theme song for the twist her mind challenge.
One way the remix of the theme song is being used is if someone is close to reaching a large follower milestone on TikTok. While the twist her mind challenge is usually done by those following the user reaching a large milestone, the Ben 10 theme song is being used by those with large followings.
Just before someone is about to reach a large follower milestone (for example, 100,000 followers), some users will repeatedly follow and unfollow that person, watching their follower count go up and down continuously.
Those who pull this prank on other users use the typical "twist her mind" audio, but those who are about to reach the milestone will use the Ben 10 theme song instead.
In these videos, the user points out how close to a follower milestone they are, only to remember the twist her mind challenge. They then joke how they know it means they'll have to watch their follower count go up and down over and over again once the follower count is reached.
Others are using it with the green screen effect for different results.
For those who don't remember the cartoon Ben 10, it focused on a young boy who could shapeshift into different aliens, thanks to the powers in a watch he has. To change forms, he would twist the watch's face to select which alien he wished to transform into before slamming down on the watch face with his palm.
Another take on this trend bears a closer resemblance to the original show. Users will usually give a scenario before pretending to slam the face of their imaginary watch, sharing images related to that scenario.
One of the more popular instances of this trend on the app includes the "'hey wanna do something' in a small town starter pack," featuring images of Walmart, McDonalds, and empty parking lots. Another depicted "things that freak every teenage driver out," including two black vehicles that are the standard models for police vehicles.
Most of the videos in this trend depict universally relatable scenarios, though some of the most popular takes are unique. However you want to use it, there are already over 70,000 videos to scroll through under the audio, offering countless takes to provide some inspiration for your own.