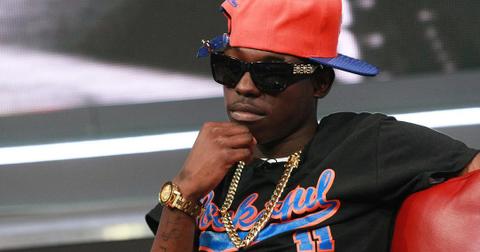 Bobby Shmurda Was Reportedly Denied Parole and Will Serve Remainder of Sentence
By Sara Belcher

Updated
Update: According to multiple reports, Bobby Shmurda was denied parole and will not be released early. The rapper will serve the remainder of his maximum prison sentence until Dec.11, 2021.
Article continues below advertisement
When hit rapper Bobby Shmurda (born Ackquille Pollard) was initially tried and sentenced to prison in 2016, it came as a shock to many of his fans. The artist had recently been signed to Epic Records after his song "Hot N---a" went viral, and his debut studio album was set to release that year.
At the time, he was sentenced to seven years in prison, though was only expected to serve three and a half, making his release date soon.
Why did Bobby Shmurda get seven years in prison?
In 2014, Shmurda was arrested as part of a raid of Quad Studios in Manhattan where police discovered 21 guns, crack cocaine, and marijuana. He was also arrested on charges that he was the suspected ringleader of a gang known as "GS9."
According to The Washington Post, Shmurda was charged with conspiracy to commit murder, reckless endangerment, and drug and gun possession. He was arrested with 14 other people, some of who were charged with similar crimes.
Article continues below advertisement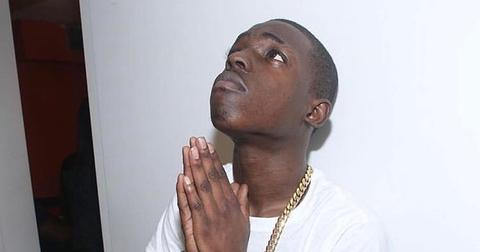 Initially, his charges could have resulted in a sentence with anywhere from eight to 25 years in prison, though Shmurda accepted a plea deal, reducing his sentencing to only seven years.
According to Rolling Stone, Shmurda attempted to withdraw his plea deal before his final sentencing, claiming he'd been forced to accept it.
Article continues below advertisement
"I want to withdraw my plea," he said during his sentencing according to the outlet. "I was forced by my attorney to take the plea. I was forced."
However, his request to withdraw the plea was denied, and Shmurda was sentenced to seven years in prison in 2016.
Article continues below advertisement
Bobby Shmurda is expected to be released in August 2020.
When Shmurda was initially sentenced, he had two years docked off his time, as his record label refused to bail him out from jail, despite the expectation that they would. At the time, it was only expected that he would serve three and a half more years of his sentence.
Some of Shmurda's fans on Twitter have noticed that the countdown timer to his release on his website has been set to Aug. 4, 2020, at 8 p.m. EST.
Shmurda had a parole hearing set for August and his conditional release date was set for Aug. 4. Understandably, his fans are excited for the rapper's potential release, as his debut album was postponed due to his arrest.
"Somebody said when Bobby Shmurda walk outta prison his hat gon return to him like Thor's hammer," one Twitter user tweeted about his potential release.
"if my boy bobby shmurda really get released today i will be shmoney dancing all day," another said.
"Bobby Shmurda's comeback music video will break the internet. It will be a cultural reset. There's no way around this," another fan tweeted.
This news comes on Shmurda's birthday, as the rapper turns 26. He was initially sentenced when he was only 22.
At this time, it has not yet been announced whether or not Shmurda will be released from prison in August.