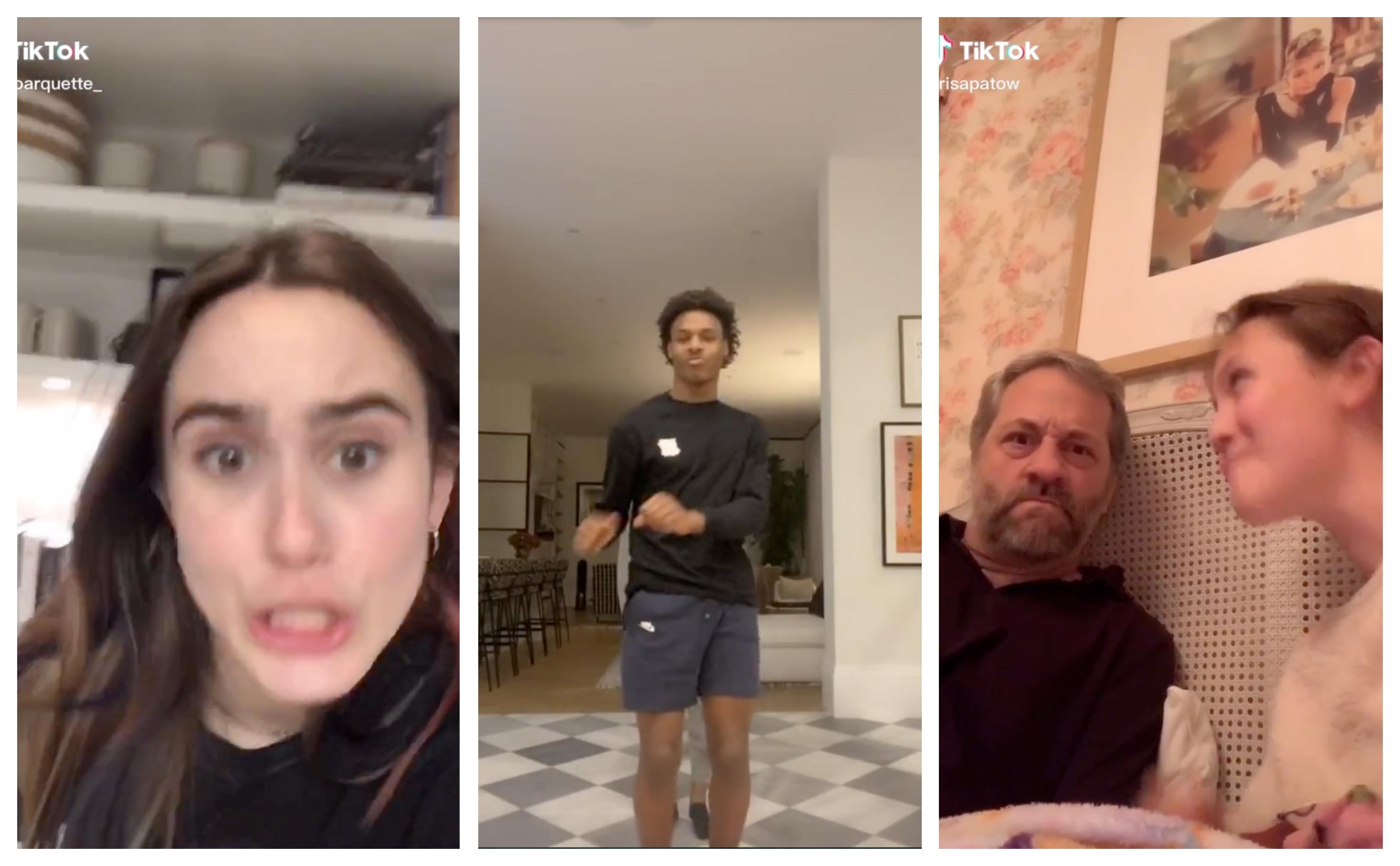 These Kids Show off a New Side to Their Celebrity Parents on TikTok
Whether you spend hours a day on the app or you've found yourself saying "what's TikTok" (on a nearly daily basis), then you know, by now, how influential the video app has gotten. While users mourned the "death" of Vine in 2016, TikTok has become exponentially bigger and more popular than the six-second video sharing app ever was.
Many top celebrities and influencers now have presences on TikTok, and they're making dance challenges and posting comedy videos as a way to stay relevant online.
Article continues below advertisement
The app is incredibly popular among teenagers, so it's no surprise that a ton of celebrity kids have become bonafide TikTok stars — and they oftentimes show off cameos from their famous parents.
Read on for 10 of the best celebrity kids on TikTok, and to see a new side to the stars who do cameos.
1. Coco Arquette (daughter of Courteney Cox and David Arquette)
"I'll be there for you," the Friends alum likely said to daughter Coco, since she's been starring in many of her teen daughter's TikToks. With nearly 300,000 followers, Coco definitely doesn't need her mom's presence for the views, but the two have been posting about their addiction for TikTok on Instagram. Courteney even joked that her fiance, Johnny McDaid and Coco are staying away from her because she's been filming TikToks so much.
Article continues below advertisement
2. Bronny James (son of LeBron James)
If you're wondering what NBA superstar LeBron James is doing while the league is on an indefinite hiatus following the coronavirus, then look no further. LeBron's eldest son, LeBron Jr. aka Bronny, posted a TikTok of his entire family doing the "Something New" challenge. But, we have to admit, the real star of the video is LeBron's five-year-old daughter, Zhuri.
Article continues below advertisement
3. Grace Wahlberg (daughter of Mark Wahlberg)
Mark Wahlberg may be an expert at doing intricate action scenes, but this TikTok dance he attempted with daughter Grace was definitely not in his wheelhouse. The Spenser Confidential star and his wife, Rhea Durham, and 10-year-old Grace tried (and failed) to get the moves right.
Article continues below advertisement
4. Haven Warren (daughter of Jessica Alba)
This TikTok was posted on Jessica's page, but Haven went viral for the sass with which she pulled off dissing her mom. This celebrity child certainly could follow in her mom's acting footsteps.
Article continues below advertisement
5. Jaya Harper (daughter of Laura Dern)
After winning her second Academy Award for her work in the Netflix film Marriage Story, Laura is one of Hollywood's most in-demand actresses. Teen daughter Jaya (who Laura shares with ex Ben Harper) is featuring her talented mom in a Spongebob-themed TikTok. If only there was an award show for top TikToks.
Article continues below advertisement
6. Romeo Beckham (son of David and Victoria Beckham)
Okay, so the closest thing we've gotten to a cameo from one of Romeo's famous parents is the TikTok in which he practiced his soccer skills. But, it can't be denied that Romeo is a dead ringer for his dad, and that he certainly has talent in the sport.
Article continues below advertisement
7. Iris Apatow (daugther of Judd Apatow and Leslie Mann)
Iris is another celebrity kid on this list who has a huge following on TikTok. The This Is 40 actress featured her director dad in this video, and unsurprisingly, the two had great comedic timing.
Article continues below advertisement
8. Apple Martin (daughter of Chris Martin and Gwyneth Paltrow)
With an Academy Award winner as your mom and a Grammy Award winner as your dad, it's not shocking that Apple has star power on her TikTok page. The 15-year-old and younger brother, Moses, can be seen doing a dance challenge in this TikTok.
Article continues below advertisement
9. Max Anthony (son of Jennifer Lopez and Marc Anthony)
Like Jessica Alba's daughter Haven, Max does not seem to have his own TikTok account. But, J. Lo posted this video of Max delivering high quality service during the coronavirus quarantine. While you might think stars are just like us, since Max waited on his mom by bringing her a soda, he did so on a hoverboard. So, stars are sort of just like us.
Article continues below advertisement
10. Mason Disick (son of Kourtney Kardashian and Scott Disick)
The oldest of the nine Kardashian grandchildren is Mason, so it's no surprise that he's leading the charge when it comes to how the next generation of KarJenners will present themselves on social media. Mason used to have his own public TikTok page, but it no longer exists (though he might have a private one somewhere out there). Thankfully, Kourtney posted this video on her page too, which features YouTube extraordinaire David Dobrik giving Mason some TikTok tips. Worlds are definitely colliding.
Article continues below advertisement
According to Kim Kardashian, her daughter, North West, also has a private TikTok. It might be a few years until we can see Chicago West, Stormi Webster, and True Thompson start their triplets TikTok profile.