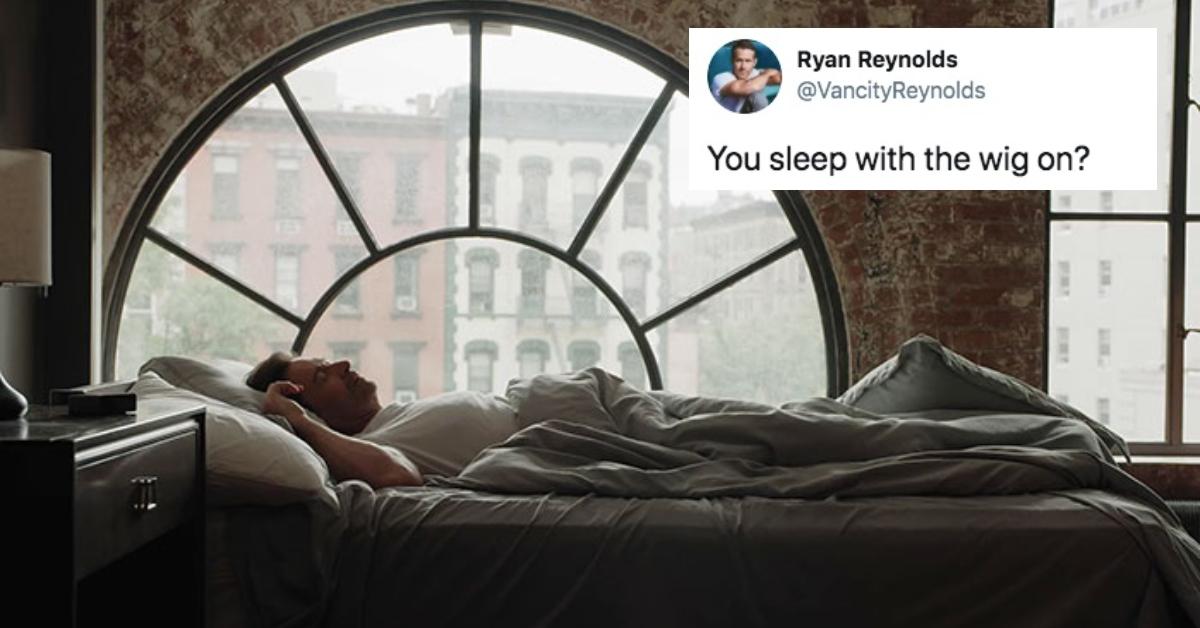 Hugh Jackman and Ryan Reynolds' Feud Continues in Hilarious New Coffee Ad
Ryan Reynolds and Hugh Jackman have one of the funniest ongoing celebrity feuds ever. They're clearly friends, but they love trolling each other mercilessly, to the delight of their fans everywhere.
Article continues below advertisement
In their latest effort, Ryan Reynolds narrates a coffee commercial starring Hugh Jackman. The brand, Laughing Man Coffee, was founded by Jackman, a famously lovely and friendly person. That's what makes his curmudgeonly commercial character so funny.
Article continues below advertisement
"This is Hugh Jackman," Reynolds says with his signature snark as the commercial opens on the sleeping actor. When the alarm goes off and he wakes up, grumpy, Reynolds continues: "Noted humanitarian, goodwill ambassador, eternal optimist, and founder of Laughing Man Coffee."
As he talks, Jackman yells at a bunch of kids outside to shut up. There's a cute dog who stares into his eyes longingly. And then Jackman, clearly acting as if he's lost faith in humanity, sits on his couch and listens to metal music.
Article continues below advertisement
But then, he gets up to make a cup of Laughing Man Coffee. Reynolds explains that the coffee company "donates 100 percent of Hugh's profits to support fair trade farmers and brews the exceptional flavor that is 100 percent responsible for the Hugh Jackman we know and love. There he is."
After he takes a sip, Jackman smiles wide, cuddles with the puppy, and finally becomes the nicest man in Hollywood. The ad went totally viral, and Ryan Reynolds' role in it was no small reason for that. People loved it.
Article continues below advertisement
One Twitter user wanted to know if Jackman asked Reynolds to do the narration or if Reynolds decided he wanted to do it himself. Whatever the answer, I think it is pretty clear that Ryan Reynolds is simply incapable of passing up an opportunity to make fun of his friend.
Article continues below advertisement
Some people went so far as to edit Ryan Reynolds into the commercial with Hugh Jackman. They're a legendary duo, after all.
Article continues below advertisement
And did you really think Hugh Jackman would be able to post this commercial on Twitter without getting a funny response from the narrator himself? Ryan Reynolds reposted the commercial and asked one very important question.
Article continues below advertisement
"You sleep with the wig on?" No, I don't think Hugh Jackman really wears a wig. But I do love how relentlessly Ryan Reynolds makes fun of one of the most handsome, wonderful men in Hollywood who has now founded a coffee company just to donate every single cent he makes to those who need it more than he does.
The Ryan Reynolds / Hugh Jackman feud is so ingrained now that it's infiltrating actual commercials for actual products. But the greatest part about it is that they're using their hilarious penchant for trolling each other to effect some change in the world and so some good. If people benefit from it, I hope that Ryan Reynolds and Hugh Jackman continue to make fun of each other in public for many years to come.