John Legend Named Sexiest Man Alive and Chrissy Teigen Has Some Things to Say About It
People Magazine has named John Legend the Sexiest Man Alive for 2019. Along with wife Chrissy Teigen, the power couple had some amusing reactions to the news.
It's time for Idris Elba to pass the crown to 2019's Sexiest Man Alive! People has selected EGOT winner John Legend to represent male sexiness for the next year.
Article continues below advertisement
The 40-year-old nabbed two covers at the same time — one showcasing his sexiness in evening wear and the second demonstrating his sexiness while submerged in water. Two covers at once is impressive — it took George Clooney nearly 10 years to land his second cover!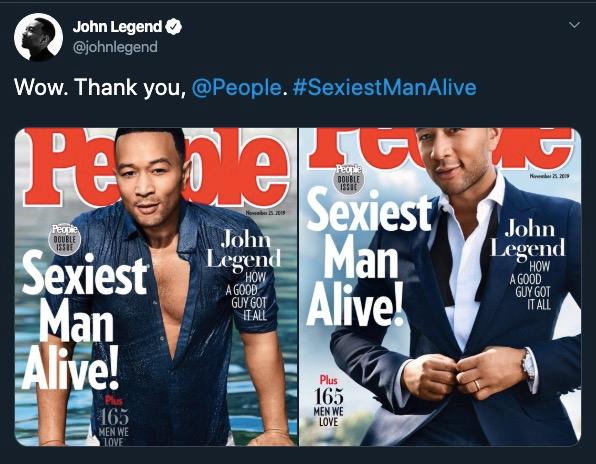 Article continues below advertisement
John is no stranger to receiving awards. In addition to being one of only 15 people to have earned an Emmy, Grammy, Oscar, and Tony in competitive categories, he also has a Golden Globe and three NAACP Image Awards. But I'm pretty sure none of those honors has inspired the biggest honor of all: a shout-out in his wife Chrissy Teigen's Twitter bio.
The 33-year-old model and Twitter funny person updated her bio on the platform to brag that she is currently sleeping with the People's Sexiest Man Alive.
Article continues below advertisement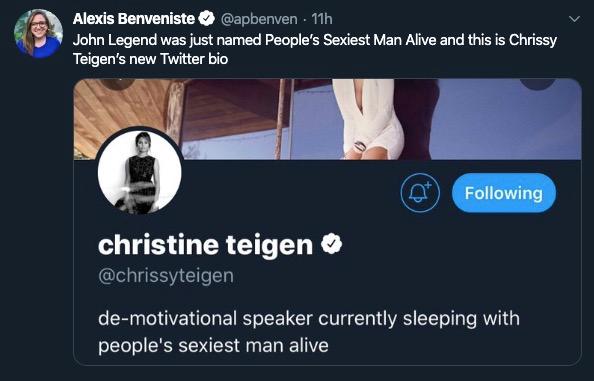 Though grateful for the honor, John does seem to question People's choice, especially after selecting Idris Elba the previous year. "1995 John would be very perplexed to be following 2018 @Idris Elba," John tweeted, sharing a side-by-side comparison of his nerdy 1995 self alongside the outgoing Sexiest Man. "Hell, 2019 John is about as equally perplexed but thank you @People for finding me sexy. I'll take it."
Article continues below advertisement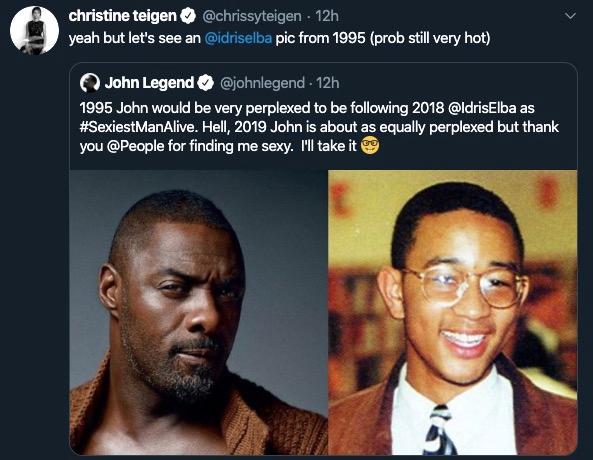 In response, Chrissy said, "yeah but let's see an @idriselba pic from 1995 (prob still very hot)" and based on this GIF of him in a 1995 episode of Absolutely Fabulous I'd say, "yeah... still very hot."
Article continues below advertisement
The couple — Chrissy in particular — tend to have a very humorous take on awards. The mother of two is constantly keeping her husband humble with each honor he receives, and recently pulled some of his numerous Grammys down from a shelf to display her award from the Baby2Baby charity gala.
Article continues below advertisement
She also is sure to point out that this latest honor has no bearing whatsoever on the esteem his kids, Luna and Miles, hold for their dad. In a video posted to Twitter, Chrissy asked both kids how excited they were about daddy being People's Sexiest Man, to which Luna, 3, basically says, "yeah sure, can we watch a movie?"
Article continues below advertisement
The cookbook author also alluded to the inevitable backlash on Twitter to this announcement, considering basically everything they tweet seems to upset half the internet. "I cannot WAIT for people to get mad about John being the sexiest man alive. It's my new Starbucks holiday cup."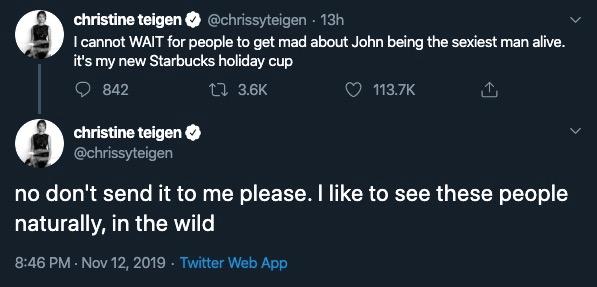 Article continues below advertisement
In all seriousness, it is nice to see People celebrating a diversity of sexiness. It took 11 years for Denzel Washington to become the magazine's first black Sexiest Man, and it was another 20 years before another nonwhite celeb would be chosen.
Since the inaugural 1985 cover, only four men of color have earned the honor. The second of the four, Dwayne Johnson, grabbed the 2016 cover. This recent development almost makes up for that one year they picked Nick Nolte.
Congrats to John — but more importantly, congrats to Chrissy!