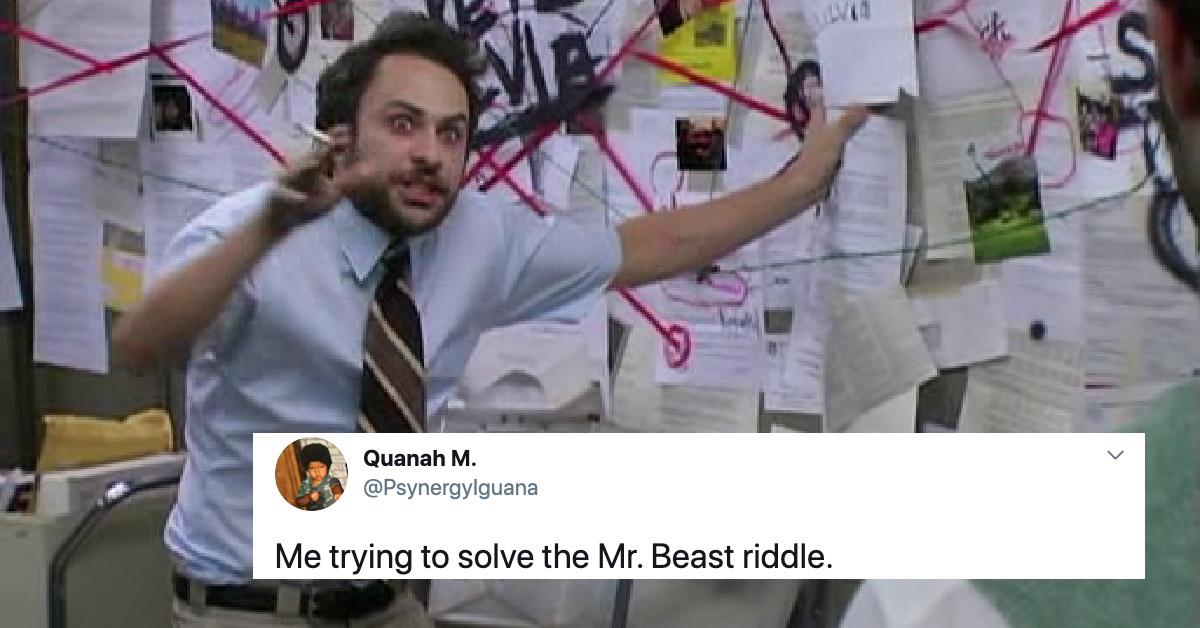 YouTuber MrBeast Is Giving Away $100,000 to the First Person to Solve This Riddle
By Abi Travis

Jul. 30 2020, Updated 6:22 p.m. ET
Hey, could you use an extra $100,000 right now? Of course you could! Luckily for you, YouTube star MrBeast is giving away $100,000! No questions asked! Really! All you have to do is follow a few steps, watch some YouTube videos, and keep track of some numbers and letters in order to solve a riddle. Easy peasy.
Article continues below advertisement
Before you get too excited, though, you should know that MrBeast calls this riddle the World's Hardest Riddle. Curious to learn more? Here's what we know.

Article continues below advertisement
Think you have what it takes to solve MrBeast's riddle?
On Thursday, July 30, MrBeast uploaded a video to his secondary YouTube channel entitled "Solve This Riddle for $100,000 (Step 1)." The video opens with a shot of what definitely looks like $100,000 USD, so that's pretty encouraging. What follows is a barrage of clues — or maybe they're just distractions from the real clues!
MrBeast says the riddle took months to develop. "These steps are gonna take you all across the internet," he says in the video. "You're gonna be watching hundreds of hours of YouTube videos, you're gonna be doing a lot of crazy things." Then he smashes a vase and says that could be a clue. 
Article continues below advertisement
The video goes on to feature a bunch of framed posters, bizarre office happenings (like driving a golf cart through a wall of giant LEGO bricks), and just all-around chaos that was apparently filmed in a single take. At the very end of the video, MrBeast reveals what you have to do in order to get to the official Step 1:
Article continues below advertisement
In the video description of the first video, there are 10 links that appear to go to YouTube videos. Except, only one of those links actually works. Once you click on it, you'll be taken immediately to Step 1 and you're officially on your quest for the money!
MrBeast clarifies two things in his initial video. First, you'll apparently come across some phone numbers while solving the riddle. He says to use a phone emulator (which he and his team will provide) in order to contact those numbers rather than using your real phone. 
Article continues below advertisement
Secondly, he says that you won't have to download anything to participate in solving the riddle — although there's apparently an exception to this caveat, as he also says you'll need to download the game Apex Legends in order to complete the riddle. We're giving him a pass on that one, though, because Apex Legends is also the video's sponsor.
People are already working their way through the riddle — and finding themselves stuck. Do you dare to try your own hand at solving the world's hardest riddle? Should you team up with a friend to double the brainpower (and halve the cash prize)? Let's face it: You're probably going to be watching hundreds of hours of YouTube videos anyway. Why not watch some that could lead to you taking home some cash? Good luck out there, riddlers!