Jordan Andino and Jamika Pessoa Will Serve as the Judges on 'Raid the Fridge'
The 'Raid the Fridge' judges face a big task: deciding which of the four pro chefs come up with the tastiest meal using ad-hoc ingredients.
Can you whip up a sophisticated meal with an ad-hoc selection of ingredients?
Food Network's newest competition show, Raid the Fridge, is bound to provide a good source of inspiration and some top tips on what to do when stuck with a half-empty tub of hummus (that's half full for the optimists) and a dusty box of specialty pasta. Hosted by Dan Ahdoot, Raid the Fridge promises hours' worth of entertainment and adrenaline-drenched cooking scenes. Who are the judges?
Article continues below advertisement
So, who are the judges appearing on 'Raid the Fridge?'
A competition and a reality TV show rolled into one, each episode of Raid the Fridge butts four professional chefs against each other. The end game? To prepare a quality meal using the ingredients found in the mystery fridge of their choosing.
At the beginning of each episode, the seasoned pros have to use their gut instincts and perform a quick calculation to work out which fridge is the likeliest to contain the best ingredients. The cooking begins after the big reveal.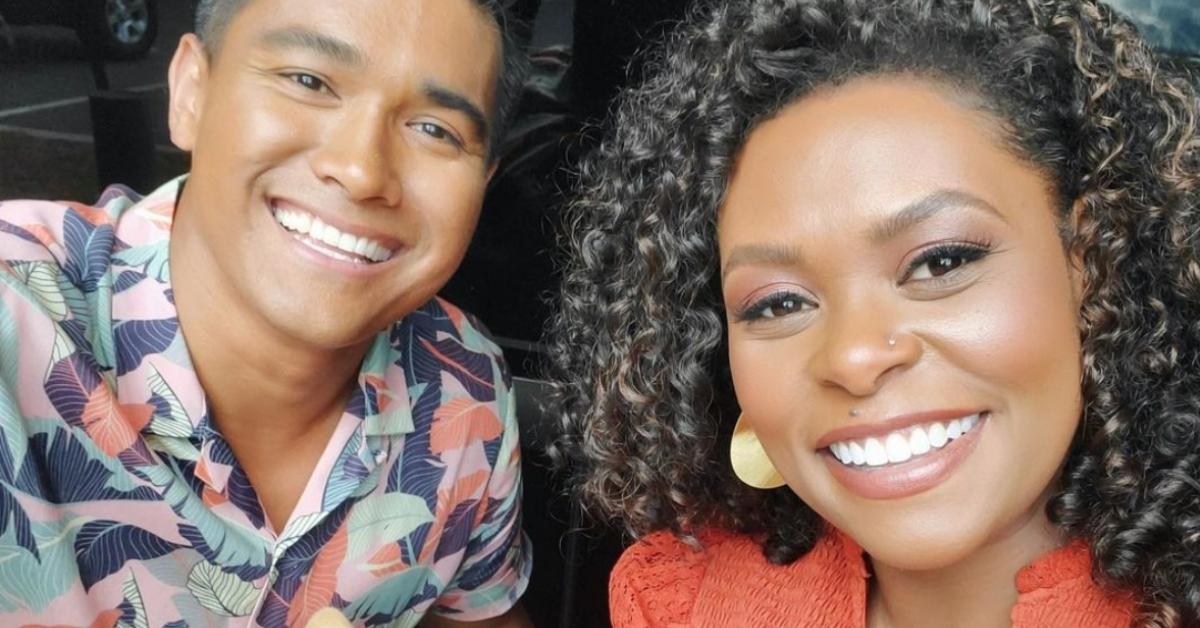 Article continues below advertisement
Raid the Fridge is hosted by Dan Ahdoot, a writer, actor, and comedian many will recognize from Cobra Kai and Atypical. Jordan Andino and Jamika Pessoa will serve as the judges.
Jordan Andino appeared on 'The Kitchen' and the likes before joining 'Raid the Fridge' as a judge.
A die-hard foodie, Jordan Andino got his first break in showbiz with an appearance on Man Finds Food. It was a steep uphill curve from then on, as Jordan continued to land roles on hit shows like The Kitchen, Chopped, and Worst Cooks in America.
Article continues below advertisement
But Jordan is just as active in the world of gastronomy when he is not in front of the camera.
According to Jordan's website, he has been cooking up a storm since he was 9. Having picked up a few tricks from his dad, he went on to study at Cornell University's School of Hotel Administration in Ithaca, New York. Thanks to his unceasing enthusiasm and exceptional ideas, he landed gigs at fine-dining restaurants like The French Laundry, Spago, and Jean-Georges.
Article continues below advertisement
Jordan also worked as a personal chef for the Kardashian family. Talk about an elite clientele.
Honoring his Filipino heritage has been crucial for Jordan. His restaurant-slash-dive-bar, Flip Sigi, brings together the flavors at the heart of his grandmother's and father's cooking with the finest French methods. A true New York gem, Flip Sigi opened in 2015 — and it continues to attract a big crowd.
Article continues below advertisement
Jamika Pessoa earned her stripes with an appearance on Season 5 of 'Food Network Star.'
Jamika rose to fame with Season 5 of Food Network Star, and there's been no stopping her ever since. She starred in shows like The Chew, Unique Sweets, and Food: Fact or Fiction?.
"Life is a party, so live it like one," she writes on her website. Her exuberant spirit comes through in her recipes, which range from the Mojito grilled steak salad to the deep-dish spaghetti pizza, as well.
Raid the Fridge premieres on Wednesday, Sept. 1, 2021, at 10 p.m. EST on Food Network.