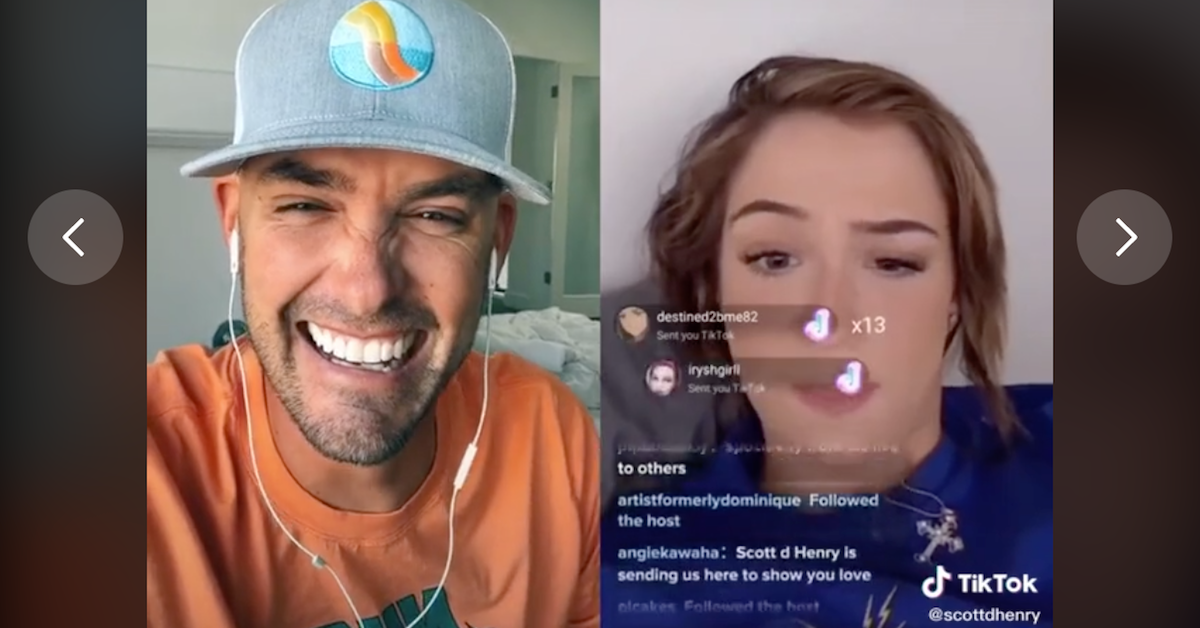 We Could All Use a TikTok "Love Slap" Right About Now
Now here's a TikTok trend we can get behind! Users on the video-sharing app have started giving their followers "love slaps," a challenge made popular by Utah dad and rising social media star Scott Henry.
Article continues below advertisement
What is a love slap on TikTok?
The trend is meant to support and uplift fellow users on the platform by getting a bunch of people to bombard their accounts with encouragement and optimism.
Here's how it started: Scott would begin a live stream on his page, then pick a random individual who was also filming a live stream to "love slap." He asked that his followers — of which he has 1.7 million — blast that one account with positivity in an effort to spread some much needed joy.
The heart-warming activity first went viral in August and received praise from other TikTokers. "Do you know what this man does? I went on his live yesterday and he sent thousands of his followers to a random account that was live to 'love slap' them," content creator Deanna Giulietti, who currently has 199.9K followers, shared.
Article continues below advertisement
"And he has been bullied to take a break from this app," she added, referring to trolls who say Scott isn't authentic. Those criticisms led the construction worker to take a brief hiatus from TikTok.
"I have a mission," Deanna stated in an Aug. 29 post. "Everyone go to his page and comment 'love slap #scottcomeback.' You deserve so much better, you beautiful soul. You make my day and I miss you already."
Article continues below advertisement
Scott Henry previously responded to negative comments about his upbeat attitude.
In an emotional video published after his "love slap" challenge blew up on TikTok, Scott revealed that he was taking a break from social media following a barrage of hateful remarks.
"I love you all, I genuinely love you, and I want you to know I'm 100 percent genuine with who I am, and when that's questioned it hurts," he admitted. "So I'm gonna step away for a few days. I love you. Keep spreading the love, keep spreading the happiness, I'll be back."
Article continues below advertisement
That hiatus lasted just one day, and in early September, Scott appeared on Good Things Utah to talk about his work to end cyberbullying.
"One of my big things on TikTok is if I see it, I will stand up for it," the internet personality, who's a bullying prevention ambassador for the national organization STOMP Out Bullying, said on the program. "I'm extremely passionate about it and I want to try to stop it with everything that I can."
As for his content's recent surge in views, Scott thinks it's a sign of the times. "With this pandemic going on, people crave a smile. People crave positivity and they want something genuine that they can relate to, and I think I'm all of that," he noted. "I think people can watch me and say, 'I could hang out with him in real life.'"
Scott also credits his wife, Holly, for inspiring him to "Be Better," telling host Deena Manzanares, "I wouldn't be on TikTok or have the confidence that I have today if I didn't meet my wife and she didn't give me the confidence to be the man that I am."