People Are Boycotting Olive Garden — and Here's Why
People are boycotting Olive Garden and it has to do with President Donald Trump — get the details on all the OG drama here.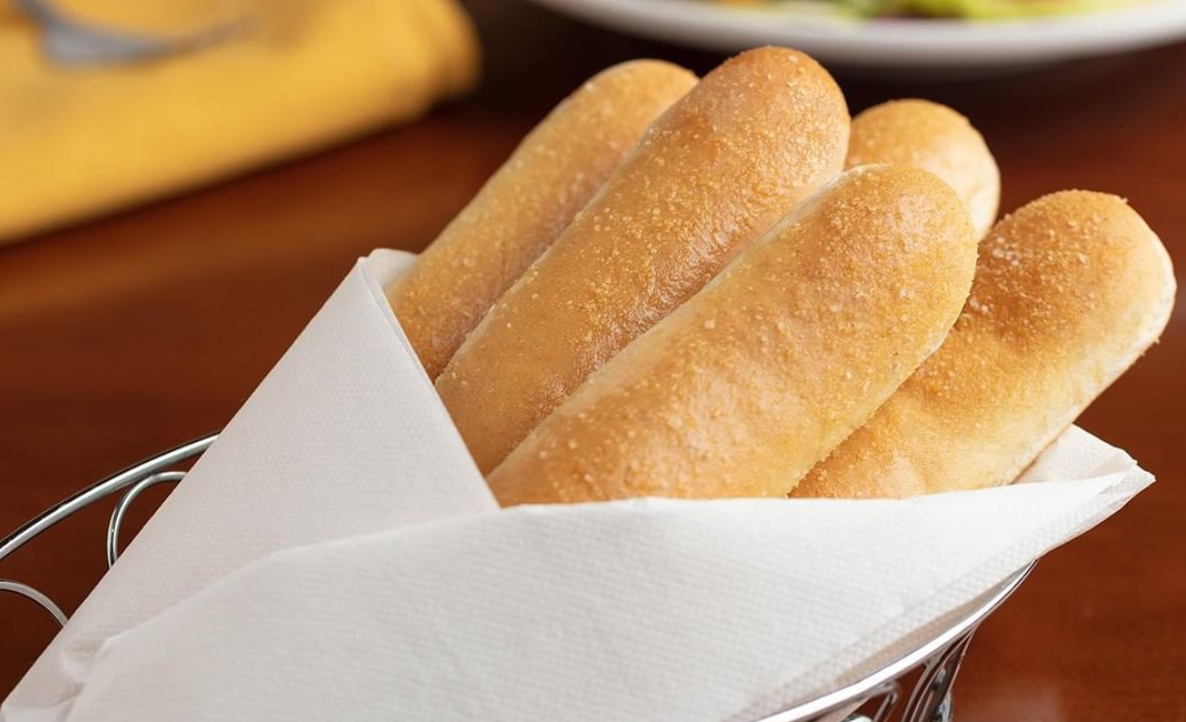 Unlimited soup, salad, and drama? That's the latest offer at the popular Italian food chain Olive Garden. The internet recently freaked out over the pasta empire when a cryptic tweet was shared. And now, everyone wants to know: why are people boycotting Olive Garden? Scroll down for everything we know!
Article continues below advertisement
Why are people boycotting Olive Garden? It all started with a tweet. 
So it turns out, restaurant-goers are against Olive Garden because there was major buzz on Twitter that they donated to President Donald Trump's 2020 election campaign.
This one Twitter user's claim led to over thousands of #BoycottOliveGarden tweets.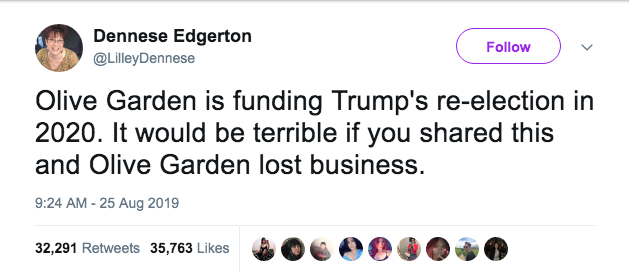 Article continues below advertisement
The since-deleted tweet came from Lilley Dennese. "Olive Garden is funding Trump's re-election in 2020. It would be terrible if you shared this and Olive Garden lost business," the bizarre tweet read.
The tweet literally went viral even though Lilley had no research or leg to stand on with such a bold claim. The buzz even caught the attention of Olive Garden, who disputed the claims on their own account.
Article continues below advertisement
"We don't know where this information came from, but it is incorrect. Our company does not donate to presidential candidates," they wrote. Olive Garden is a subsidiary of Darden Restaurants, Inc., so in another tweet, the company wrote: "To clarify, Darden does not donate to federal candidates."
Article continues below advertisement
It seems all the talk that Olive Garden was funding Trump's campaign first came from an August 8 tweet from a user named @BillyBobSanderz who posted a long list of "companies supporting Trump's reelection." The list contained restaurants like Taco Bell, Wendy's, McDonald's, and — you guessed it — Olive Garden.
"So if you see me starting to get thinner and toned don't ask me why," he wrote at the time.
Article continues below advertisement
When questioned by other users on the credibility of his claims, he wrote another tweet with a list of relevant sources on the internet. However, one of the links for the Chick-fil-A one reads: "The organizations themselves did not donate, rather the money came from the organizations' PACs, their individual members or employees or owners, and those individuals' immediate families."
POTUS has not spoken out about the claims that Olive Garden and other popular fast food chains have been donating to his campaign... and he probably won't.
But since Olive Garden cleared all of this up for us, politics won't stop us from heading over there for all the soup, salad, breadsticks, and pasta we can eat.