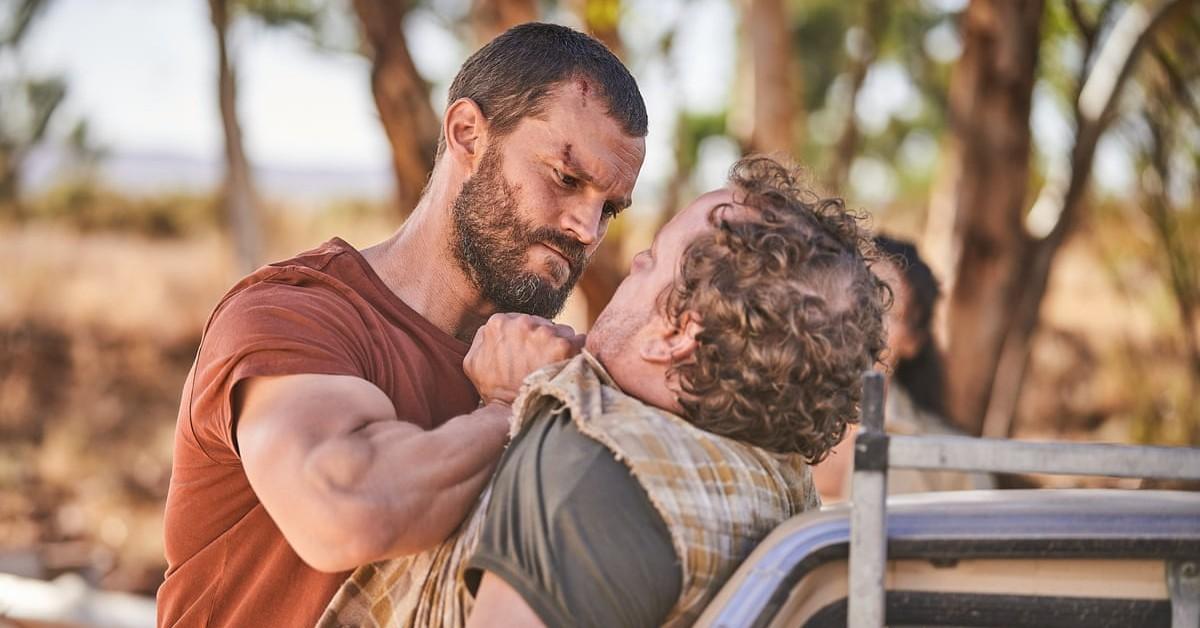 Critics and Audiences Aren't Seeing Eye to Eye on HBO Max Amnesia Drama Miniseries 'The Tourist'
Everybody's a critic. Some just get paid for it. When it comes to Jack and Harry Williams' HBO Max miniseries The Tourist, the professionals are pleased, and the viewers have, well, they have lots of thoughts. Fifty Shades of Grey's Jamie Dornan is our rugged protagonist — whom we simply know as "The Man." Viewers watch him struggle to remember everything about his life and identity subsequent to being brutally hit by a truck in the middle of nowhere in Australia.
Article continues below advertisement
Being a loner plagued with amnesia in the heat of the Australian Outback is probably never a walk in the park, but for The Man, it's even worse, as he's got dangerous people from his past coming for him. The clock is ticking for him to gain back his memory, or else. With an increasingly weird and twisty plot, The Tourist aims to excite and surprise.
Article continues below advertisement
Also starring Danielle Macdonald (Dumplin'), Shalom Brune-Franklin (OtherLife), and Ólafur Darri Ólafsson (Trapped), The Tourist holds a god-tier Rotten Tomatoes score of 100 percent. That score is compiled solely from critic reviews, however. The audience-based Rotten Tomatoes score for The Tourist is just a meh 56 percent. So, what gives? Let's delve into the conflicting consensuses.
Critics and viewers have drastically different opinions of HBO Max's 'The Tourist.'
One of the aspects of The Tourist critics can't seem to get enough of is Jamie Dornan's performance. "Dornan now joins the ranks of Robert Pattinson, Kristen Stewart, and former co-star Dakota Johnson as a person who made interesting choices after their franchise ended and looks to become one of our credible millennial actors," wrote Leila Latif of AV Club. In fact, she titled her review "Jamie Dornan's Turn in The Tourist Will Make You Forget About Christian Grey."
Article continues below advertisement
For ABC News, Peter Travers raved about the series' constant excitement, intriguing themes, and ability to keep viewers on their toes. "Packed with high-voltage suspense and twists you don't see coming, The Tourist also poses tangled questions about the nature of identity. You can tell The Man is afraid of what he might learn about himself," he wrote.
And just like Leila Latif, he mentioned Jamie's star power: "As an Irish amnesiac eluding a cabal of killers in the Australian outback, Jamie Dornan is so good you'll follow him anywhere, which is what gives this relentlessly funny, ferocious, thrill-a-minute series the staying power to haunt your dreams."
Props to lead Jamie Dornan for elevating his acting career and earning several nods from critics.
Article continues below advertisement
Some viewers could've done without Jamie's acting, the series' slow pace, and its tired clichés.
A few viewers should get a nice check considering how much time they must've dedicated to trashing The Tourist. Rotten Tomatoes user Santa B got straight to the point, writing, "Stale unrealistic cliche. Crikey what a scorcher, sadly this isn't. Jamie Dornan fans will undoubtedly find this to be ripper, but most will find it tedious and cringeworthy." Wow, or shall we say, "Crikey!"
Article continues below advertisement
User Thale M even dared to call Jamie's acting "wooden."
"I watched the entire season and ... oh dear I've never seen Jamie Dornan acting before, but he was very wooden. The others weren't great either. The female characters were probably the best acted," they wrote. But the two-star review doesn't stop there, as this viewer had a few more things to get off their chest.
"The plot was full of holes, cliches, and totally predictable storylines. The villain was a walking stereotype and was so disappointing. Other reviewers say there was comedy in this. I didn't notice any. That's how good it was. Overall it was a depressing jaunt around a barren landscape with a bunch of boring stereotypical people. If you've never seen an intelligent drama or you have the hots for Jamie Dornan, you'll enjoy it," their review continued. Absolutely brutal! Roger Ebert would be proud.
Article continues below advertisement
But with an audience score of 56 percent, there are obviously a handful of good viewer reviews. Giving it five stars, Jason L wrote about The Tourist's specifically Australian perspective, which may or may not enhance a viewer's experience.
"What a delight! It's unlike anything I have seen in a while. I suspect a lot of Americans will not get the Australian sense of humor and the Australian idiom and slang," Jason wrote.
"Add to that twists and turns and a bit of crazy absurdity. For me the stand-out character was Danielle Macdonald's Probationary Constable Helen Chambers. If you don't get the humor you won't like it. If you do, then you will think it is brilliant!"
With all of this in mind, The Tourist is surely worth a shot, especially if you respect professional film critics. But hey, you be the judge.
All six episodes of The Tourist are currently streaming on HBO Max.