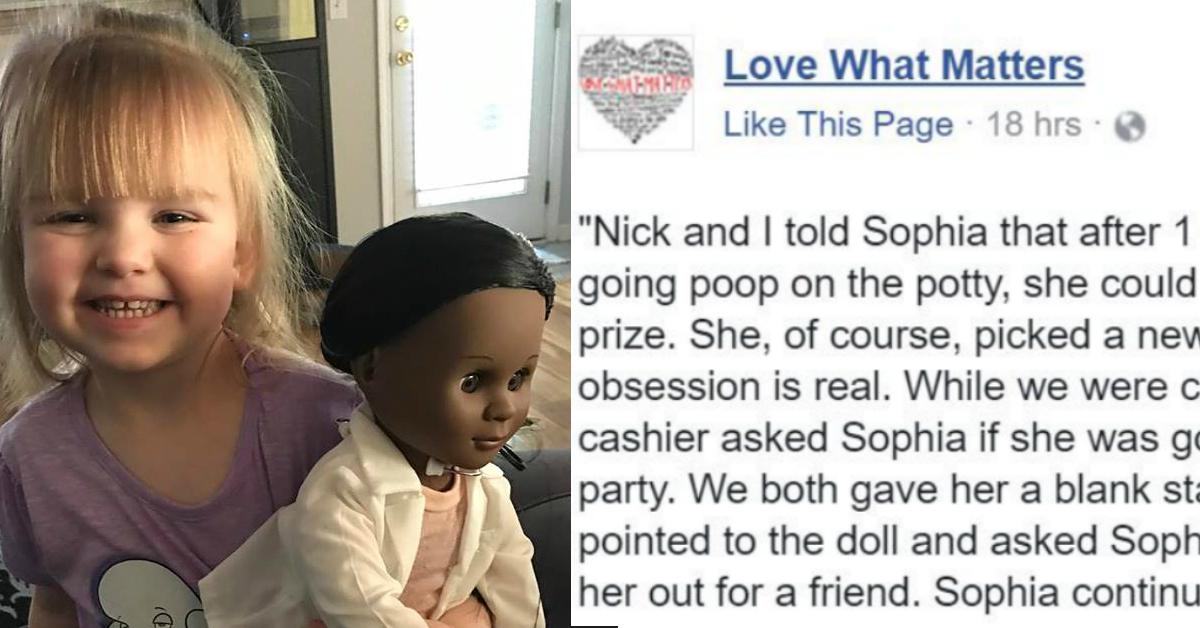 This Little Girl Shut Down A Cashier Who Questioned Why She Wanted To Buy A Black Doll
By Mustafa Gatollari
There are some things that kids are really stupid with. Like my son didn't know it would be bad for him to jam his finger into a metal door hinge. Or walk right off the edge of the couch. Or go headfirst into the bathtub, or try and grab a pot of boiling water. Or fight going to sleep like he was fending off Death himself.
But there are other things that kids are really smart with. Whenever my son wants something, he fights tooth and nail for it. When he loves you, it's this beautiful, unconditional happiness with who you are. When you get a hug or a kiss from a child, there's more warmth in that than most adults can muster, and it's beautiful.
There are also a lot of cultural hang-ups and learned behaviors that little kids aren't affected by, and a perfect example of this is when little Sophia went to the store to buy a doll as a reward for going poop on the potty.
Sophia's mother, Brandi Brenner, shared her daughter's touching response after the cashier questioned why her daughter picked a black doll.
Brenner shared the conversation held entirely by her daughter and the cashier.
"Nick and I told Sophia that after 1 whole month of going poop on the potty, she could pick out a special prize. She, of course, picked a new doll. The obsession is real. While we were checking out, the cashier asked Sophia if she was going to a birthday party. We both gave her a blank stare. She then pointed to the doll and asked Sophia if she picked her out for a friend. Sophia continued to stare blankly and I let the cashier know that she was a prize for Sophia being fully potty trained. The woman gave me a puzzled look and turned to Sophia and asked, 'Are you sure this is the doll you want, honey?' Sophia finally found her voice and said, 'Yes, please!' The cashier replied, 'But she doesn't look like you. We have lots of other dolls that look more like you.' I immediately became angry, but before I could say anything, Sophia responded with, 'Yes, she does. She's a doctor like I'm a doctor. And I'm a pretty girl and she's a pretty girl. See her pretty hair? And see her stethoscope?' Thankfully the cashier decided to drop the issue and just answer, 'Oh, that's nice.' This experience just confirmed my belief that we aren't born with the idea that color matters. Skin comes in different colors just like hair and eyes and every shade is beautiful."#LoveWhatMatters
Facebook commenters were applauding Sophia's response and were touched by how awesome this little girl was.
As an African American woman and teacher I am in tears reading these beautiful stories. Growing up I didn't always find or have the dolls that "looked like me" and neither did I care. I had dolls of multiple colors because I LOVED Disney (and still do) lol. Some people are just ignorant of their conversations. Love knows no color but realizes that the rainbow is uniquely beautiful...
Moms started sharing photos of their own kids who don't discriminate against their toys based on color.
Now, if we could only get adults on board with being tolerant.