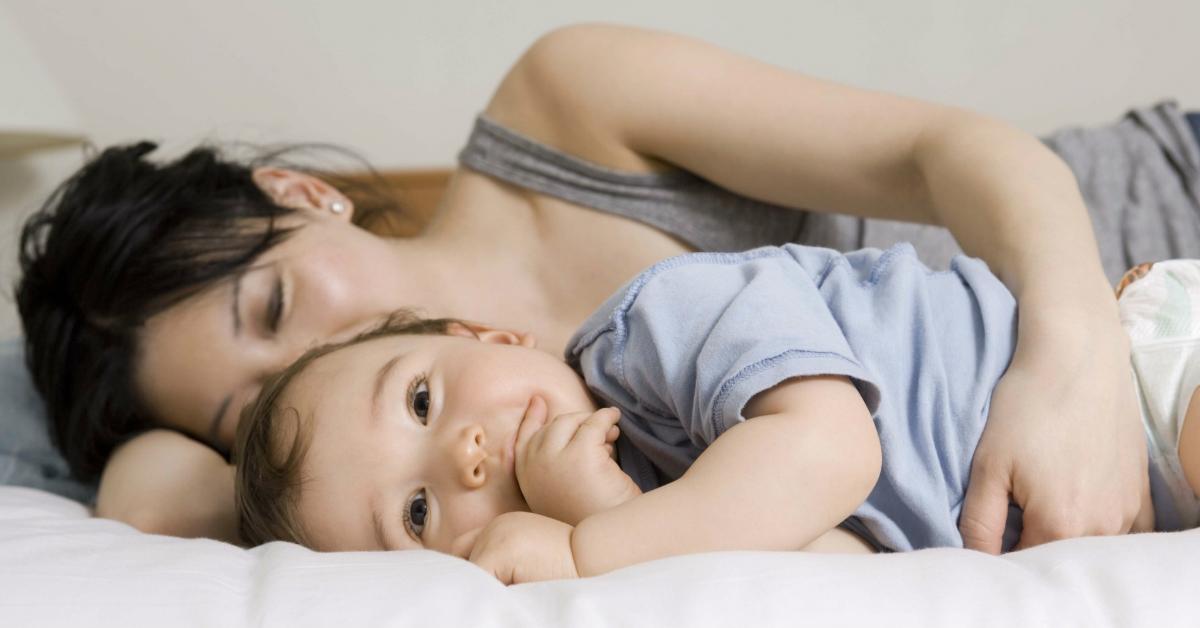 Dad's Facebook Post On 'Snuggling' His Kids Sparks Massive Co-Sleeping Debate
By Mustafa Gatollari
If I left it up to my son, he'd sleep with my wife and I every night, kicking us in the face and rolling his little year-and-a-half old body all over the bed and waking us up every half hour or so.
Getting him to sleep in his own bed (he's now sleeping in a half crib, don't ask how the kid was able to jump out of it when it was fully assembled) is a struggle to say the least. We have to go through all of his favorite nursery rhymes and sit with him until he's asleep. If you try leaving before he's fully passed out, he'll start screaming bloody murder.
There are some nights where I feel like just bringing him into the bed is the best option. And I probably would do that - if I went to sleep as the same exact time as my son. Unfortunately, this isn't the case and I end up having a ton of work to do after the little nugget passes out. Everytime I bring up the "co-sleeping" question to other parents, they seem to have really, really strong opinions of the matter. I don't claim to have all the answers, and think that as long as your kids grow up to be functioning members of society who aren't scumbags, then you're a good parent.
But because Facebook's full of people with very strong opinions of anything parenting-related, this post caused an uproar.
In a post that was shared on the popular "Love What Matters" Facebook page, David Brinkley put up a touching photo of his wife sleeping in bed with their two kids. He penned an emotional note to go with the photo, explaining how co-sleeping not only doesn't bother him, but that he finds it beautiful.
"My wife is a best friend kind of woman. She has hours upon hours of long conversations with her friends ALL the time and occasionally I get to hear little pieces. Recently she was talking to a friend and they were talking about this thing called "co-sleeping" and I heard the other person ask 'doesn't your husband hate that? My husband would never let me do that.'"
"This blew my mind and has bothered me for days. So I just decided to come out as a man and set a few things straight. I do NOT hate any part of what makes my wife the mother that she is. I would NEVER degrade or disregard anything that she feels like doing for my children. Do I have to squeeze into a small corner of the bed sometimes? Yeah? But my God how beautiful does she look holding my children? Making them feel loved and safe?"
"The thing is that our wives only experience these little seasons in motherhood for a short time. They carry our babies, they birth them, they nurture them and maybe while they are little they let them crawl into our beds and snuggle. But eventually our babies get bigger they grow up they get 'too cool' for snuggles so why would we as men want to steal a single second of this time from them?"
"Being mothers is part of their identity and what's a year or 3 out of decades of life spent together? I just want to say that I am proud of the decisions my wife makes as a mom and I support every single one of them. I would never want to rob her of this time she has or these seasons that are in reality too short to not enjoy. Please respect your wives as mothers."
The got tons of love from people who thought that it was pretty awesome for a dad to not mind getting pushed into a small corner of the bed. One user wrote:
"As a father of 5 ranging now from 19 to 10 we always have at least 1 in our bed someone's they still fight over who is sleeping with us and we embrace it with open arms and pillows it is such a great feeling to know that my kids still like to have mommy and daddy time 6 foot 4 and 270 lbs my oldest still comes in from time to time a king size bed is just not big enough."
And others said that their relationship suffered because co-sleeping was a no-no.
"My husband HATED it when I let tlmy kids crawl in to our bed," another commenter wrote. "He always said: this is my sanctuary... or some b.s. like that. My oldest (12 at the time) has Autism and he used to love hanging out. My husband used to make this precious time for my oldest, a thing of the past. It's one of the reasons he's no longer in our life. I love my kids too much!!! Thank you sir, for being a great husband and father. This post is amazing."
But then other people started saying that there's nothing wrong with a married couple keeping their bedroom all to themselves. One commenter added:
"I have to say though that if a husband wants to create a boundary that the parents' room is only for mom and dad, I don't think that's wrong either."
While others said that it was dangerous and not only posed a threat to children, but to any nighttime mommy-daddy intimacy.
"This is dangerous for the baby," one person added. "Babies should sleep alone, on their back, in a crib. Remember the A< B< Cs of safe sleep."
"Love that you love your kids and your wife, and clearly you do. With that said, I work with CPS in the fatality unit and it is extremely dangerous to sleep with babies age 1 year and younger. Practice safe sleep."
What do you think about co-sleeping? Do you think that kids eventually grow out of it naturally, or it's important to have them sleep in their own rooms or else they'll be freaking out during their first ever sleepover at someone else's house?