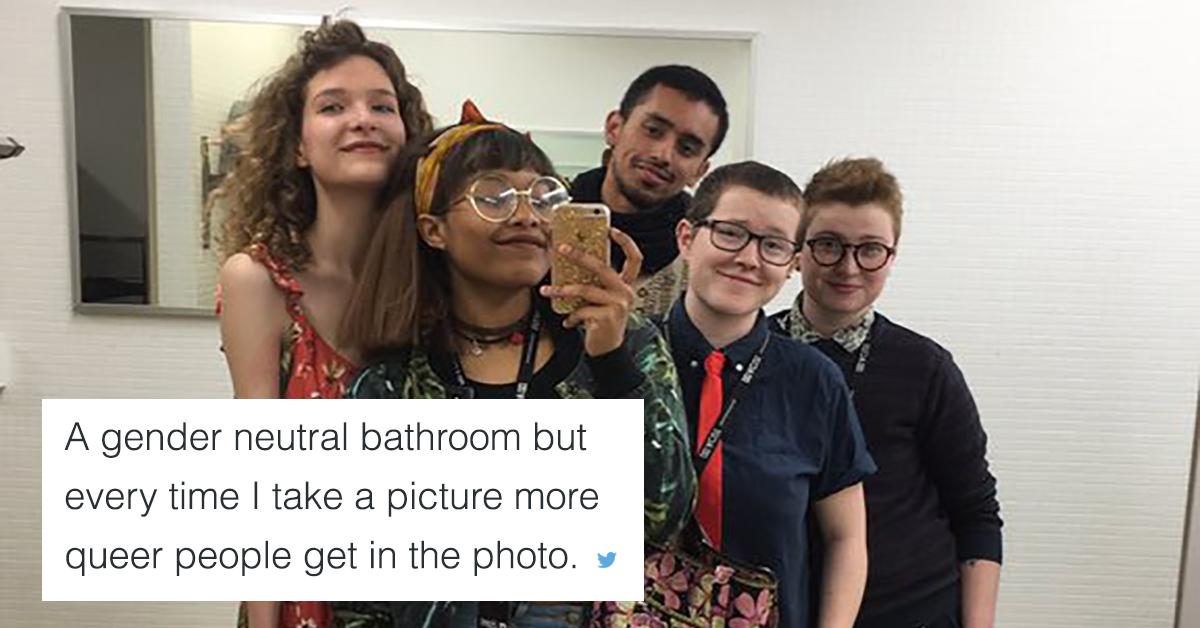 Student's Selfies From Gender-Neutral Bathroom Go Viral For The Best Reason
By Mark Pygas
Julissa Emile, a 19-year-old student at Wheelock College in Boston, recently attended a collegiate poetry slam competition in Chicago. While there, Emile and a few friends gathered in a gender-neutral bathroom, and Emile's tweets about the meeting proved popular. This is a new step in terms of selfie game, what will people do next. One would dream that the selfie stays around for a while. I mean how did society as a whole never take them before the twentieth century. Cameras have been around forever and instead of asking a random person already eating dinner to snap the photo of you and your friends sharing a meal at Sonic Burger, just take one of your own.
The tweet says "A gender neutral bathroom but every time I take a picture more queer people get in the photo." It is amazing how people bond over a shared experience of something that was once illegal but is now something that can be shared by everyone.
Gender-neutral bathrooms are relatively new, and are simply public toilets that people of any gender or gender identity may use. But they don't just benefit transgender people, they've also been praised by parents who wish to accompany their children, as well as the disabled and elderly who may need assistance from someone of another gender.
They have, however, caused a lot of controversy in the United States, specifically in North Carolina. Last year, the state Senate passed House Bill 2, which eliminated local anti-discrimination protections for lesbian, gay, bisexual and transgender people, forcing them to use the bathroom that corresponded with the sex on their birth certificate in government buildings. The bill is currently in the process of being repealed.
Despite all the controversy surrounding gender-neutral bathrooms, most people loved Emile's tweet.
Others weren't happy about the tweet, with a small minority labeling the photos a sign of "mental illness," among other homophobic comments.
"So many people said so many homophobic, transphobic, and racist things to us," Emile told Buzzfeed. "Why? People literally have gender-neutral bathrooms in their own homes. What's the big deal?" Emile says she wants the tweet to be a reminder that it is "absolutely possible for people to coexist without violence, especially in a situation that's so simple as just going to the bathroom."
"Everyone should have access to public bathrooms without having violence inflicted on them," she concluded.