Woman Finds Purse Packed With 90's Memories in Mom's Attic, Takes Internet on a Nostalgic Trip
A TikToker found an Arizona handbag in her mother's attic that was packed with a bunch of '90s throwback stuff.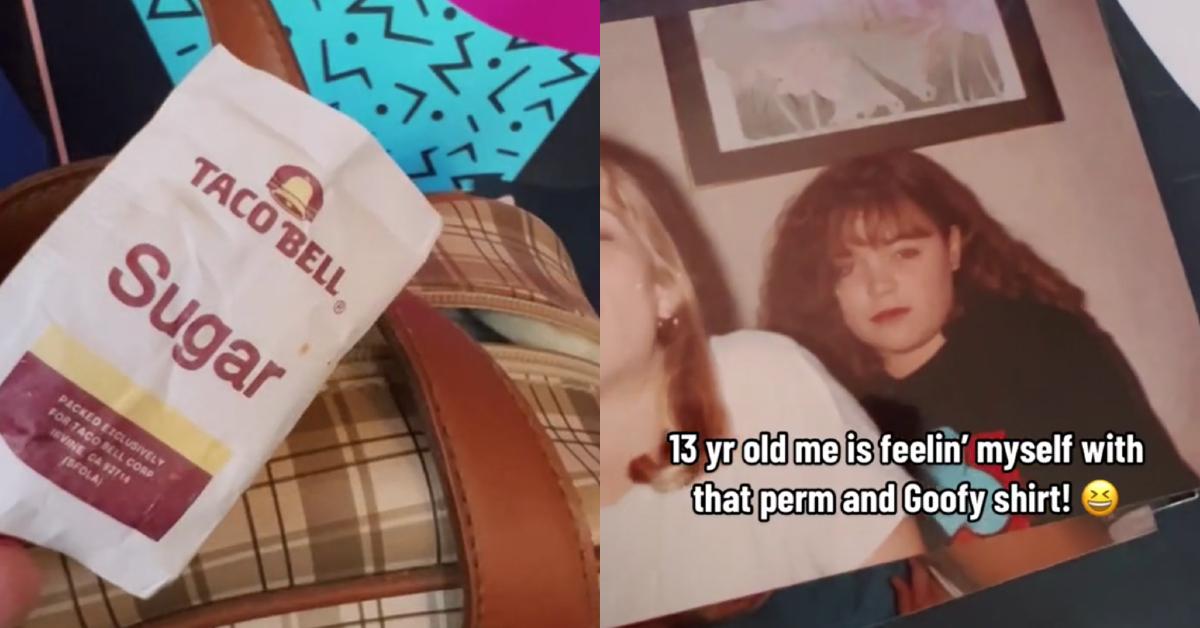 The word "nostalgia" stems from two Greek words: "nostos" which can mean either "home" or "return" and "algos" which directly means "pain."
It's no wonder those toga-wearing, bearded philosophers became so renowned for their musings because nostalgia is a painful feeling for many people.
Article continues below advertisement
To reminisce on a life that we once had, an existence that we perhaps regret not squeezing more life out of or not living out to its fullest can hurt. Or maybe we just wish that we had the problems in our current lives that, at one point, seemed insurmountable. Or that youthful feeling of waking up every single day where things may have naturally meant more to you.
A time when going to bed early felt like a death sentence because you didn't want to miss out on the world, or when getting to sleep over at a friend's house felt like you won the lottery.
Sometimes, the strangest things can hit up with a bout of nostalgia, for me, it's these X-Men Pizza Hut cups. and for the TikTok account @wedontwannagrowup, it's this Arizona flannel-patterned handbag.
Article continues below advertisement
In a caption for the video, the TikToker explains what their viewers are looking at a bag filled with reminders from the '90s that feels like a time capsule of sorts, that gives a glimpse into what life was like for folks nearly 30 years, which also highlights just how much has changed in that time period.
Article continues below advertisement

"So, I found this bag (surely from JCPenney) when we went through my mom's attic. It's been up there for almost 30 years and I wasn't sure what 13-year-old me left in there to find!"
To amp up the throwback factor, the video was set to Lisa Loeb's "Stay (I Missed You)"
Article continues below advertisement

"I found this purse in my mom's attic that hasn't been used since 1994!" a text overlay in the video reads as they crack open the bag. First up is a party invitation, complete with '90s graphic design cues of the time period. A mini leather photo album was also extricated from the bag that includes a "hug me" sticker inside along with a card from the National Honor Society.
Article continues below advertisement

The clip then transitions to a faded movie ticket with a matinee showing for Forrest Gump, and a picture of two kids who look like they're in their early teens, "Voted most dependable," a text overlay reads.
Article continues below advertisement

Next, she pulls out what looks like a personal letter written on lined paper that appears to be talking about some young relationship drama. The note is peppered with hearts and looks like something that could be sandwiched between a Sweet Valley High book you'd slyly pass to a friend in class.
Article continues below advertisement

There was also an expired single-use packet of Tylenol (it went bad in '95), another matinee ticket, an empty Jolly Rancher wrapper along with an old-school Taco Bell sugar packet, rocking the old-school logo and everything.
Article continues below advertisement

The TikToker also pulled out a Walmart photo print packet from the purse, which included a bunch of pictures they wrote that were taken while they were in middle school. She rests the camera on a picture of her and another overlay that reads: "13 yr old me is feelin' myself with that perm and goofy shirt!"
Article continues below advertisement

The last thing in the purse? A yellow ball from a McDonald's play place ball pit, but it seems like she has no idea how it even got there.
TikTokers who saw her video remarked that they, too, were hit with bouts of nostalgia upon watching it. The TikToker clarified in the comments section that while she found the purse in her mom's attic, it was actually hers.