Mom Cancels Family Vacation After Husband Hid Stepdaughter's Passport to Keep Her From Coming
A woman wanted to know if she was in the wrong for yelling at her husband after he hid her daughter's passport to prevent her from going on a family trip.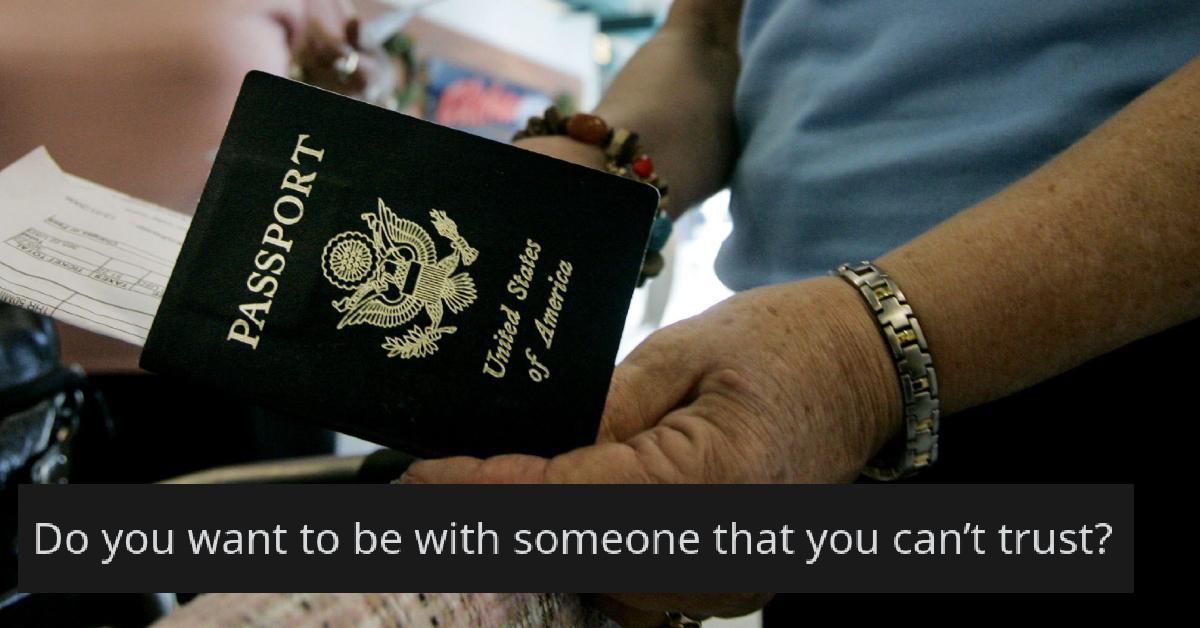 A woman wanted to know if she was in the wrong for canceling a family vacation after she discovered that her husband hid their daughter's passport to prevent her from coming and ruining the vibe.
Human beings will usually look for the path of least resistance when it comes to handling situations, at least the path of initial least resistance because oftentimes, what we need or really desire to do is uncomfortable.
Article continues below advertisement
Need to have a difficult conversation with someone? It's tempting to just put it off or find the most comfortable way of handling it instead of saying what needs to be said and then reacting/adjusting accordingly. This bites us in the butt because even if we aren't called out on it, we know we made an easy choice and conditioned ourselves to do so, which will have long-term effects on our personalities and how we react to things.
This seemed to happen with this one woman's husband in a viral Reddit blog she uploaded on the site's popular AITA sub using a throwaway account. In the post, she divulged the lead-up to his deception and how he attempted to flat-out lie about it: "My husband and I have been together for 3 years. He has 3 kids from his previous relationship and I have one. She's the oldest (17). He's a dedicated man, puts God first and loves everyone," she writes.
Article continues below advertisement
Apparently, there was some tension in the family that her husband attributed to OP's 17-year-old daughter because she wouldn't "spend time" with her step-siblings. Still, the young girl says that when she does, she basically becomes a babysitter. Instead of respecting the fact that she's a teenager who probably wants to do teenager things instead of looking after folks who are younger than her, it seems that OP's husband took it as a personal affront of sorts, one that he believed should preclude the teen from attending a family vacation that OP booked and paid for.
Article continues below advertisement
"My husband always complains that my daughter doesn't spend time with her stepsiblings or him but she has reasons for that and that is school, health issues, and work. She does her best to spend as much time with them as she can. but she on the other hand complains that her stepdad tells her to basically take on the role of a babysitter whenever she's with her stepsiblings. My husband denied that and said that my daughter was making up excuses to not have to spend time with his kids."
Article continues below advertisement
OP said that she decided to book the trip because she wanted to help rectify this issue and bring the family closer together. And if you've watched any good road trip '80s comedy you'll know that the trials and tribulations of the journey and folks striving to make it work together ultimately makes for stronger relationships.
However, OP's husband seemed to have different ideas: "For this issue, I figured that a family trip is what the family needs to get together and spend more time around each other. My husband liked the idea but said that his kids are now 'uncomfortable' around my daughter because of her "attitude" and suggested we let her stay home and have the house all to herself since that's 'what she always wanted'. I told him it's best that we all go. he kept complaining til I snapped and told him to stop."
Article continues below advertisement
After their conversation, OP's 17-year-old daughter's passport mysteriously disappeared, which they would need for their family vacation. Her husband was quick to point out that perhaps the passport's sudden absence was a sign from the Lord that they shouldn't bring her on vacation, effectively making him yet another person who tries to justify their own personal agendas by attributing it to an act of God.
Article continues below advertisement
"I booked (paid) for the whole family. However, my daughter told me she couldn't find her passport. We turned the house upside down looking for it but couldn't find it. My husband said maybe it was a sign from God that we should let her stay home so the trip wouldn't turn into a disaster. I ignored his comment but later while I was cleaning his office I found the passport, tucked away in the 3rd drawer under a ton of papers."
Article continues below advertisement
After finding the passport, OP decided to confront her husband about it, but he just denied everything, until she decided to do some investigating on the home's indoor security system and sure enough, she caught him intentionally hiding the document: "I was floored by this, I confronted him with it and he swore he had no idea why or how the passport got there. I checked the upstairs camera and saw him enter my daughter's room. That was it for me, I screamed my head off at him then canceled the whole trip completely."
She ultimately canceled the entire trip and her God-fearing husband was so upset that she decided to yell at him after he lied about trying to keep her daughter from going on a vacation that she paid for: "He started arguing saying I overreacted and that he didn't want his kids to be "miserable" on the trip and that willing to apologize to my daughter if and when I reconsider my decision regarding the cancellation of the trip, because my stepkids will be devastated but I said it was final and that it was done."
Article continues below advertisement

"He become cold and distant and said that he wants to take some time to do some fasting and get guidance from God about how he should deal with the disrespect and control I had displayed lately."
Redditors didn't think that OP was being out of line at all, stating that it sounds like he's doing everything in his power to control her.
Article continues below advertisement

User @AbbyBirb broke it down like this: "Your husband wants to control you; what you do & what you want. Your husband wants to control your daughter; what she should be spending her time on and forcing her to do things she cannot do. When he cannot easily do that, he uses manipulation and lying in order to accomplish it. When he is then held responsible for his actions, he turns it around on you. When that doesn't work, he throws a temper tantrum."
They finished off their comment with: "He did not marry you because he wanted a wife and step-daughter; he was looking for 2 females to boss around and do his bidding... in God's name, Amen!"
Others also pointed out the hypocrisy in the man getting angry at OP yelling at him after she caught him in a lie. What do you think? Should OP have not canceled the trip?