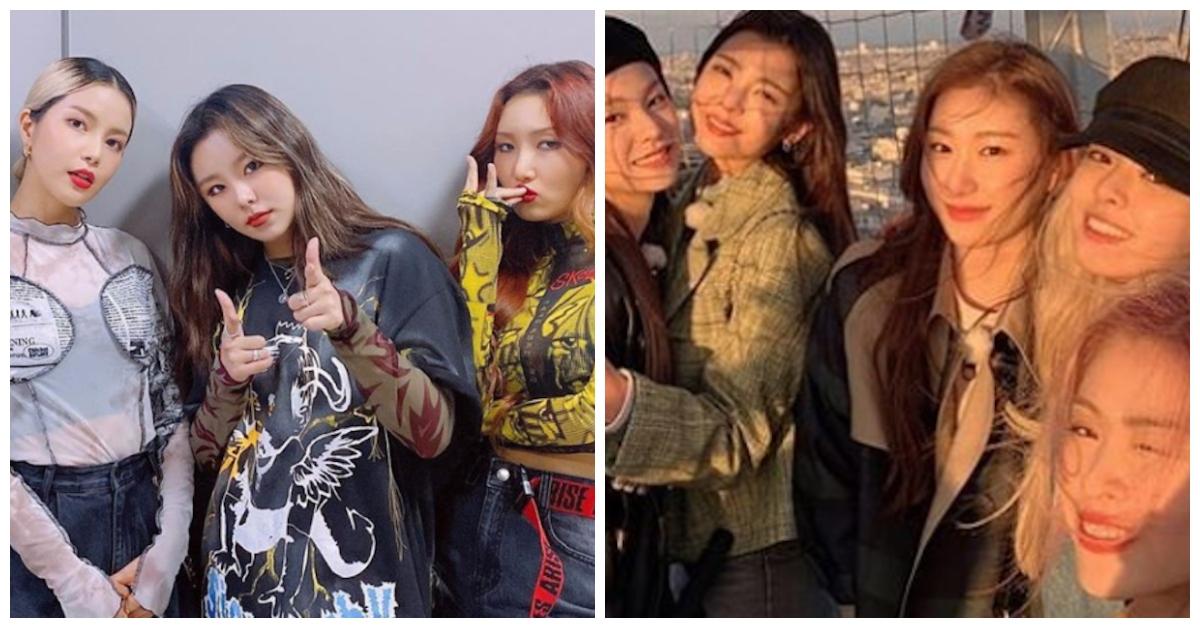 A Definitive List of Our Favorite K-Pop Girl Groups
Like many industries across the globe, the k-pop music industry is largely male-dominated. That being said, the genre has some seriously talented girl groups who definitely deserve equal praise to their male affiliates. So, if you're looking to add some female energy to your Spotify playlist, check out these k-pop girl groups.
Article continues below advertisement
Red Velvet
SM Entertainment's five-member girl group, Red Velvet, debuted as a quartet on Aug. 1, 2014 with the single "Happiness," according to Fandom. Then, a few months later, the fifth member of the group, Yeri, joined. Combining pop, R&B, and jazz, they're upbeat yet super chill, and have five full albums to jam out to on Spotify. They also recently dropped a new single titled "Naughty," at the end of July 2020, which is a total must-listen, if you haven't already.
IZ*ONE
IZ*ONE is a Korean-Japanese girl group that was formed during Season 3 of Produce 101, according to KProfiles, that is comprised of Japanese performers from AKB48 and trainees from Korean labels. They are managed by Off The Record Entertainment in Korea and AKS in Japan, and consist of Jang Wonyoung, Miyawaki Sakura, Jo Yuri, Choi Yena, Ahn Yujin, Yabuki Nako, Kwon Eunbi, Kang Hyewon, Honda Hitomi, Kim Chaewon, Kim Minjoo, and Lee Chaeyeon. Their hit songs include "La Vie En Rose" and "Violeta."
Article continues below advertisement
ITZY
ITZY is a five-member girl group featuring Yeji, Lia, Ryujin, Chaeryeong and Yuna. They're managed by JYP Entertainment, and debuted on Feb. 11, 2019 with their first single album "IT'z Different." According to K-Popping, their music video for "Dalla Dalla" garnered about 17.1 million views in its first day, breaking the record for most viewed music videos in the first 24 hours by a new k-pop group. Their new mini album, "Not Shy," is also coming out soon, so you have that to look forward to.
Article continues below advertisement
MAMAMOO
MAMAMOO is a four-girl group including Solar, Moonbyul, Wheein, and Hwasa. According to K-Popping, they initially debuted on June 18, 2014, under Rainbow Bridge World (previously WA Entertainment) with their hit single "Mr. Ambiguous," which is widely considered to be one of the best k-pop debuts of 2014. Their collaborations are truly epic, such as "Don't Be Happy" with Bumkey and "Peppermint Chocolate" featuring Wheesung, and they were just featured on BiRyong's single, "Let's Dance."
Article continues below advertisement
BLACKPINK
BLACKPINK is a group of four South Korean girls managed by YG Entertainment. Their names are Jisoo, Jennie, Lisa, and Rosé, and they officially debuted on Aug. 8, 2016, with their digital single called "Square One." When "Ddu-Du Ddu-Du" was released, it became the most-viewed Korean music video in the first 24 hours on YouTube, and in January 2019, it became the most viewed music video by a k-pop group. Their new single is coming out soon, and it goes without saying we're so ready.
Article continues below advertisement
The ladies of k-pop are seriously slaying the game, and with so many of them releasing new music this summer, we'll definitely be jamming out for the foreseeable future.