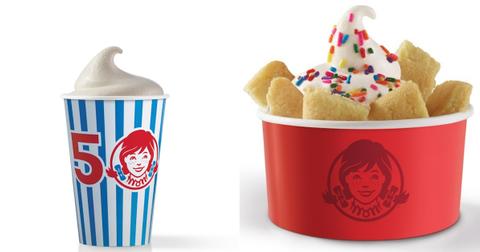 Wendy's Is Celebrating the Big 5-0 With Birthday Cake Flavored Treats
By Lizzy Rosenberg

Updated
A major celebration is in order, friends! Fast food giant, Wendy's, turns the big 5-0 on Nov. 15, and how is the chain celebrating? With Frostys, of course. But these aren't just any regular Frostys. These are special birthday-cake-flavored Frostys.
Before I get into the delicious deets, let me fill you in on the brand's backstory.
On Nov. 15, 1969, now-famous entrepreneur, Dave Thomas, founded Wendy's Old-Fashioned Hamburgers in Columbus, Ohio. And now that the hamburger joint is half a century old with over 6,700 locations worldwide, the chain is celebrating with delectable birthday-cake-flavored treats.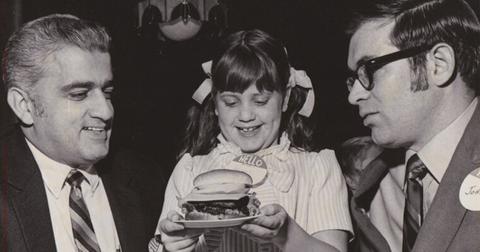 First off, Wendy's Birthday Cake Frosty is a festive spin on the old favorite.
According to the press release, Wendy's Birthday Cake Frosty combines the taste of classic birthday cake with the creamy vanilla Frosty you've probably come to know and love over the last 50 years.
The frozen treat will cost you $1.49, and since they're only around for a limited time at participating locations, I would definitely suggest locating one as soon as you possibly can.
Take a look at what you'll get upon ordering that Birthday Cake Frosty, below. But fair warning: this photo might be NSFW — it's essentially food porn, at its finest.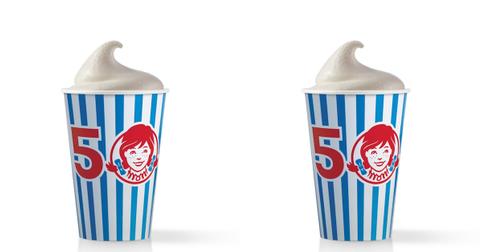 The chain is also offering a Birthday Cake Frosty Cookie Sundae.
Whether you're planning to split dessert with all your friends, or if you're simply feeling extra hungry, Wendy's will also be offering the bigger and better Birthday Cake Frosty Sundae.
According to the press release, it combines vanilla and Birthday Cake Frosty flavors with sugar cookie clusters, and — of course — sprinkles.
And although the sundae is far larger than the Birthday Cake Frosty on its own, it won't break the bank. The Birthday Cake Frosty Cookie Sundae only costs $2.19, which is only $0.70 more than the limited edition Frosty.
Make sure to get this one while you can, too, though — like the Birthday Cake Frosty, the Sundae is only around for a limited time at participating locations. And it'd be a shame to miss out on this.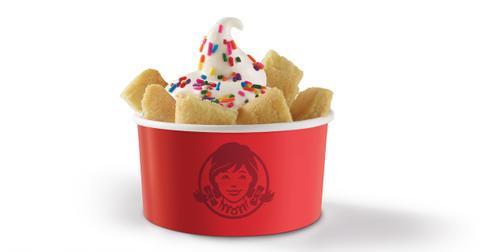 Aside from delicious Frostys and mouth-watering square burgers, Wendy's is also well-known for its hilarious Twitter account. They're famous for dissing any and all haters and competitors in sight. I strongly suggest giving them a follow.
To be honest, Wendy's has totally slayed the game in every department over the last several years, and they clearly deserve all of the recognition for it... especially on their birthday!
There's no doubt in my mind I'll be throwing down for the chain's 50th fiesta, and if you don't see me double-fisting Birthday Cake Frostys and Birthday Cake Frosty Sundaes all week long, something is definitely wrong.
Make sure to congratulate the chain's employees while making that highly anticipated Wendy's run this week — the chain wouldn't be running if it weren't for them!