Pringles Just Released a New Flavor That Tastes Like Your Favorite Wendy's Sandwich
If you love Wendy's iconic sandwich the Baconator as much as we do, Pringles just released a new Baconator flavor that tastes like it. Details!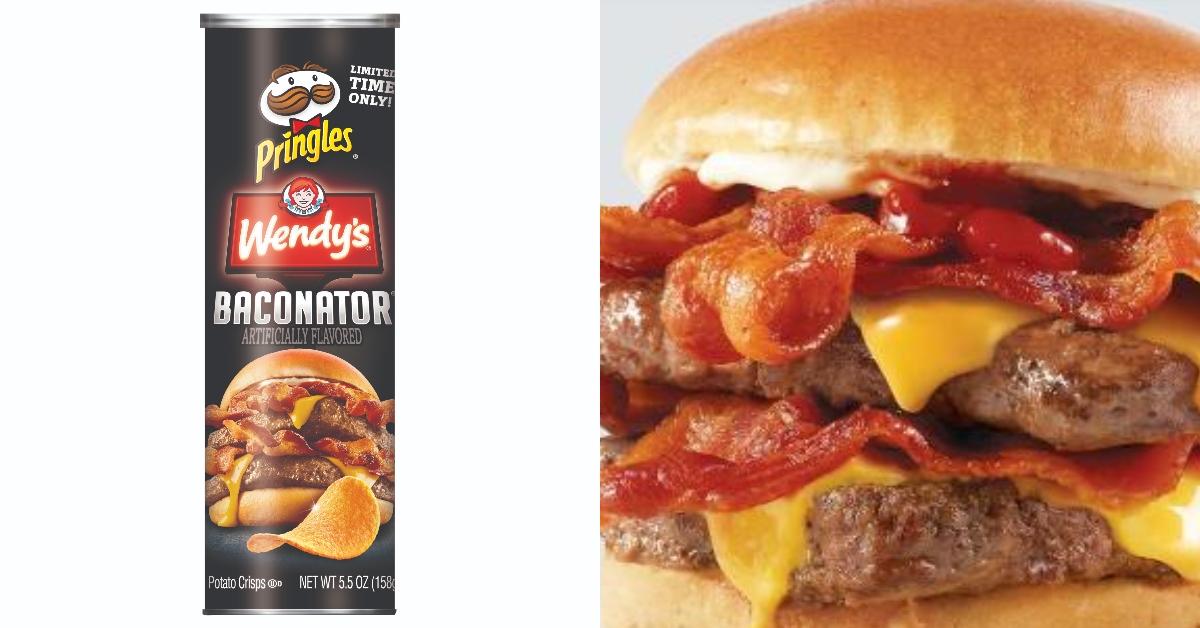 One of the most underrated snack foods out there is — without a doubt — Pringles. Whether your go-to flavor is Sour Cream & Onion, Cheddar Cheese, or just plain Original, they're a perfectly stackable snack, they're deliciously crunchy, and they make for an excellent "duck bill." Just thinking about them is making us hungry.
Article continues below advertisement
And while we seriously love each and every one of the classic varieties, the snack food brand just unleashed a brand-new flavor that brings one of our favorite sandwiches to life. Needless to say, Pringles' Baconator flavor is truly changing the game for chip enthusiasts and Wendy's fans alike.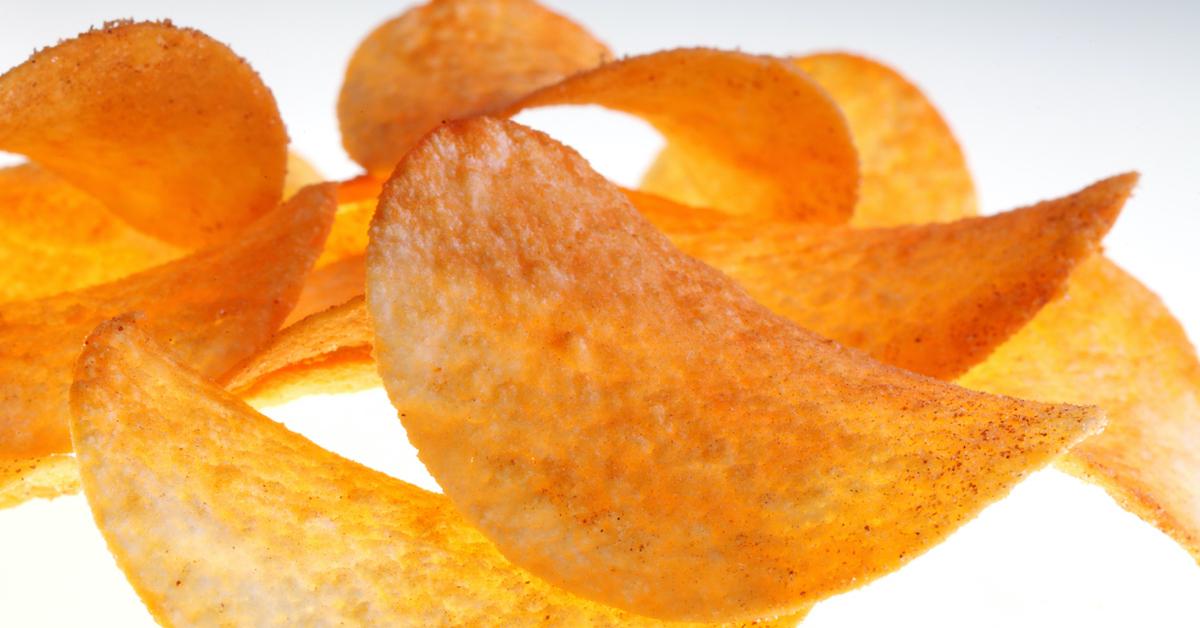 Article continues below advertisement
Pringles' Baconator flavor tastes exactly like Wendy's iconic hamburger... and we're obsessed.
Ohio-based fast food chain, Wendy's, teamed up with Pringles to create the tastiest alliance imaginable, according to a press release, and together, they created a limited-edition chip known as the Baconator Pringle. Each individual crisp packs in the five savory flavors of Wendy's beloved Baconator into a tiny, crunchy crisp, and needless to say, it's a snacker's dream come true.
If you haven't tried Wendy's Baconator, the chip evokes the taste of a juicy hamburger, American cheese, crispy Applewood smoked bacon, ketchup, and mayonnaise. And packing a powerful crunch, it's a seriously satisfying snack food, giving you the full taste of the Baconator in a small yet satisfying chip. We could probably down the entire package in one sitting.
Article continues below advertisement
"At Wendy's, the Baconator has long been an iconic Bacon Cheeseburger like no other," said Carl Loredo, Wendy's U.S. chief marketing officer in the press release. "We're excited to work with the flavor experts at Pringles to deliver the taste our fans know and love in a unique way. We know our Baconator fanatics will be in for quite a treat when they taste how insanely accurate Pringles made this delicious crisp."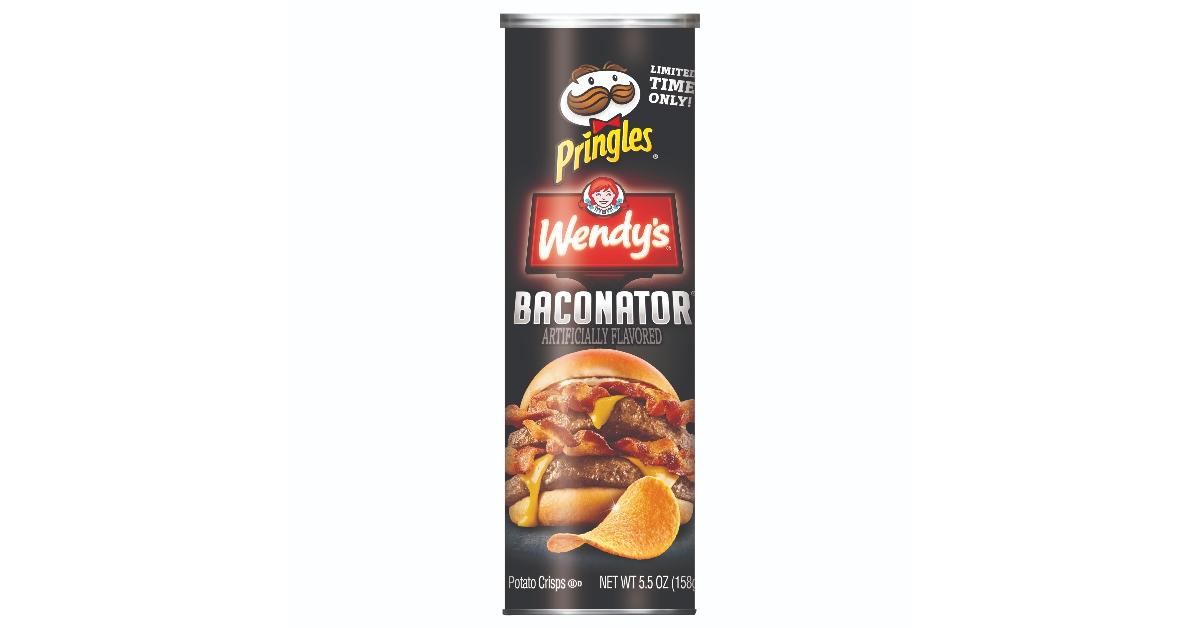 Article continues below advertisement
Where and when can we get our hands on the elusive Baconator Pringles?
We have good news, and bad news. On the positive side, these Baconator-flavored Pringles are currently available, as they were officially released in the U.S. at the beginning of June 2020. Since last month, they have adorned the shelves in the snack aisles throughout grocery stores nationwide, so if you haven't already stocked up on them, we advise doing so ASAP.
Unfortunately, though, Pringles Baconator chips won't be around forever. According to the press release, they're a limited-time delicacy, so when we advise you all to "stock up," we actually mean "hoard." It would seriously be a shame to run out of these babies with no chance of re-stocking.
Article continues below advertisement
Fans are already obsessed with Pringles Baconator chips.
As you probably imagined, it seems as though the chips have already received tremendously positive feedback. See what fans are saying about the beloved chips below.
Article continues below advertisement
Article continues below advertisement
Savory snackers across the nation are seriously in heaven right now, and it goes without saying a trip to the grocery store is in order. Prepare for the ultimate Netflix and chill sesh this weekend, because Pringles Baconator chips are really going to up the ante.