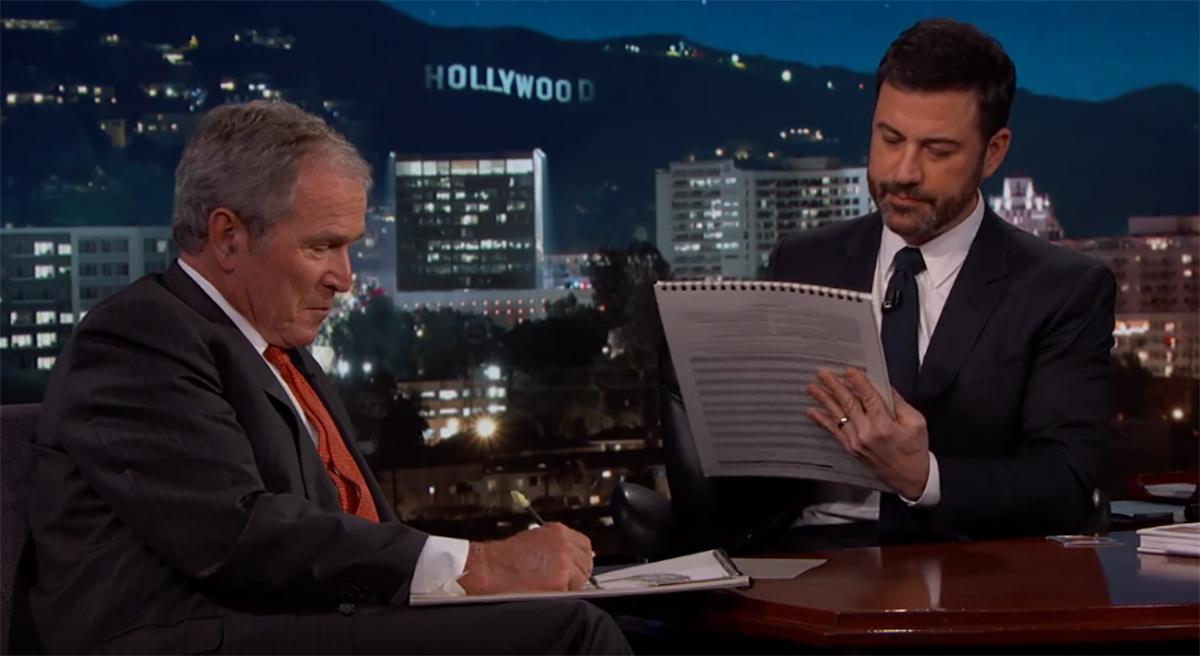 Jimmy Kimmel And President Bush Sketched Each Other And Are Your New Favorite Bromance
By Mark Pygas
No matter what side of the political spectrum you inhabit, you have to admit Dubya has been living his best life since leaving office in 2008. Since ceding the presidency to Barack Obama, he's spent most of his time establishing his presidential library and painting. After eight years as leader of the free world, I guess he's entitled to some time off to indulge his hobbies.
In fact, the 43rd president has reinvented himself as an artist in his retirement. He's amassed such an impressive collection of portraits, most of recovering combat veterans. Now he's on a publicity tour promoting his new book Portraits of Courage, featuring his artwork. Proceeds from the sale of the hardcover book will benefit charitable organization, the George W. Bush Presidential Center. Helping Veterans transition to civilian life and rise to positions of leadership are top among the organization's missions.
The paintings in the book will also eventually go on a gallery tour, where a visiting exhibition of the original artwork will hang in museums throughout the United States. The collection features 66 portraits and a mural, all of which depict armed service members who served in Iraq and Afghanistan following the September 11 attacks.
Alongside their portraits, the book profiles the heroes journeys from enlistment to recovery from combat injuries. The president also highlights how these brave men and women continue to serve their country as civilians.
Last night, Bush was on Jimmy Kimmel Live to promote the book. During the segment, the two decided to sketch each other. After all, why should the ex-president get to have all the fun? Even better, they gave the sketches away to two veterans. We'll leave you to judge who the better artist is, Jimmy or Dubya.
They also discussed whether President Bush was as bothered as President Trump when people impersonated him. Spoilers: he wasn't.