DaBaby Seemingly Dissed JoJo Siwa in a New Release — What's Going On?
DaBaby and JoJo Siwa might be on bad terms. In "Beatbox 'Freestyle,'" DaBaby made a strange remark about the popular YouTuber. Read on for more.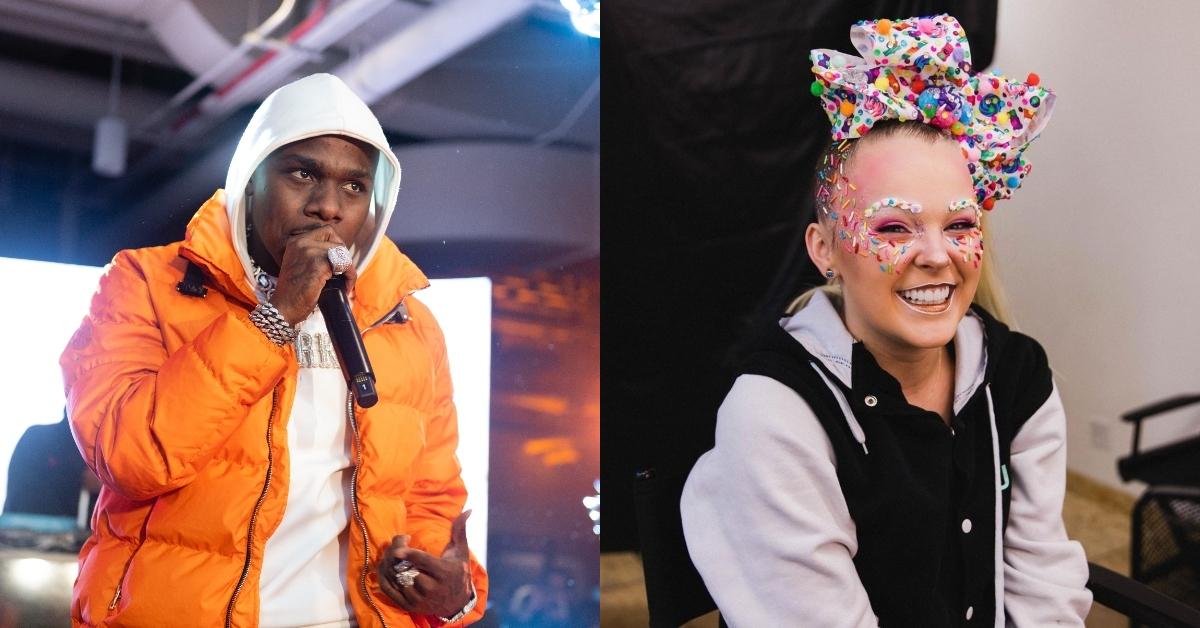 "Blank Blank" rapper DaBaby (aka Jonathan Lyndale Kirk) made a strange remark about JoJo Siwa in one of his latest releases, a freestyle over SpotemGottem's now-iconic track, "Beat Box."
"N----, you a b----, JoJo Siwa, b----, she let the wrong n---- get rich," DaBaby raps at one point.
The bar posed a real head-scratcher for fans. So, is there any bad blood between DaBaby and JoJo?
Article continues below advertisement
DaBaby referenced JoJo Siwa in his latest release, "Beatbox Freestyle."
DaBaby steered clear of celeb feuds for the most part — at least, until now.
In his latest release, "Beatbox 'Freestyle,'" he voiced some criticism of JoJo, a YouTube sensation with 12.2 million subscribers to boast. It appears that the stars have no prior history.
Article continues below advertisement
Several fans took it to Twitter to express their bafflement.
"DaBaby is going to need to explain that JoJo Siwa bar because I am confusion," tweeted @xoraveen. "DaBaby having beef with JoJo Siwa was not on my February bingo card but that's fine I'm enjoying it," remarked @h3ll0tittyyy.
A few others shared far-fetched fantasies detailing how the YouTuber — who, in part, earned recognition with her unique aesthetic — and her similarly-dressed girlfriends could show up at DaBaby's house for a lethal face-off. And then, of course, there were those who predicted that a diss track must be underway.
JoJo's friend James Charles also spoke out about DaBaby's lyrics, tweeting, "Can someone please explain why DaBaby is dissing JoJo Siwa when she's 12 years younger, 10 times richer, and 2 inches taller than him?
Article continues below advertisement
Arguably, DaBaby might have opted to make an unflattering comment about JoJo because her name and "see why" are homophones. The exact reasons behind the larger-scale creative decision remain unknown, however.
In 2016, JoJo released a song, "BOOMERANG," to address the haters.
"I don't really care about what they say," goes the first line of the lyrics.
Article continues below advertisement
DaBaby spoke out about the "beef" and claims there is no bad blood.
Following the release of the track, DaBaby responded to the feud rumors, telling fans that he has nothing but love for JoJo.
"My 3-year-old princess is your number 1 fan," DaBaby explained to JoJo on Twitter. "I bought her every product you have out. She think she you. Don't let them trick you into thinking I'd ever have a problem with you. My word play just went over their heads. All love on my end shawty."
Article continues below advertisement
He went on to add, "I don't 'Siwa' they so mad either bae," further proving that his lyrics were playing off JoJo's last name and nothing against the famous YouTuber.
And just in case you were curious about James Charles' claim that JoJo is 10 times richer than DaBaby, there is some truth to his tweet. JoJo's net worth is estimated at $14 million while DaBaby's net worth is valued at $3 million.
Lyrics aside, we have a feeling JoJo and DaBaby will collaborate in the near future.