Mom Shares Adorable Note Daughter Wrote For Dad During Depressive Episode
According to the World Health Orginization, 300 million people around the world have depression.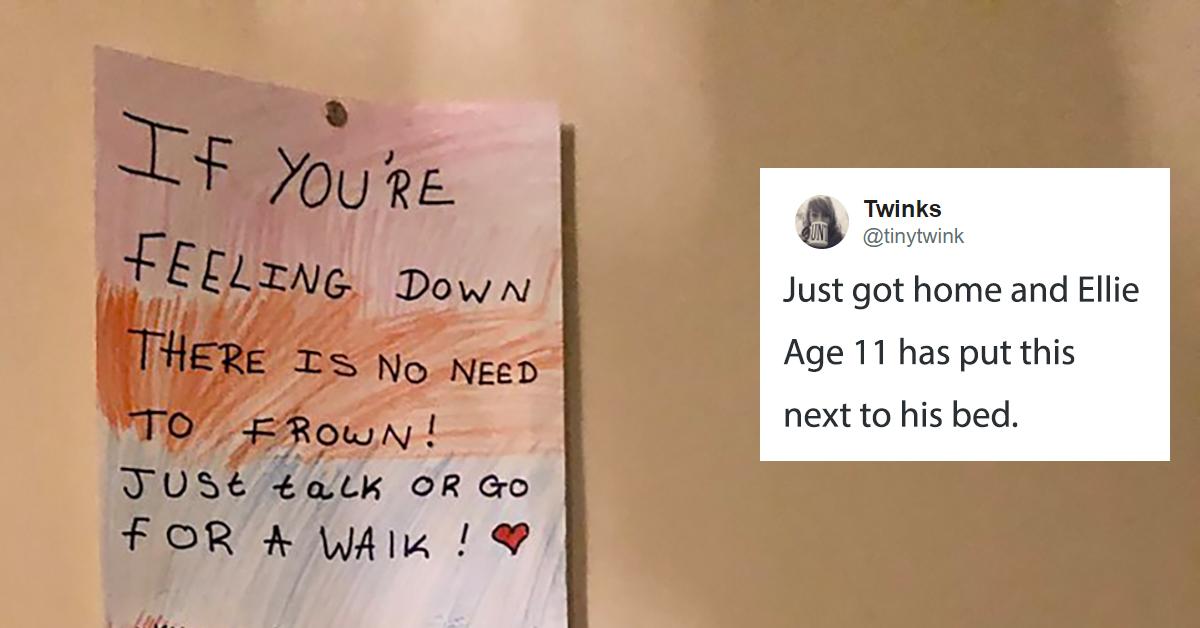 According to the World Health Orginization, 300 million people around the world have depression. In the United States, 16.2 million adults are estimated to have suffered a depressive episode in the last year, that's equalling 6.7 percent of all adults in the country. It's estimated that 15 percent of the adult population will experience depression at some point in their life, though with many people never seeking treatment, that number could be much higher.
Article continues below advertisement
A supportive family can be key to dealing with depression. And by the sounds of it, Twitter user @TinyTwink's husband has an incredibly supportive family. The Twitter user took to the social media platform to share the adorable note their 11-year-old daughter recently wrote for her father during a depressive episode.
In a caption alongside the photo, TinyTwink wrote: "My husband has suffered from depression and anxiety for about 6 years now (probably longer). He's pretty good now but as you know there's still sometimes a rubbish day. Today was one of those days. Just got home and Ellie Age 11 has put this next to his bed."
Article continues below advertisement
"If you're feeling down there is no need to frown!"
"Just talk or go for a walk!"
"Drink your coffee and eat some toffee or watch a movie."
"Maybe sneak a little boogie!!"
The note received a fair amount of attention, with over 150 comments and 4,000 likes as of the time of writing. Replying to a comment from someone who also suffers from depression, TinyTwink went on to explain that her husband's depression is often worse in the mornings.
"Seems to be a morning thing too," she wrote. "If he wakes up like that, he stay like that. So that will be the first thing he sees."
Article continues below advertisement
She went on to applaud her daughter in further replies:
"My heart is bursting with pride ... mainly about the 'you're.'"
"She's just told me she made it up herself. I genuinely thought she'd got it off google or something!"
Unsurprisingly, people were impressed by the young girl's thoughtfulness.
"She's 11," one user wrote. "That's a hell of a level of awareness. I know people say you shouldn't say just smile etc, but I bet that really did make him smile."
Another added: "Oh boy. As someone who suffers badly myself, can't even explain what things like this do to help break that cycle."
If you or someone you know are experiencing suicidal thoughts, call the National Suicide Prevention Hotline at 1-800-273-8255 or text HOME to the Crisis Text Line at 741741.