TikToker Invoiced by Guy After She Told Him She Wasn't Interested in a Second Date
A TikToker went viral for relaying a story about a man she went on a date with who purportedly invoiced her because she didn't sleep with him.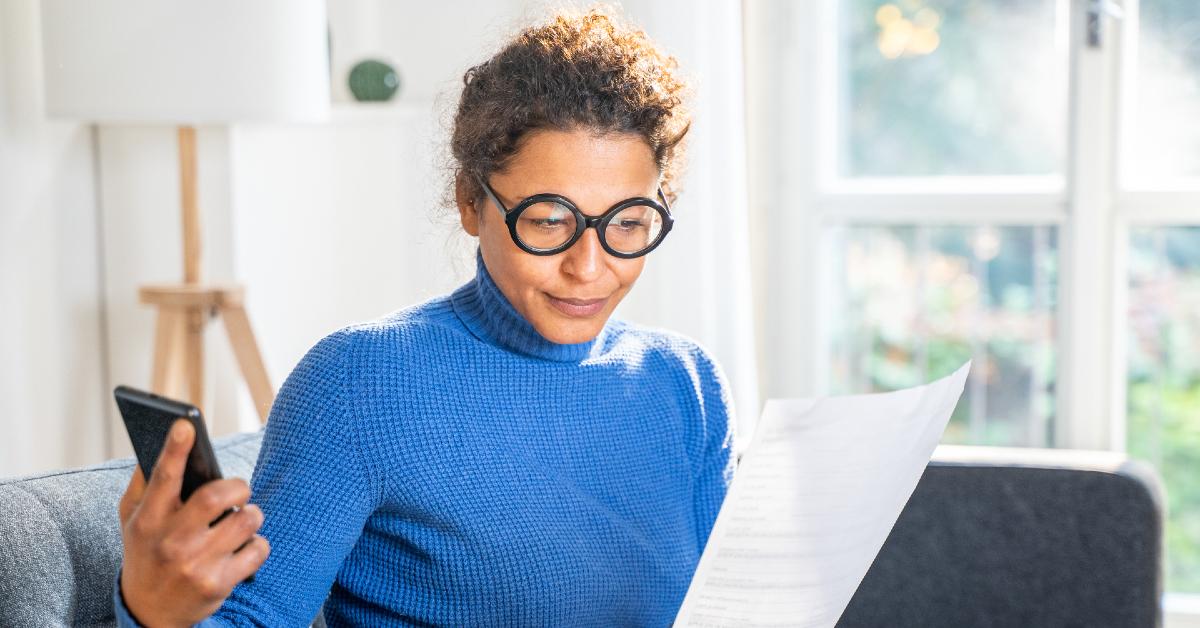 TikToker Fiona Hope, who posts under the handle @fifihopes went viral on the popular social media platform after claiming that she went on a date with a guy who later sent her an invoice because she didn't go home with him after they met up.
What's more is that the social media user said that she had initially offered to pay but the man insisted that she didn't, and throngs of other folks on the platform urged her not to heed the invoice.
Article continues below advertisement
Fiona begins her TikTok with a text overlay that reads: "You won't BELIEVE what I got sent after a first date." She says in the video: "Hey, so I went on a date with this guy. And it was all well and good I don't really fancy him but I gave him the benefit of the doubt. We went for dinner, he offered to pay, I said no, he was very adamant so I let him pay. I'm not gonna beg to pay."
She continued, "And then he started asking me weird questions like when was the last time you had sex, when was the first time you had sex, would you be open to a casual thing if someone proposed it to you, all of which I was like, 'ummmmm' then he got really aggy when I said I had plans."
Article continues below advertisement
Even though the man was asking personal questions pertaining to sex on their first date and became upset when she informed him that she had plans for after their meet-up with a friend, she invited him to come and hang out with them afterward. "So I felt kind of bad, that I had arranged plans after he bought me dinner so I was like you're welcome to come meet me and my friend."
Article continues below advertisement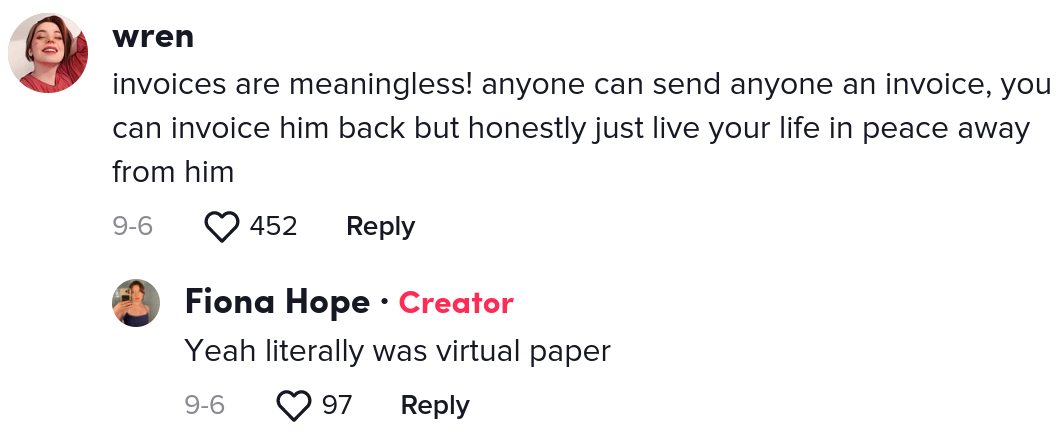 Fiona continued, "I shouldn't have done that, that was a mistake on my end. But then I was still kind of, you know, just, seeing what was happening. Em, we went out, we kissed, I really didn't fancy him, like my f**king bad. Um, and after the night, he messaged me being like, we're gonna see each other again, blah blah blah, I was like sorry, I'm not feeling it...this was his response."
Article continues below advertisement

She relayed her story over a green screen image of what appear to be screenshot text message conversations between her and the man. It looks like the messages pick up from after her telling him that she doesn't want to pursue a romantic relationship with him anymore: "Okay fine, but what makes you say that? Cause Convo was good, made you laugh all day, got along with your friend, did things you wanted to do and it's it's not like there wasn't sexual attraction."
Article continues below advertisement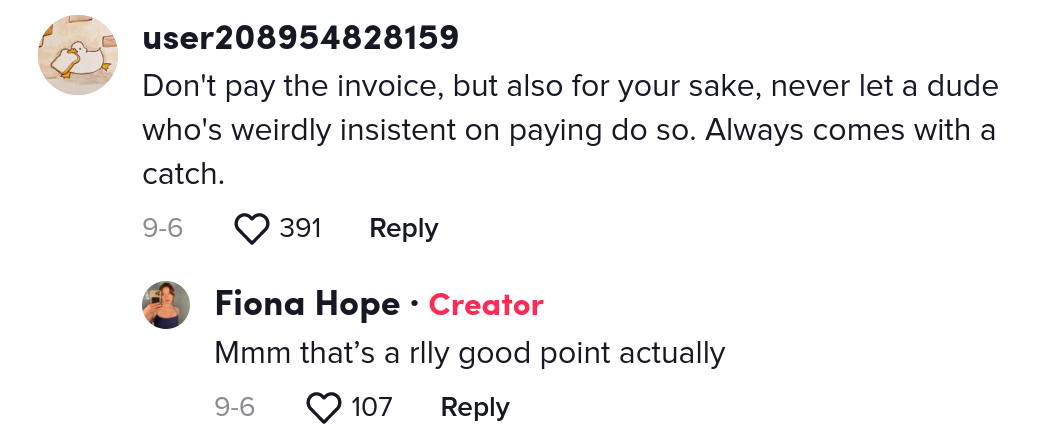 He follows up with, "Or what does romantic connection look like to you?"
She says that just because she kissed him doesn't mean that there's sexual attraction between the two of them, before revealing the invoice that he sent her.
Article continues below advertisement

"And what do I get? I get invoiced. I get f**king invoiced. This a real life invoice people...real life invoice for twenty eight pounds I'm pretty sure it was. I mean, the cheek of him, like do you think I'm gonna pay? I mean would you pay? Because I don't feel like I'm a commodity and if I don't give in then I should pay someone back?"
Article continues below advertisement

She goes on to concede, "But I do understand like yeah if you go on dates and you pay then you don't get what you want which is obviously sex for him, it might be a bit frustrating. But, don't offer to pay then. Be that guy who wants to split the bill that's fine. And suck it up if you do pay and the girl offered and you don't get what you want. That's my opinion, what do you think?"
Article continues below advertisement

Other TikTokers on the platform appeared to agree with Fiona. Although there were some people who wondered why she would kiss someone she didn't "fancy" others argued that there's nothing wrong with someone doing that.
There were some who said that if they had the cash they would send him the money for the whole bill, telling him that they weren't aware of the fact that he needed the money so badly.
Article continues below advertisement

"Nah you can't invoice someone in retrospect because you didn't get what you wanted out of the situation"
"oh my god is he not embarrassed"
"If someone gets enraged and insists how great they are after you politely reject them….how do they not see they are the problem?!"
What do you think? Was it ridiculous for the man to send her a bill after their date? Or do you think that there's more to the story?