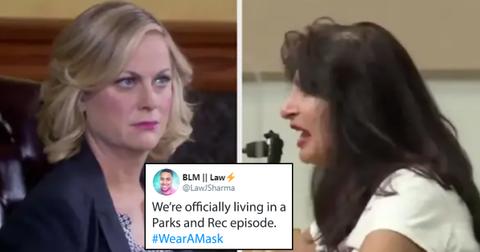 Someone Edited People Freaking Out About Face Masks Into a 'Parks and Rec' Town Hall
By Mark Pygas

Updated
Somehow, face masks have become a political issue in the United States. Despite the scientific evidence that masks reduce the transmission of coronavirus being clear, some people are still refusing to wear them.
In some cases, people are even spreading false information that wearing a face mask can kill you.
Earlier this week, a woman who refused to wear a face mask in a Starbucks went viral after she attempted to shame the barista for refusing to serve her. There's also been plenty of viral clips of people freaking out about face masks during town halls.
For one Parks and Rec fan, the public freakouts were very similar to the iconic town hall scenes in the popular television show. In case you've forgotten, the scenes would show the residents of Pawnee going crazy over incredibly petty stuff.
Actor and producer Law Sharma decided to edit people freaking out about face masks into one of these episodes, and it's pure gold.
"There's not enough to make this a pandemic," a citizen of West Palm Beach, Florida, told the County Board of County Commissioners. "This is a planned-demic. This is totally political and you know it and I'm asking you to cease-and-desist from the political agendas that you're being 'propaganded' to stand with and try to hold us hostage as American citizens."
Leslie Knope's reaction is pure gold.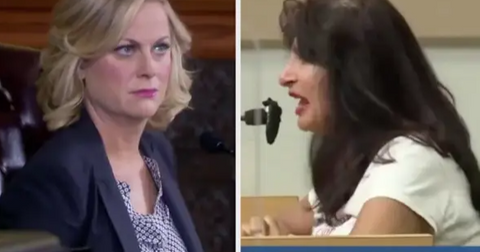 "How disgusting, how shameful, how criminal, how corrupt! This is a hoax. It's a fraud. There is nobody dying," another added.
Stay strong, Andy Dwyer.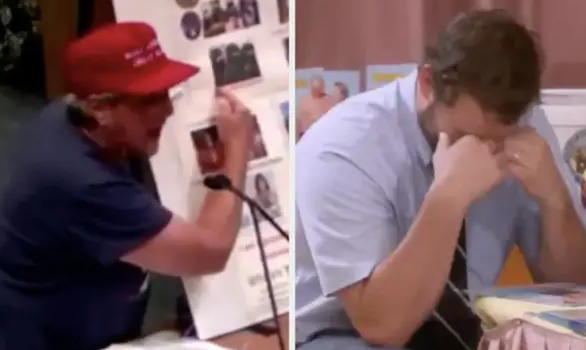 Obviously, people loved the mix-up, even though it makes things way too real.
"I can't begin to tell you how much I love this video," one user wrote. "And also how much I loathe the subject matter (stupid people that are going to get us all killed.)"
While another added: "My husband just showed this to me and I literally went and found a super cut of town halls from the show so he could see just how brilliantly on point this is."
And another user concluded: "You did so well with this that I need to go lay down for 45 minutes. No, AN HOUR. A FULL HOUR."
Amid a surge in coronavirus cases in some states, Dr. Anthony Fauci has said that mask wearing is "purely a public health issue," and not a political one.
"You're part of a dynamic pandemic process, so you getting infected, even if you don't realize it, is propagating the continuance of the outbreak," Fauci said.
"You need to pause and say, wait a minute, we're starting to open and things aren't going right. What do we need to do to correct that."
"Everybody should wear a mask when out public," Fauci added. "It should not be a political issue. It is purely a public health issue."