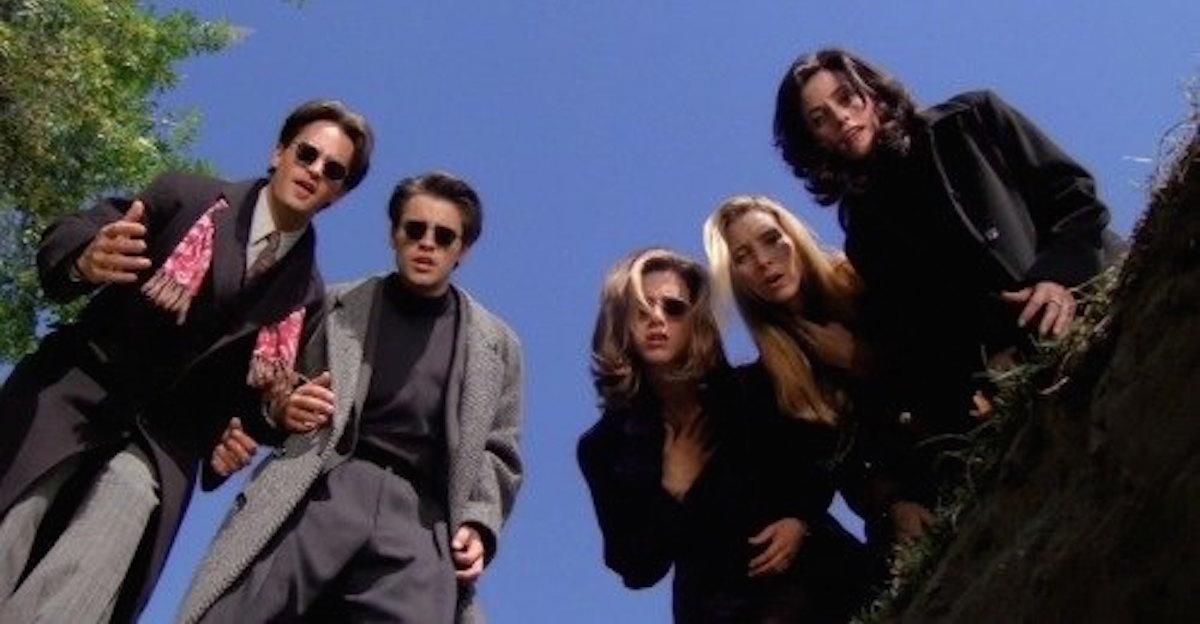 This 'Friends' Monopoly Board Is Kick-You-in-the-Crotch, Spit-on-Your-Neck Fantastic
At this point, there has to be well over 100 variations of Monopoly, from Disney, to National Parks, to one that's solely based on the show The Simpsons. But one version that I'm absolutely dying to purchase right now is the Friends Monopoly game, which — we're excited to say — is finally available. Fans no longer have to feel as though they're "on a break" from the beloved sitcom since its disappearance from Netflix earlier this year.
Article continues below advertisement
And because this news is making all of our days, our weeks, our months, and even our years, here is everything we know regarding the (almost) too-good-to-be-true Friends monopoly game.
Article continues below advertisement
The 'Friends' Monopoly rules are slightly different from the original 'Monopoly' game.
In the original Monopoly, players buy, sell, and trade properties from Vermont Avenue to Park Place. But the Friends version is slightly different. According to Delish, players aren't dealing with properties from the show — instead, they're spending on memorable moments from the series. From 'Monica Gets a Roommate' to 'Phoebe Gets Married' the board highlights different happenings from the series' 10 seasons, with still shots from each of the spot's respective episodes.
Like the original board game, there are also landing points that represent "Income Tax," requiring participants to shell out for additional fees, as well as the opportunity to invest in and trade iconic things from the classic sofa to coffee mugs. It's wholesome, and adorable, and let's face it, we're totally in love.
Article continues below advertisement
The 'Friends' Monopoly game pieces are epic.
After forcing five of your best pals to devote four hours of their time to a game of Monopoly, choosing your game piece will — by far — be the most difficult and time-consuming part of all. According to House Beautiful, you'll be able to choose between six incredible game pieces, which include: Monica's chef hat, Ross's dinosaur, Chandler's sweater vest, Rachel's handbag, Phoebe's guitar, and — last but not least — Joey's beloved pizza.
Article continues below advertisement
Although I'm somewhat inclined to play as Phoebe's guitar, as an excuse to belt out "Smelly Cat" for the entirety of the game, I'm also interested in stealing Joey's pizza. Because in all seriousness, we're all painfully aware of the fact that "Joey doesn't share food!"
Article continues below advertisement
Here's how to get a board for yourself.
Even though the Friends board has been available in the U.K. since 2018, it just became available to those living in the U.S., exclusively on Amazon. It only costs $24.99, so if you're a fan of the hilarious series, I strongly suggest getting a board for yourself before they sell out. It really is a one-of-a-kind collector's item, to say the least.
There's a good chance you won't be playing Friends Monopoly every day, but really, that's a "moo point." The Friends Monopoly game is a one-of-a-kind collector's item to keep on your coffee table, and even if you don't win, it's still bound to make you feel all the #feels from the iconic series.