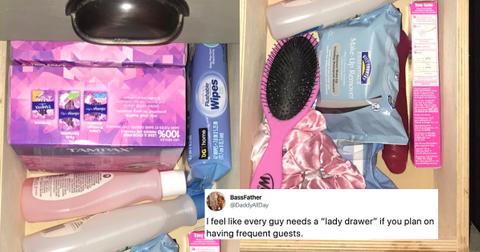 Viral Tweet Advising Guys to Keep a "Lady Drawer" Inspires Some Very Funny Spoofs
By Amber Garrett

Updated
The internet it full of dating advice to help singles navigate every possible romantic scenario. The topic of how one should treat their intimate partners is a big one, and it's particularly heartening to see men who date women making more of an effort to make their overnight guests feel safe and respected.
I'm going to go ahead and assume that is the intended sentiment behind some advice given by Twitter user @daddyallday (yeah, for real), who shared this helpful tip for single men that has gone completely viral.
Article continues below advertisement
OK, there's just... a lot to unpack in this drawer. I mean literally unpack, because half of it is no bueno, Is "BassFather" wrong in his recommendation that gentlemen keep supplies on hand that will make houseguests feel more at home? Definitely not. That is A+ advice. However, I think what we have here is a problem of execution.
Because the contents of that drawer are quite a mixed bag (er, drawer). Some items aren't a bad idea to have on hand for many houseguests. As a regular period-haver, I am grateful to any host who keeps tampons on hand, even if they don't need them. And I'd also be grateful to find makeup remover wipes available to me after a night out on the town.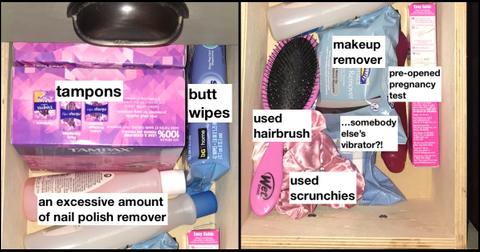 However, this is where BassFather and I part ways. First, there are certain items that should never be communal. Personally I think hairbrushes and accessories belong on that list, though I'm sure some less squeamish people may disagree. I think we can all agree, however, that sex toys aren't up for debate.
Also, I don't know who needs to hear this — aside from BassFather, naturally — but nobody needs that much nail polish remover.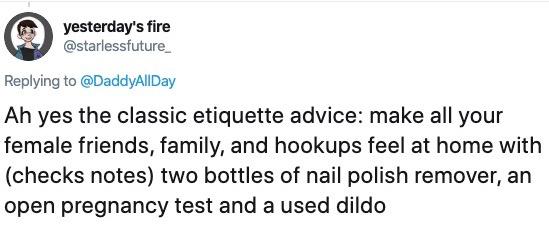 Amidst all the replies clowning his "lady drawer" contents, BassFather defended himself, saying he's not suggesting these particular items; 'I just had all that laying round so I designated a drawer for it." My man, bless you for the effort but I assure you, your visitors don't need somebody else's vibrator. Ever. You can go ahead and toss that unless the original owner is a frequent and — this is the really crucial part — exclusive guest.
i'm obsessed with the concept of a communal dildo for house guests, but also, what woman needs TWO BOTTLES of nail polish remover for an overnight stay? Is she refurbishing a dining room table? https://t.co/caOgnSnRIs

— Hannah Lee Kidder (@HannahLeeKidder) January 14, 2020
Soon, people started taking BassFather's "lady drawer" concept and running it, posting their own examples of possible contents for their designated drawer for female guests. Personally, this one is my favorite.