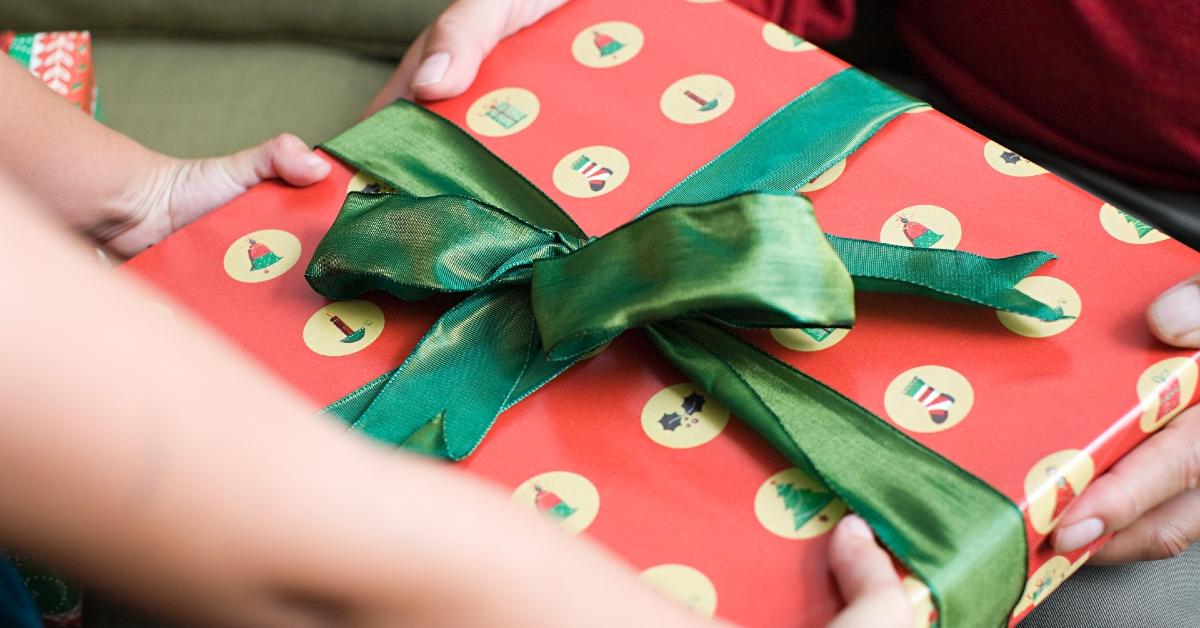 Mom's "Controlling" Christmas Morning Ritual Has the Internet Asking Questions
The holidays may represent joy to a lot of folks, but they can also represent stress as some folks have a number of traditions they want to strictly adhere to. And sometimes, upholding these traditions can be a bummer for everyone involved, especially when there's only one controlling individual attempting to implement said tradition.
Article continues below advertisement
Many Redditors are saying this is the case with user @JonPM, who shared an "annoying" Christmas morning ritual his wife implements in their household: the delayed opening of presents. This method ensures that the process of unwrapping gifts is scattered throughout the day.
Tons of folks who read JonPM's post thought that this Christmas tradition was absolutely bonkers. Here's what his initial post said:
"Opening presents is always annoying here. My wife likes to ration presents for the kids and have them open one every hour or two, whereas I prefer to just sit down and take turns opening all of them. What's your process for gifts?"
Article continues below advertisement

Other Redditors let him know that their Christmas morning routines were nothing like the one he just mentioned and several other users on the social media platform had plenty of things to say about the way his wife likes to do Christmas.
Article continues below advertisement

One user couldn't get past the fact that only one gift was allowed to be opened "per hour" and wanted to know what the family did to fill up the rest of the hour. Was it to sit and enjoy the gift that they got?
Article continues below advertisement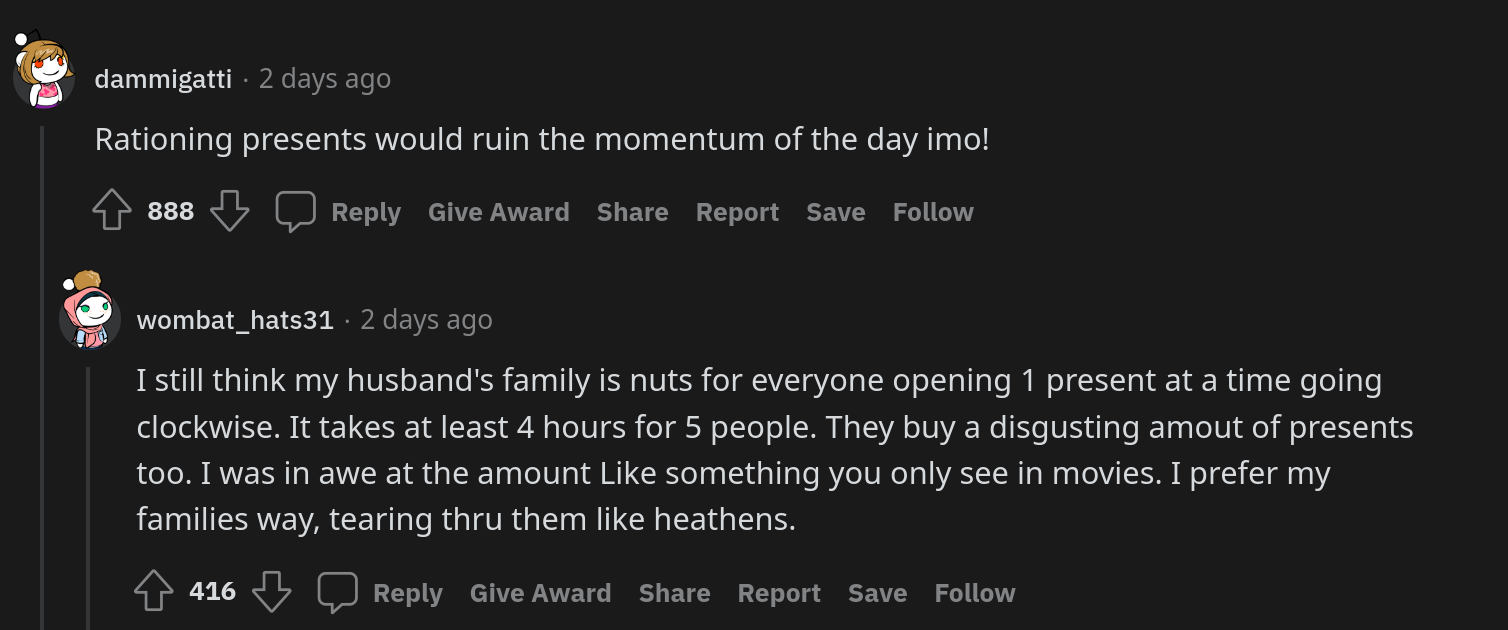 Others wanted to know just how many hours were dedicated to opening gifts. It's not difficult to imagine that kids, especially younger ones, would probably spend their remaining gift unwrapping hours wondering what they received as they watched the clock, counting down the minutes until they could crack open another present.
Article continues below advertisement

Some folks wanted to know when the official gift-unwrapping process began and shared some stories of their own traditions as well. Like @randomuserIam who said that their family tradition involved them opening gifts on the 25th at midnight, and they'd stay up late, like until 1 am-2 am in the morning of the next day, reveling in their Yuletide swag.
Article continues below advertisement

Others expressed that the "rationing" of presents would ultimately just ruin the "momentum" of Christmas day for folks in the long run.
Article continues below advertisement

While timing the opening of presents throughout the day certainly seemed like a strange way to celebrate the holidays for a lot of people, there are plenty of bizarre Christmas celebrations that would make this one seem tame by comparison.
Article continues below advertisement
Ever hear of Krampus, Santa Clauses' enforcer who takes care of all the naughty kids during Christmas time? Every December 5th in Germany there's a celebration for the part-goat-part-demon that relishes in tormenting snot-nosed brats, and it's pretty spooky.
Article continues below advertisement

Then there's the Catalonia pooping log, the Mari Lwyd of Wales, Japan's Kentucky Fried Christmas celebration, Italy's La Befana: a wine-drinking Christmas witch, and radish carvings in Mexico.
Do you have any personal Christmas celebrations that others may find weird? Or do you keep it pretty OG: watch A Christmas Story and tear through all of your gifts like they're water and you've been wandering through the desert for miles without any water?