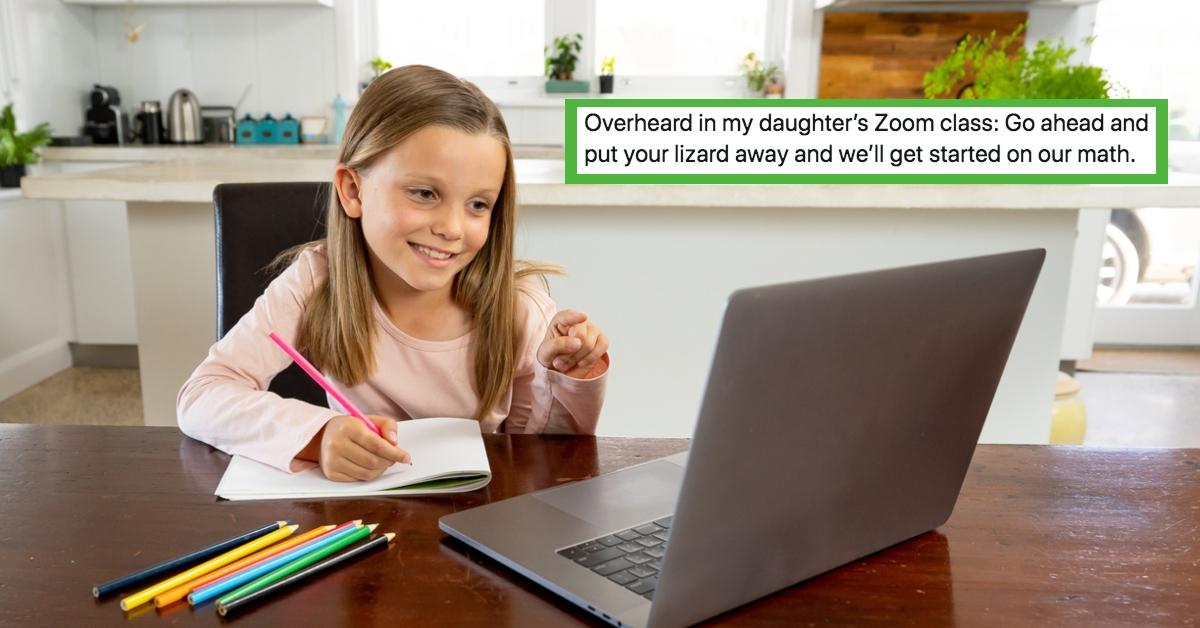 Parents Share the Hilarious Things They Overhear on Their Kids' Zoom Classes
Parents probably never thought they'd have to listen to their kids partake in classes over Zoom. And while it's certainly a struggle for many, there have been some hilarious moments. Parents have been sharing what they've overheard from their kids classes on Zoom, and it turns out kids are just as funny and frustrating over video chat as they are in real life.
Article continues below advertisement
I guess just because Lin-Manuel Miranda is a song and dance man doesn't mean his son Sebastian has the same proclivity. Sebastian is my new hero. He knows what he wants and he goes for it.
It's kind of insane that kids as young as 5 are so well-versed in technology like Zoom. Well, some kids. Clark is clearly having issues.
Article continues below advertisement
Adorable. And the kid is right. I hope their classmates banded together and lifted up their hands to help them count out 14+1. Teamwork makes the dream work.
Article continues below advertisement
That's quite the question. I don't know what situation Santa would be in where he'd have to kill a shark. Maybe some sick person uses their fireplace as an aquarium for their exotic sea animals... But even then, that would probably be a small shark that wouldn't be able to eat a human, let alone Santa Claus. This one's got us stumped, kid.
Article continues below advertisement
You know what? This isn't a bad idea. They make those human-sized hamster balls for people to play with on land and in pools. What if kids got inside them when they went to school? The only problem is that I think a lot of kids would "accidentally" roll out of the classroom when their teacher presented a pop quiz.
Article continues below advertisement
Kids are classic over-sharers, and this instance is no exception. Usually when kids say too much, though, their parent can't be seen in the background of the video call trying to get them to shush.
Article continues below advertisement
A lot of adults are popping up in Zoom meetings with dogs and cats and babies, but the lizard in math class is better than all of that combined. There's no topping a kid who brought a lizard to the Zoom meeting. And there's certainly no concentrating on math.
Article continues below advertisement
We've all heard stories by now of adults who don't dress properly for Zoom meetings or do inappropriate things not realizing people can see them. So it's not surprising that Cassidy, presumably a child, wouldn't realize she's doing it. Not to mention, I don't think she'd be allowed to do headstands if she were in a regular classroom (unless it's a dance class, I guess). Cassidy's got to get it together.
Article continues below advertisement
Not going to lie, if I were this parent, I would have run over to that Zoom class super quickly. I want to see their witch finger! What's a with finger? Does it have magical powers?
Article continues below advertisement
Wowee, watch out for that kid. Not only did he come up with this smooth line, but he said it out loud on Zoom in front of his entire class! This kid is going to be a troublemaker. I can tell.
Article continues below advertisement
Well, this kid is my new hero. Clearly, Kate's homeschooling is doing the work most schools aren't doing. This kid is going places.
Article continues below advertisement
I have lots of questions for the kid whose favorite activity is hiding in the bushes. For example, is it part of a larger game, like hide and seek? Or maybe there's a bug friend who lives in there? Does it feel like you're in Narnia when you're back there? I bet it feels like Narnia.