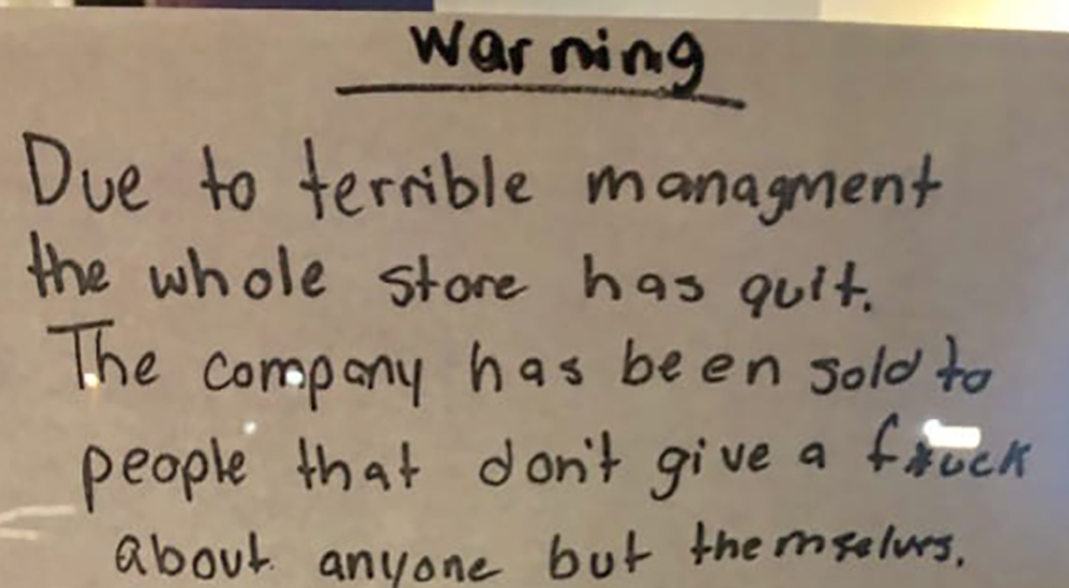 Entire Sonic Staff Quits with Note Calling Out New Ownership
People have quit their jobs in some pretty spectacular style, whether it's with a cake, or publicly shaming your terrible boss. The entire staff of a Sonic in Circleville, Ohio, decided to quit on Sunday, after the restaurant came under the control of owners they didn't particularly like.
Article continues below advertisement
Twitter user Eric Blanc spotted the note that the group taped to the front of the store door. "The entire workforce at the Sonic in Circleville, Ohio just quit en masse to protest their new management and workers least two other Sonics in the area did the same," he wrote. "Check out the lovely note the Circleville workers left."
Article continues below advertisement
"Warning: Due to terrible management, the whole store has quit. The company has been sold to people that don't give a f**k about anyone but themselves. Sorry for the inconvenience, but our team refuses to work for a company that treats their employees like they are shit when they have put everything into this story. We have worked too hard for too long. We are all off to bigger and better things."
An anonymous source told the Scioto Post that three Sonic restaurants recently changed ownership. The entire staff of two other locations also decided to walk out over the weekend, one of them leaving a sign that read: "thank you, next" and "goodbye."
Article continues below advertisement
The source alleged that Sonic cut the restaurant workers' pay from minimum wage to $4 per hour, plus tips. Considering that I don't think anyone has ever tipped a fast food worker, it's easy to see why so many workers decided to quit.
Sonic communications manager Kyle Lankford told MUNCHIES that no employees had their pay slashed:
"No wage rates at any level have decreased in this transition. Of course, Sonic carhops often receive tips in addition to their wages."
Twitter users were still quick to applaud the move, with one writing: "I like Sonic, but I love this letter. It gives me so much hope to see workers supporting each other with bold actions like this. Best of luck to everyone involved."
Another social media user added: "Good for them. As long as capitalism & the 1% are gonna keep screwing everybody over the least we can do is stick it back to em as best we can!"
What do you think of their decision?