Subway Employee Roasts "Typical" Sandwich Order Mistake in Viral TikTok
A Subway employee started a head-nodding food service industry trend on TikTok after airing out her customer ordering grievances.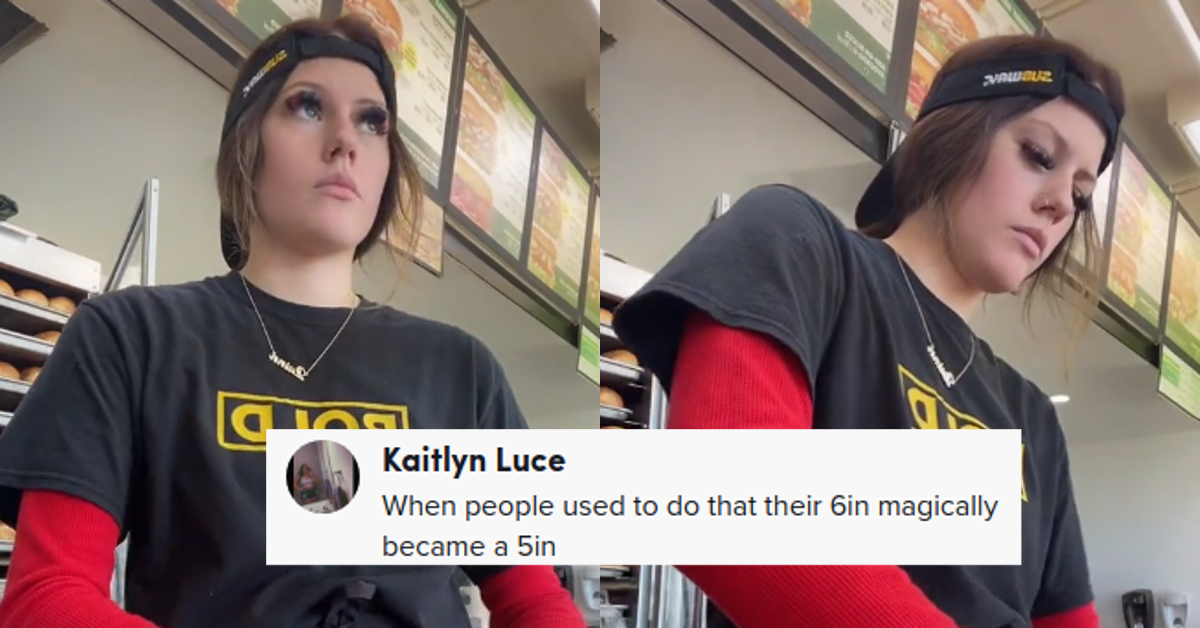 Working in the foodservice industry definitely has its ups and downs. While some folks love interacting with throngs of different people on a daily basis, it only takes a few annoying customers to sour your workday. And while there's an argument to be made that one shouldn't allow just a few bad seconds of a day to taint your entire 24 hours, dealing with people who act out of pocket is definitely a relatable experience.
Article continues below advertisement
This could be the reason why Ashlee's TikTok about working at Subway and dealing with customers who "jump the gun" is currently trending. In the clip, Ashlee begins to fulfill a customer's order for a 6-inch sandwich. She takes out a 12-inch piece of bread, and the customer chimes in and says that she ordered a sandwich half that size.
Ashlee then proceeds to cut the bread in half, precipitating an apology from the customer. And while it may have seemed like an innocent mistake, there were throngs of other foodservice industry workers who related hard, sharing their own stories of dealing with customers who don't understand the ordering process of the particular businesses that they frequent.
Article continues below advertisement
Some found it puzzling that whoever was ordering from the Subway thought the franchise baked 12 and 6-inch loaves separately. Others also roasted/lambasted the woman for not knowing that employees cut the bread at the sandwich shop.
Article continues below advertisement

However, there were a lot of other people who didn't appreciate the fact that Ashlee put the customer on blast, especially because the person ordering the sandwich apologized profusely.
Article continues below advertisement

There were others who argued that this usually isn't the case, however, and that most customers aren't as apologetic. But It also seemed like there were throngs of commenters who were shocked at just how much reach the TikTok video received.
Article continues below advertisement

As of this time of writing, Ashlee's video has amassed a whopping 2.8 million views on the platform, and it seems like a lot of those watches/shares came from people who identified with Ashlee's experience.
Article continues below advertisement

"When people used to do that their 6in magically became a 5in," Kaitlyn Luce said.
Bean E Baby wrote, "This isn't realistic bc they never actually say sorry."
Article continues below advertisement

Then there was the question of sanitation: there were tons of folks who took issue with the fact that Ashlee wasn't wearing a hairnet and that her bracelet was touching the sandwich she was preparing.
However, Ashlee pointed out in a follow-up video that she wasn't "actually" making a customer's sandwich while recording her video, but reenacting it.
Article continues below advertisement

So the only thing she was guilty of was cutting some bread, probably a sandwich that she was making for herself.
What do you think? Is it all right to blast customers who ask questions about the way their food is being prepared at the moment? Or should they wait until the meal is finished before they "pipe up?"