Woman Catches Someone Stealing Gas She Pre-paid For — Sparks Tiktok Debate
This TikTok user is alleging that this man stole the gas at the pump she had prepaid for, and she got the whole thing on camera.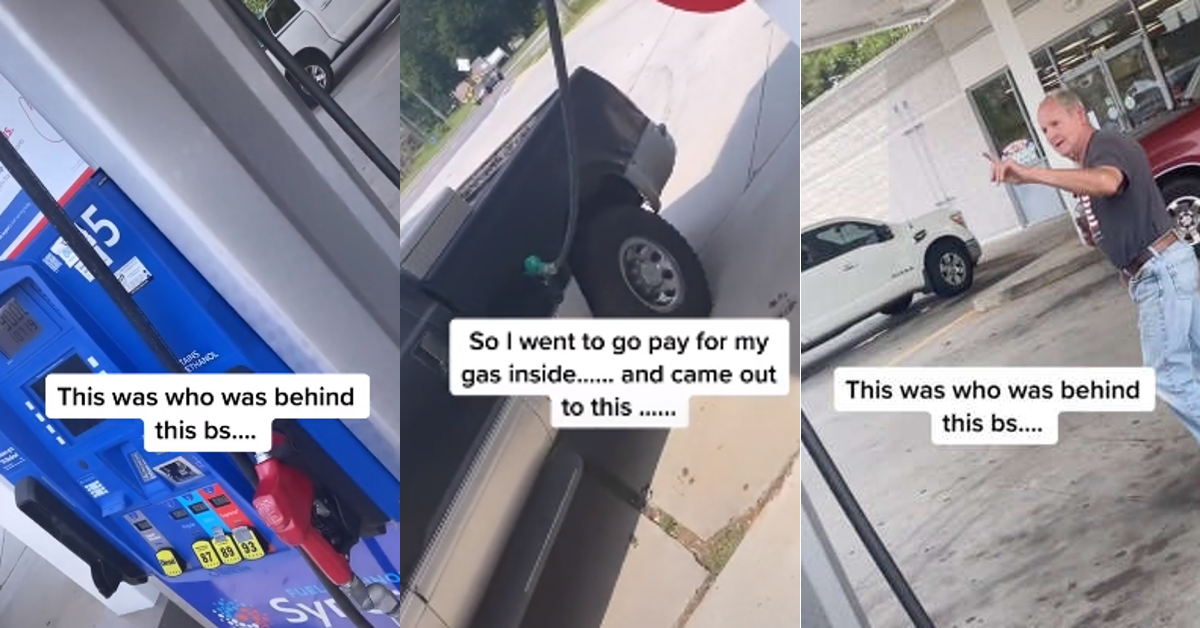 It's a fear that many of us have had at the pump, even if there aren't any other cars around at the gas station: that while we leave our car to fill up as we head inside the convenience store at the gas station, someone will swoop in and steal our gas. So after you swipe your card, you sit and wait until your tank is full and then you double, quadruple, triple check the machine to make sure the transaction's ended before heading inside to buy a bunch of stuff you probably shouldn't be putting in your body in the first place.
Article continues below advertisement
It's usually even worse when we have to head inside the convenience store to prepay for our gas - what if after we initiate payment on the pump we go outside and see someone nabbing the sweet, sweet petrol that we just paid for?
Sure, it's easy to file that under an irrational fear, however, this one TikTok user's experience at a gas station might make the most paranoid of us perk our ears up and saying, "I knew it!"
TikTok user Nela Bee (@nelabee894) posted a clip where she confronts an elderly pick-up truck driving man for allegedly stealing $30 worth of gasoline that she had already prepaid for. "So I went to go pay for my gas inside…… and came out to this….." the caption text reads in her video.
Article continues below advertisement
After Nela came outside upon paying for her gas, she saw that the man had already put 10.7 gallons into his own vehicle. The footage does seem to suggest that the man was pumping gas that belonged to him (as she accused him of), but it seems like there are some users on the social media platform who aren't exactly buying Nela's story.
Article continues below advertisement


Article continues below advertisement
Some commented that Nela deserved to have her gas taken, "That's what happens when you block a diesel pump." Another wrote, "Well… u shouldn't take the diesel spots if there r other spots? Lol."
Here's the thing though: in the clip, it seems that Nela parked at a pump that offered both Diesel and Unleaded fuel. You know, like most gas stations that weren't constructed around the time of the original moon landing. Then there's the fact that he's parked right behind her at a weird angle.
Article continues below advertisement

Other commenters said that even if she did block a diesel pump (which doesn't seem like it's the case) it's a bit nuts for anyone to discount the fact that Nela had her gas stolen from her, whether it was intentional or not:
"Even if that was the only dual pump, y'all can wait your turn???. LMAO. Y'all are crazy if you're defending the truck."
Article continues below advertisement
"How do half these comments not understand he stole the money you added to the pump inside?"
However, the story took another turn, when one eagle-eyed commenter said that the numbers on the fuel pump weren't changing, which suggests that the man wasn't stealing gasoline like Nela says.

lip-syncSo, did Nela stage the entire thing with an older dude who drives a pickup truck? Did she just record lie about the gas she paid for getting stolen in the first place and then used some random video footage to construct a story?
Or is the video completely legitimate and we can see he rolled straight up behind Nela's car to steal his gas? Who knows, but at least she didn't post a god-awful TikTok dance or lip sync video.