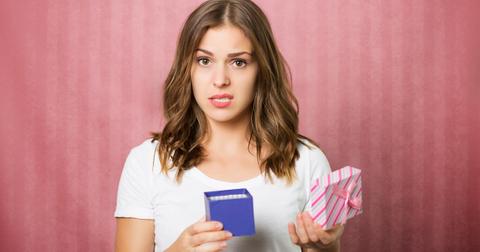 People Share the Worst and Weirdest Birthday Presents They Ever Received
By Amber Garrett
When it comes to gift-giving, they say it's the thought that counts. But sometimes a present is so weird and out-of-left-field, you're left wondering what exactly they could have been thinking. No really, what thought could possibly lead one to wrap a Bible and a jar of pickles and call it a solid birthday gift?
Sure, sometimes a seemingly random gift is actually a callback to an inside joke, but if that's the case with the 15 baffling birthday presents below, the recipients weren't in on the gag.
1. Maybe it's time for grandma to write a follow-up book...
MoreUtopia's most random gift ever game courtesy of their grandma, who bestowed "a free PDF of her book on understanding your changing body for girls." The self-help guide teaches you "how to sync you period up with 'grandmother moon'" and offers "natural alternatives to tampons."
While this gift is a touch on the "woo" side and a bit self-serving, since Grandma authored the book, it doesn't seem that weird to me — though growing up in California may have skewed my gauge. However, this poster points out, "I've already gone through puberty and I'm a guy." Well, if you ever have kids and one of them is a girl, you'll be all set!
2. This is where all your missing socks went.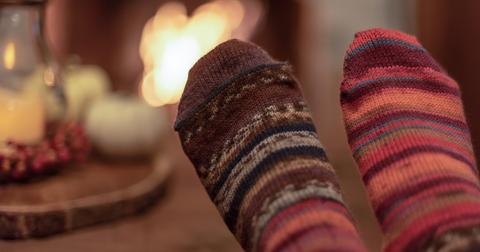 Socks are a controversial gift; who love practical gifts often say they're the best, but a lot of people find them to be impersonal and boring. However, sock lovers and haters alike can agree it would be pretty weird to receive a pack of 20 socks with no matches, as it sounds like ItsMeLyz did one year. I'm so curious about whether this was a factory packaged bag of mix-and-match socks or if someone just grabbed all the orphaned socks from their laundry pile and wrapped them up.
Regardless, it sounds like the recipient appreciated them enough. "I still wear them," they said.
3. A random gift from a random guest.
It would make sense that someone you didn't actually invite to your birthday would also end up giving you an unexpected and unwanted gift. One reddit user recalled the uninvited guest at their twelfth birthday party. Their mom's friend brought her son, who "gave me his geography report on Greece from school" as a present.
When asked if the report was at least informative, they replied, "Doubtful. I was in school with the kid for a while and he always slacked" and earned "Cs and even Ds."
4. Want some ABC gum?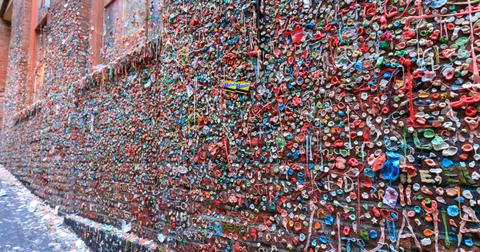 Everyone has received a gift that was clearly used before, but used bubble gum definitely takes the cake. MadisonAdriana says, "I got an open bag of gum balls from my uncle and aunty once. Strangest part was that someone had chewed a few of the gum balls, rolled the chewed gum into a ball, and placed it back in the bag." Gross.
And this isn't the only time these relatives have brought new meaning to "looking a gift horse in the mouth." Another year, they presented, "A wrapped box of used toothbrushes." USED. Toothbrushes. Somebody call Hoarders.
5. The most awkward regift...
...is the regift of a gift you gave. A user by the name of chilli-bitch says, "a friend of mine gifted the book that I gifted them on their birthday the previous year" for their tenth birthday. "I didn't mind but now that I remembered I'm furious. The audacity."
The only correct move in this situation is to trade the regift back and forth throughout the years. My best friend's aunts did this with a giant powder puff. They would come up with increasingly elaborate tricks to fool each other into receiving the white elephant gift on her special day. I think the gag ended when one baked the puff into a cake.
6. Time to check Nana into memory care?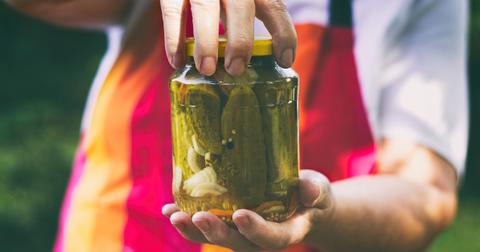 A user by the name of whoisdankly says, "Grandmother gave me a bible and a massive jar of pickles one year." I have to many questions, the first of which is whether anyone is making sure this nana is getting checked for dementia, because this sounds like a good indicator that it's time. My follow up question is whether these were kosher dills or sweet pickles, because if it's the latter, I'd definitely want a gift receipt.
As one bible scholar in the comments remarked, there are a couple references to cucumbers in the Old Testament: once in the Book of Numbers, and again in Isaiah. (There is a third reference in Jeremiah.)
7. That's super meta.
One user says they received "wrapping paper wrapped in wrapping paper." I wonder if the wrapping paper was the same kind as that which was wrapped. Also worth noting is that this super meta gift was given to someone with the appropriately self-referential username ImOwningThisUsername.
8. Weird present? Try BEST present.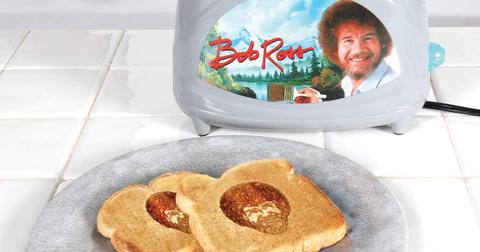 ObiWanKaStoneMe says the weirdest gift they ever got was "a toaster that toasts Bob Ross's face onto the bread," which frankly sounds like an awesome present to me as a big fan of the "happy little trees" painter. However, the gift came eight months late from a distant relative they'd never met or even heard of before, and I can admit it would be pretty random to receive a gift like that out of the blue.
9. This grandma has a gift for giving weird gifts.
CaptainWisconsin's grandma is the queen or weird presents. When they turned 12, she gave "one half of a pool cue (she'd unscrewed it and given me one portion.)" Then, a month later, their younger brother received the other half. "We did not own a pool table," they were sure to mention.
The stories don't end there. Grandma, a former hairdresser, also once gave "a plastic freezer bag absolutely filled with used combs and partially used hair styling products that she'd saved from her salon over the years."
10. I'm gonna get medieval on your gift.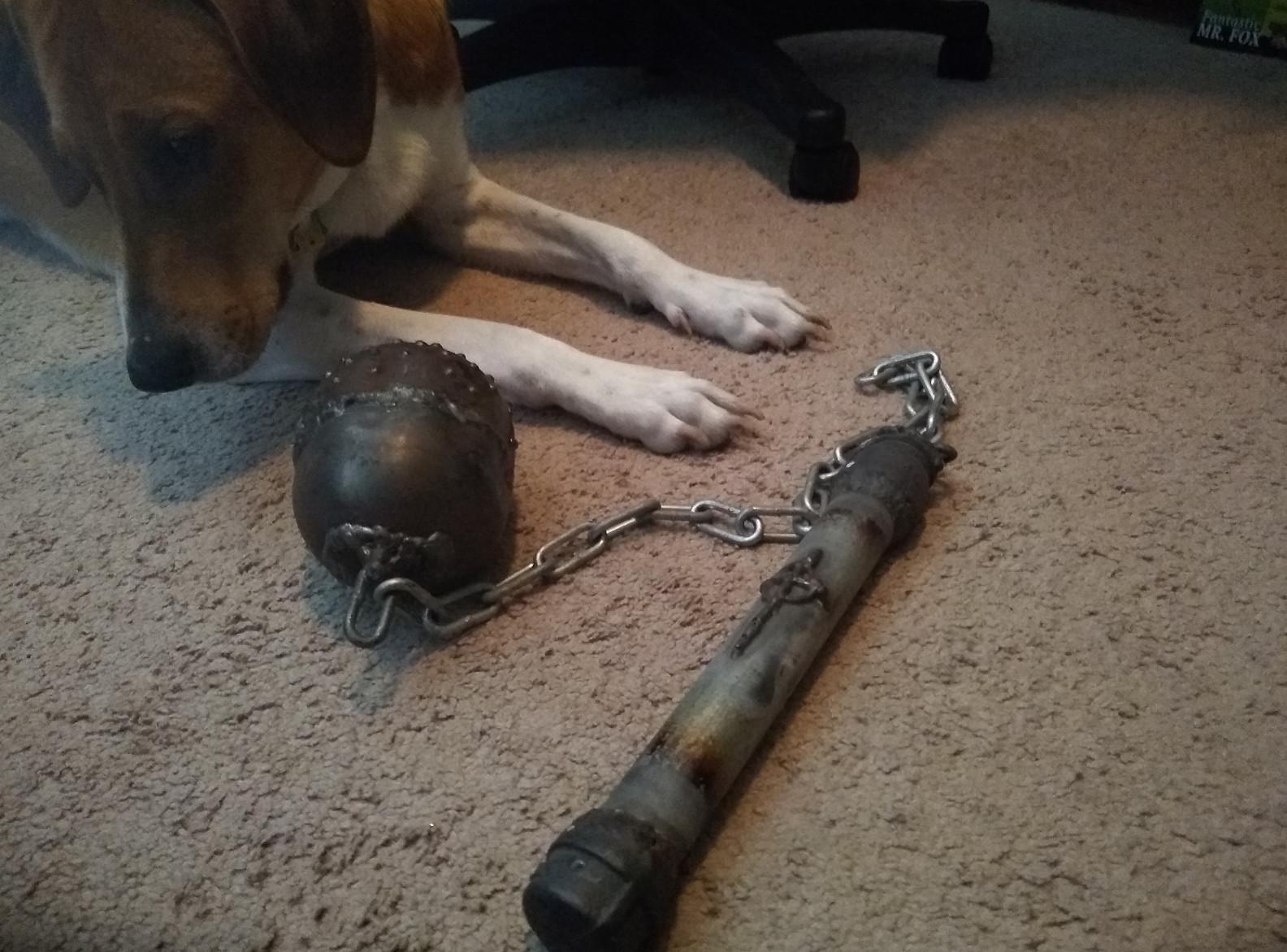 A person by the name of glassjester once received a mace made by their brother. As in the medieval weapon. However, the recipient was living in a convent at the time and "the mailman accidentally delivered to the rectory where the priest lived." The menacing nature of the gift itself, coupled with the "good-natured, but profane, note included," concerned the priest. He "thought it was some kind of threat, and called the cops." Whoops!
And that is an actual picture of this little metal shop project above, so I have to say I don't blame the priest for thinking it was a threat!
11. With friends like these...
Poor MoodProsessor had the misfortune of having friends who shared the same inappropriate sense of humor. One year, "3 friends game me identical rectangular presents and smiled while handing them over." Turns out, each contained a doll "with the skirt pulled down, filled with condoms." The recipient was 13 years old at the time and opened these gifts in front of their family. Time to get new friends!
12. Is this supposed to be a hint?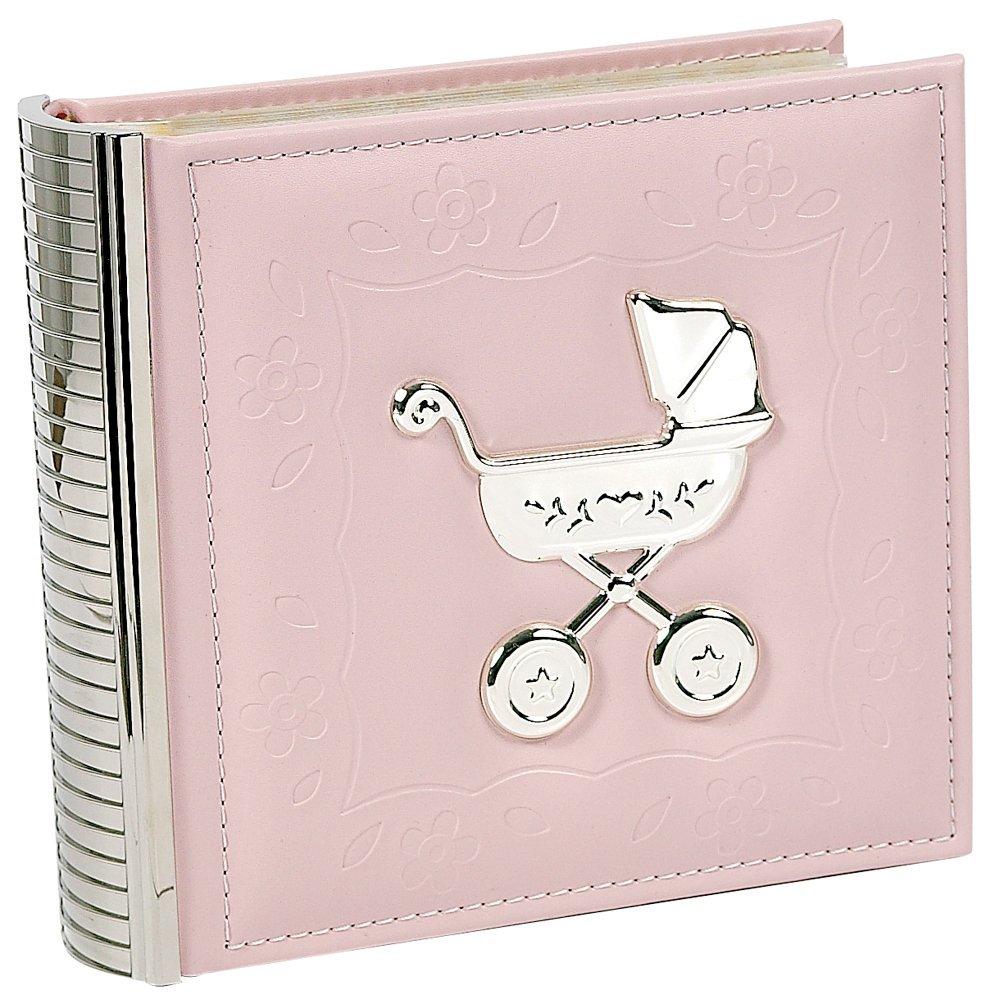 A user with "no kids and no intention of having them" once received a photo album "with a silver effect embossed cover with the word 'baby' and a pram" on it. While this sounds like the sort of gift someone might get from a rather passive aggressive mom, mother-in-law, or grandparent, the giver in this situation was actually a coworker.
"I don't think she had strong feelings about it either way," says mallocuproo, which leads me to believe either the colleague mistakenly thought the recipient had kids or the giver got their wires crossed somewhere and thought they were celebrating a baby shower rather than just a regular birthday.
13. Way to fulfill the "creepy uncle" stereotype.
TheSuperGerbil says "For my Bar Mitzvah my uncle gave me a pack of condoms." While this is the traditional Jewish "coming of age" birthday for boys, please note that boys are usually bar mitzvahed at the age of 13 so... not the most appropriate of gifts, Uncle SuperGerbil, especially not at "the big party in front of family and friends."
14. At least the point was to give a weird gift...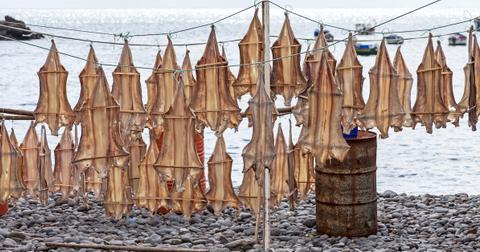 Apparently in Norway, it's traditional to give single women weird gifts on their 30th birthday. I'm trying not to read too much into this custom, but it sounds a bit like "hey let's make fun of the spinster!" Anyway, Siiw happened to throw a housewarming party on her 30th birthday and received, "a dried cod and a large hammer" in fulfillment of this strange Norwegian custom.
15. So glad I could help you renovate the house, mom and dad.
Poor kylie328 might take the cake when it comes to disappointing birthday presents, because their parents "had a babit of wanting to upgrade parts of the house so they would use my birthday as an excuse to get things for the house." For example, for their 13th birthday, Kylie received a ceiling fan they never asked for. The next year, they got "a surround sound system for the downstairs." You might think, "well, that's lame now, but when you get older..." but no. Even though this was ostensibly their birthday gift, they weren't allowed to take it when they got a place of their own — same with the ceiling fan.