Harry Styles May or May Not Be Tweeting From His Made up "Eroda" Town Account — and It's Delightful
Eroda is back at it again. If you're wondering why the Eroda Twitter account is tweeting again, here's a little backstory on where Eroda is and what Eroda is all about.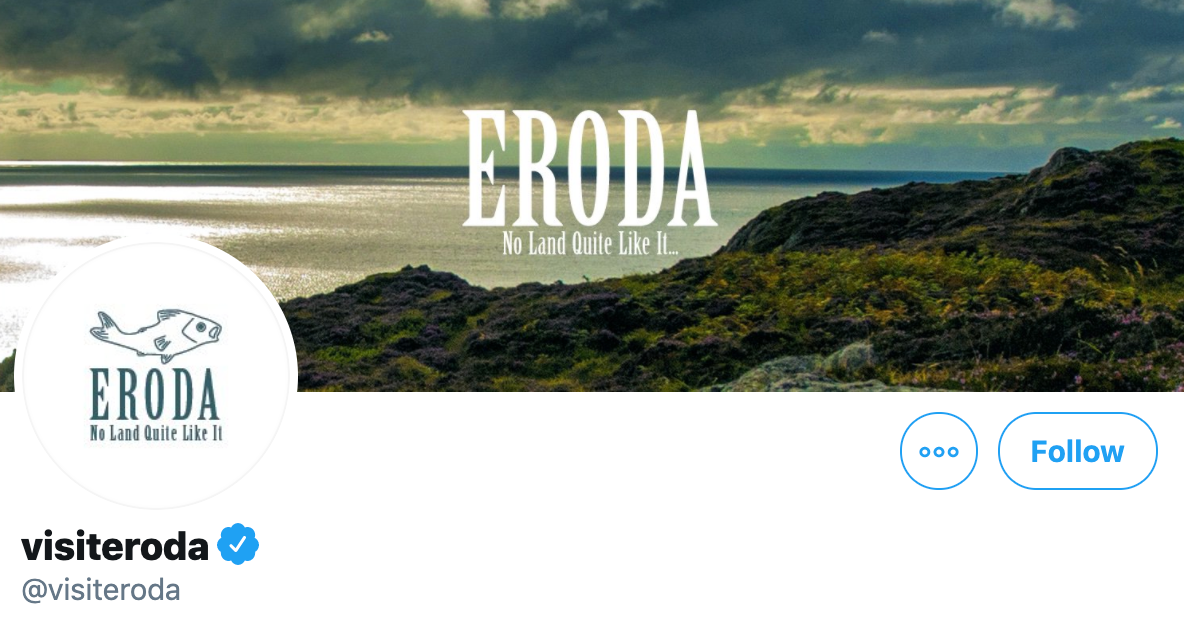 If you're wondering why everyone is wondering about "Eroda" and where it is, you should probably know that it's actually not a real place.
On August 3, the Twitter account @visiteroda started tweeting up a storm, starting with, "Don't mention a pig in the pub, turn your speakers up loud, and celebrate this fine national holiday with us! #NationalWatermelonDay." (We checked, and, yes, August 3 was Watermelon Day.)
Eroda is less of a place and more of a mindset...which you can thank Harry Styles for.
Article continues below advertisement
The entire day has been a flurry of promoting tweets and images, urging people to come visit Eroda. It even has its own website, visiteroda.com which claims there's "No Land Quite Like It." You can check out the "accommodations" where hotels like the "Yuna Inn" and simply "Hotel" are listed (with no actual links or pricing information). As for attractions, Eroda has a lighthouse, deep sea diving school, a brewery, fish market, hiking trails, and more.
Article continues below advertisement
When you click on the "About" page, here's the description:
"The Isle of Eroda's rich history is embedded in daily life as the ruins of many structures from the past remain standing across the land.
The natural beauty of Eroda is both unmistakable and unforgettable. It features stunning cliffs that drop directly into the sea. Inland, rolling grassy hills make up the majority of the terrain.
Eroda is known for its quaint villages, lively pubs, and bustling fish markets. The Isle has four villages; Garona being the largest and primary port as well as the island's capital. Marmoton, Martin's Heaven, and Yuna are the other major population centers."
So, where is Eroda?
Eroda is a made up little town we'd all probably love to go to right now. Turns out, Eroda is actually a marketing campaign for Harry Styles' new album, "Watermelon Sugar," which came out November 2019. It's unclear what sparked the social media team (or person) behind Eroda to start tweeting again. Is Harry Styles releasing a new single soon? Does the Eroda team just want to remind everyone how quickly it takes to get "Watermelon Sugar" stuck in your head? Is Harry Styles behind this? Did Harry Styles come up with Eroda?
Article continues below advertisement
If you watched the trailer for "Adore You," which premiered December 2019, then you probably recognize Eroda. The trailer plays out like a fairytale about a boy (played by Harry) who's differently from everyone else in his little fishing village (called Eroda). Unlike all the townspeople, who are gloomy and perpetually frown, he has a vibrant smile that literally blinds people and sets things on fire. When the boy grows up, he decides to take his own life because he's so lonely, but then comes across a special fish who is ostracized by his own school for shining too brightly.
Article continues below advertisement
The video for "Adore You" finally came out a month later, in January. It was about the same guy and his friendship with the special fish, who grew larger and larger and until Harry realized he couldn't keep him forever. It takes place in Eroda, which is famous for its fish (don't worry, nobody eats Harry's fishy friend).
Article continues below advertisement
Who knows, maybe Harry got really bored during quarantine and decided to answer a bunch of tweets from the Eroda account.
Article continues below advertisement
Article continues below advertisement