Tayshia Adams and Kaitlyn Bristowe Are Set to Co-Host 'The Bachelorette'
Since Chris Harrison stepped back, Emmanuel Acho will host 'After the Final Rose' — and Tayshia and Kaitlyn will co-host 'The Bachelorette.'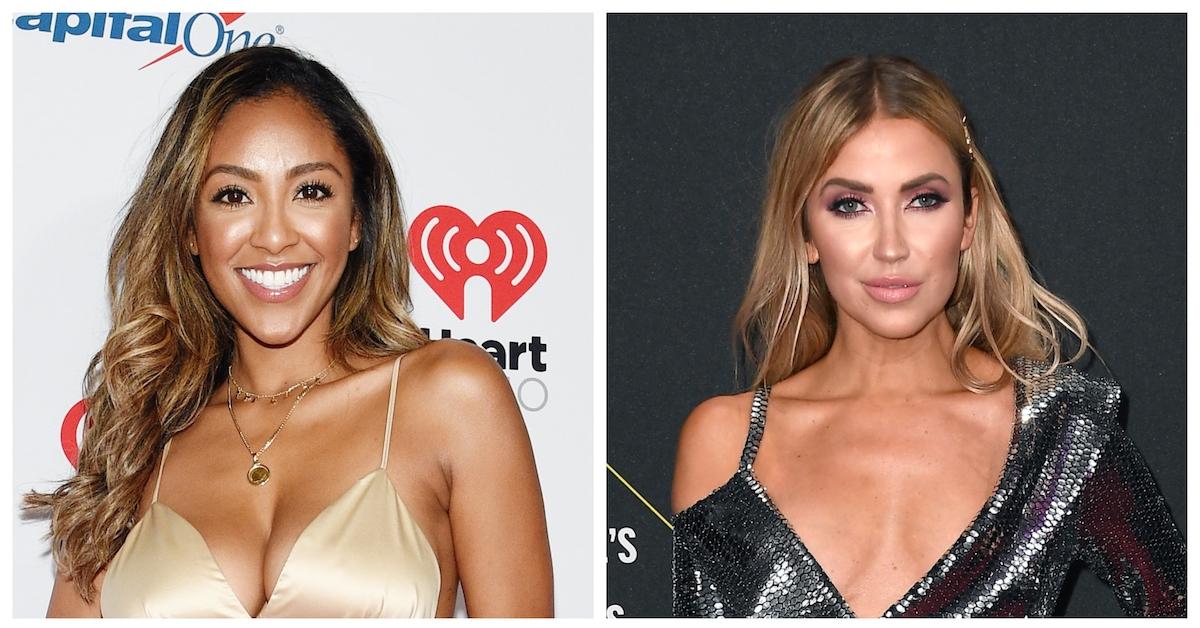 On Feb. 9, 2021, longtime Bachelor host Chris Harrison participated in an Extra interview with former contestant and Bachelorette lead Rachel Lindsay. In it, they discussed Season 25 contestant Rachael Kirkconnell's reported history with racism and the photo that surfaced of her attending a southern antebellum-themed sorority party from when she was in college a few years before competing on The Bachelor.
Article continues below advertisement
After the interview came out, Harrison faced tons of backlash from fans who accused him of defending Kirkconnell's actions and failing to listen to Lindsay as she explained how problematic the party itself was. He was also accused of not properly addressing the other allegations against Kirkconnell, which included bullying of former classmates for dating Black men and liking images of the confederate flag on social media.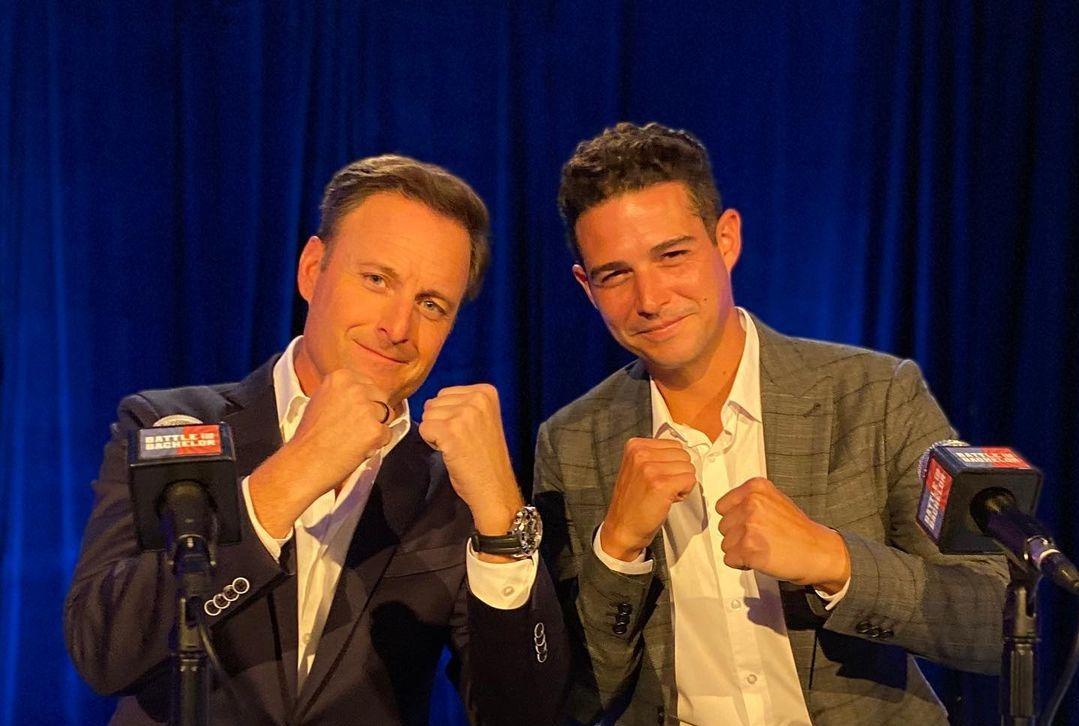 Article continues below advertisement
The interview between Lindsay and Harrison sparked controversy and discussion among fans and other Bachelor Nation stars. Now, Harrison has decided to take a step back from the franchise to reflect on his choice of words and his actions during the interview. But if that's the case, many are wondering how long he will be away from The Bachelor and what it means for his future on the show, with which he has become synonymous.
Who will replace Chris Harrison on 'The Bachelor'?
Following the release of the interview and the subsequent backlash, Harrison shared a statement on Instagram in which he announced he would be "stepping aside" from Season 25 of The Bachelor, on which he currently serves as host. Because much of the season was already recorded, however, it means Harrison won't be part of the After the Final Rose special, which typically airs live or is filmed toward the end of the season.
Article continues below advertisement
"I am dedicated to getting educated on a more profound and productive level than ever before," Harrison wrote in his statement. "By excusing historical racism, I defended it. I invoked the term 'woke police,' which is unacceptable. I am ashamed over how uninformed I was. I was so wrong."
While Harrison is stepping aside from After the Final Rose, there hasn't been a word yet on whether he will be replaced as the franchise host.
Article continues below advertisement
Tayshia Adams & Kaitlyn Bristowe will co-host 'The Bachelorette.'
On March 12, Warner Horizon and ABC Entertainment announced in a joint statement that former Bachelorettes, Tayshia Adams and Kaitlyn Bristowe, would be taking Chris' place.
"Chris Harrison will not be hosting the next season of The Bachelorette," the statement read, according to People. "We support Chris in the work that he is committed to doing. In his absence, former Bachelorettes Tayshia Adams and Kaitlyn Bristowe will support the new Bachelorette through next season."
The statement continued, "As we continue the dialogue around achieving greater equity and inclusion within The Bachelor franchise, we are dedicated to improving the BIPOC representation of our crew, including among the executive producer ranks. These are important steps in effecting fundamental change so that our franchise is a celebration of love that is reflective of our world."
Article continues below advertisement
Emmanuel Acho will host 'After the Final Rose.'
Former NFL player Emmanuel Acho was tapped to step in for Harrison on the After the Final Rose special, which is kind of a big deal. He shared on Instagram that he's excited to host the episode, which is as important as ever after such a monumental Bachelor season.
"It's been a pivotal season, and this episode will hopefully be one of the most storied shows in TV history," Acho wrote. "Empathy is needed and change is coming."
Article continues below advertisement
This isn't Acho's first connection to the franchise, though. In January 2021, he spoke with former Bachelorette contestants Mike Johnson and Bryan Abasolo on their podcast, Talking It Out, and revealed that he had been asked to be on The Bachelor more than once, but didn't think he could handle the pressure.
Apparently, taking over as the After the Final Rose host is a happy medium for him.
Article continues below advertisement
Rachel Lindsay may be done with 'The Bachelor' franchise altogether.
After her Extra interview with Harrison, Lindsay took to her podcast, Higher Learning with Van Lathan and Rachel Lindsay, to weigh in on how she felt.
"I'm f--king tired. I'm exhausted," she shared in the Feb. 12, 2021 episode. "I have truly had enough."
She explained that she had originally agreed to go on The Bachelorette so she could represent the Black audience and help usher in a new, more inclusive era in the franchise.
Lindsay added that she has a "love-hate relationship" with The Bachelor and that she feels her time is coming up to cut ties.
"How much more do I want to be affiliated with this? How much more can I take of things like this?" she said. "I said I was gonna leave if they didn't have leads of color. OK, they did that, and they made some other changes. They hired a diversity consultant — who didn't attend the class? Did Chris Harrison not sit through that?"
Article continues below advertisement
During his interview with Lindsay, Harrison had been adamant that Kirkconnell be treated less harshly than the reaction the public had doled out, amid the rumors of racism in her past. And in doing so, Harrison failed to give Lindsay a chance to speak about how she, as the first Black Bachelorette, felt regarding Kirkconnell's actions.
Depending on how things progress from here, Lindsay could be finished with Bachelor appearances completely. She appears to be totally fed up with the lack of true change that she had expected since she led her own Bachelorette season in 2017.
Since then, the series has improved in terms of inclusivity, but it still has miles to go.