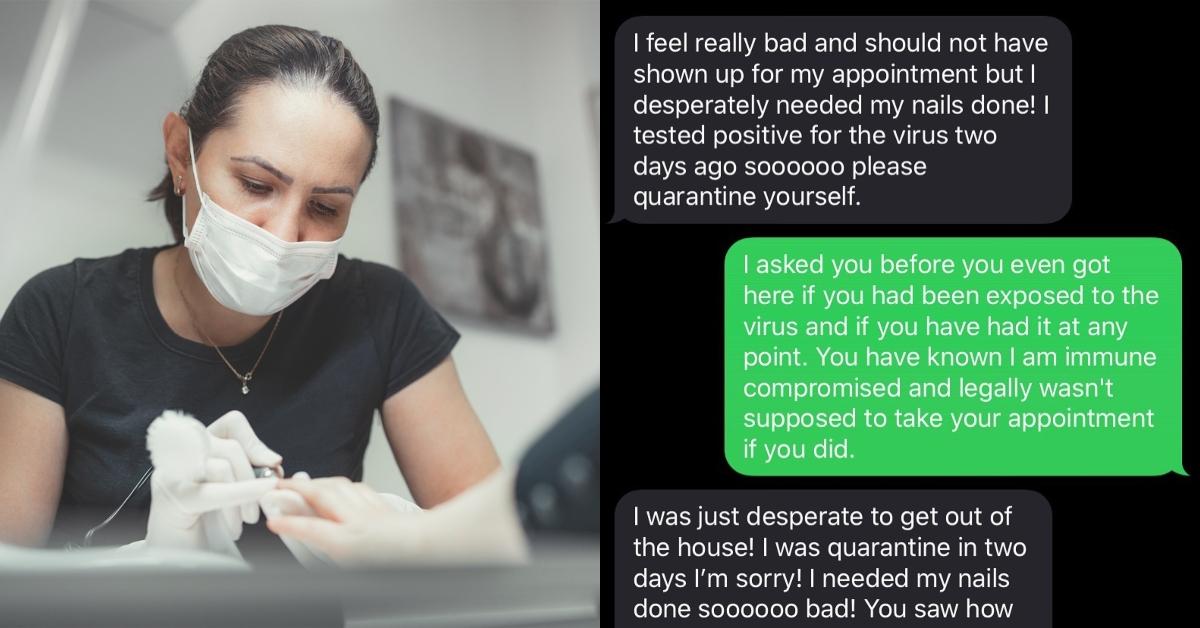 Woman Tests Positive for COVID-19 Then Gets Manicure 2 Days Later Because She's 'Desperate'
The entire globe has been suffering a highly dangerous, extremely contagious pandemic since the beginning of 2020. If you don't know by now that if you test positive, you have to quarantine immediately and completely until you test negative, you are not paying attention.
Article continues below advertisement
The reason we have been in lockdown and schools have been closed and millions of people have lost their jobs is precisely because COVID-19 spreads so easily. But one woman didn't seem to think that it would be a problem that she tested positive for the virus two days before going to get a manicure.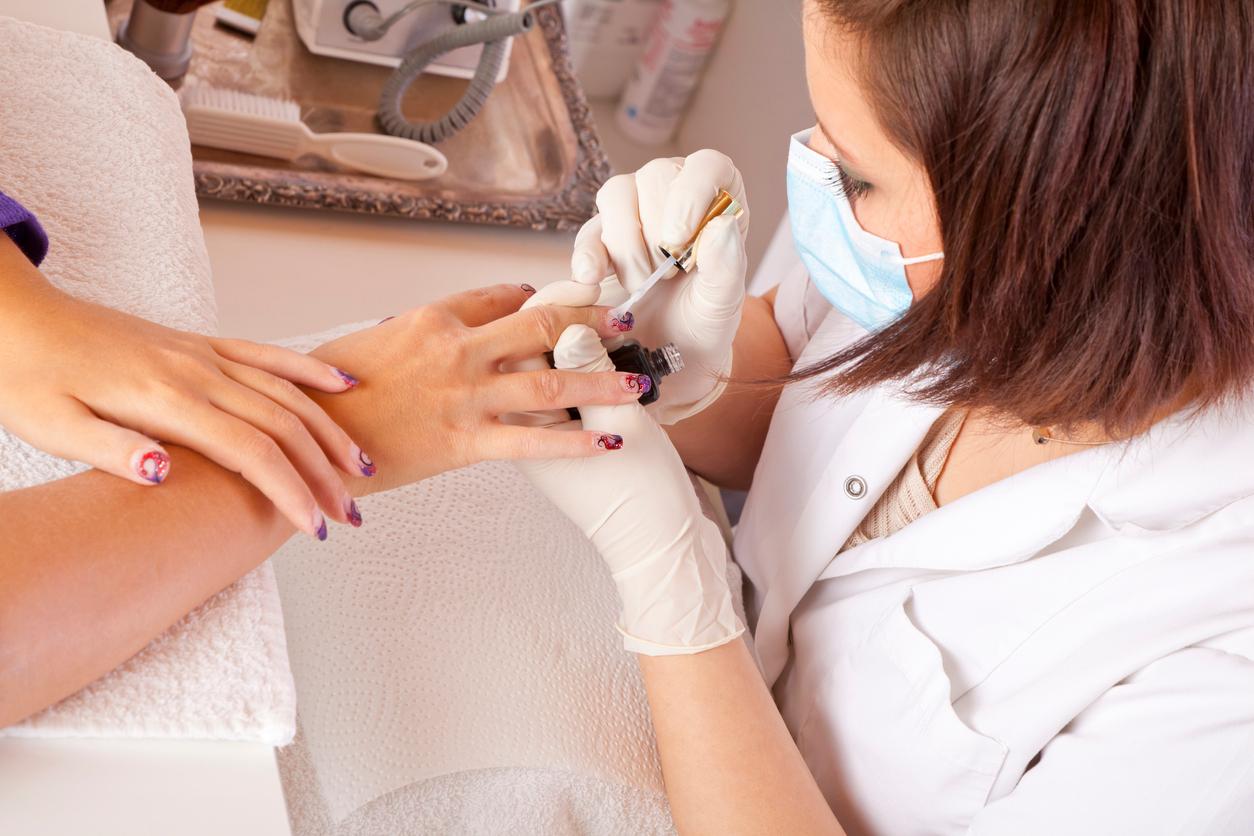 Article continues below advertisement
A nail technician in Washington state named Taylor recently posted a text exchange she had with a client after the appointment already took place. The client wrote, "I feel really bad and should not have shown up for my appointment but I desperately needed my nails done! I tested positive for the virus two days ago soooooo please quarantine yourself."
The absolute nerve. Taylor responded that the client knew she is immunocompromised and that she'd even asked her if she had been exposed to the virus or "had it at any point." Her client clearly lied to her and had no regard for her safety. All so she could get her nails done.
Article continues below advertisement
Her client continued on that she was "desperate" and needed to "get out of the house" after being quarantined for two days. Lady, some of us have been quarantining for five months with no end in sight because of people like you.
Article continues below advertisement
Not to mention, she literally risked Taylor's life for a manicure. Absolutely unacceptable. Taylor told Allure that both she and the client were wearing masks during the appointment, which is good but in no way an excuse for a COVID-positive person to go out into the world and not social distance.
Taylor has since gotten tested herself and is feeling OK, but she's still upset about what happened, and for good reason. "It was very distressing to receive those messages," she said. "It is alarming to think there are people who don't take other people's safety seriously."
Article continues below advertisement
Taylor said that since she posted about the incident, she's heard from other people in the beauty service industry who've experienced similar things. This not only points to a complete lack of understanding about how this virus works, but it also indicates just how willing some people are to sacrifice the lives of largely underpaid workers in service industries for the sake of their own convenience.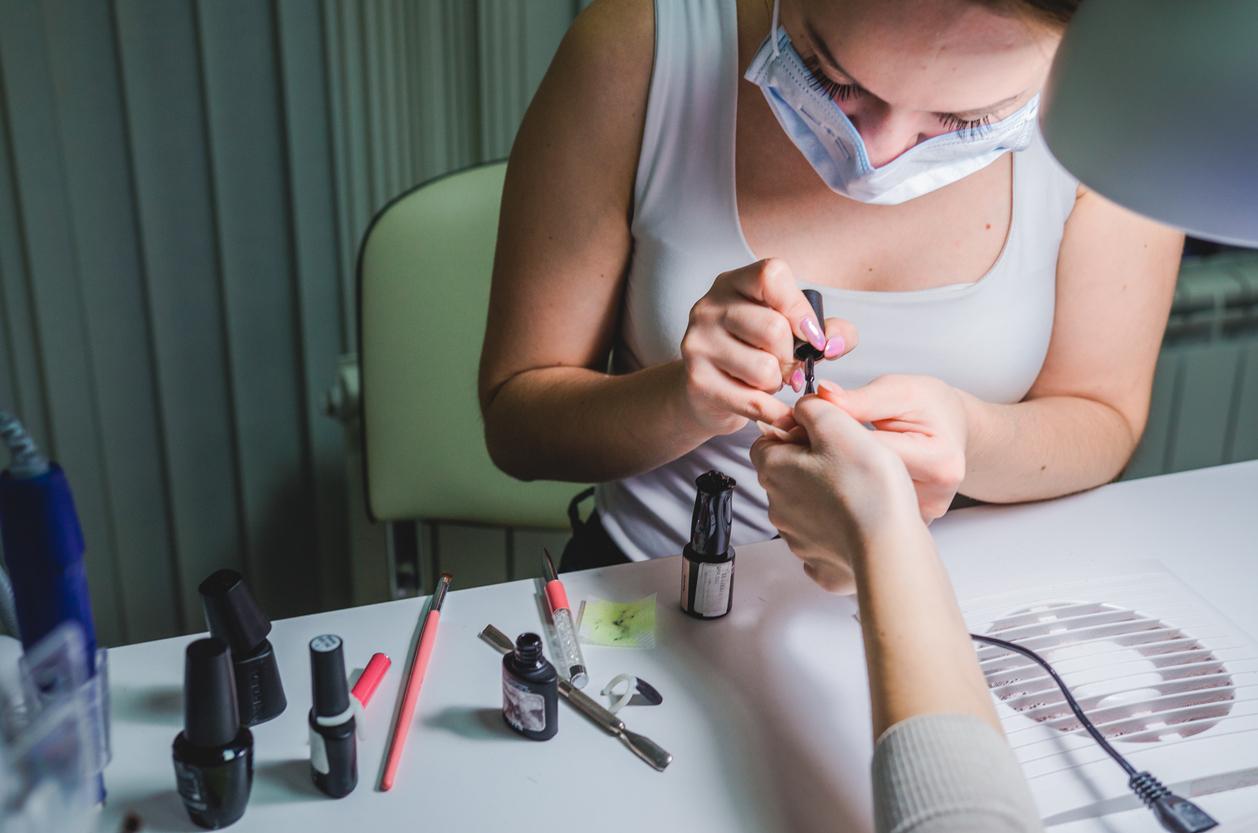 Article continues below advertisement
No matter how "desperate" that woman was for a manicure, she could have stayed home and not gotten it. Taylor says she has reported her client to the "proper authorities" and will leave it to them to handle the situation.
In Washington state, for services like nail salons, guidelines state that clients "must self-screen for signs and symptoms of COVID-19 before arriving at the service provider location." This clearly doesn't mean that if you get screened and you have it, you can just go around in public, business as usual.
Article continues below advertisement
Because of her client's disgusting behavior, Taylor can't work until she quarantines for two weeks. Her client risked her life but also her job! It's unconscionable.
Luckily, Taylor is more responsible and concerned for others than her client is. "I am hoping after my two-week quarantine that I will be able to take clients back on," she said. "My first concern is the safety of my clients, family members, and friends — first and foremost."