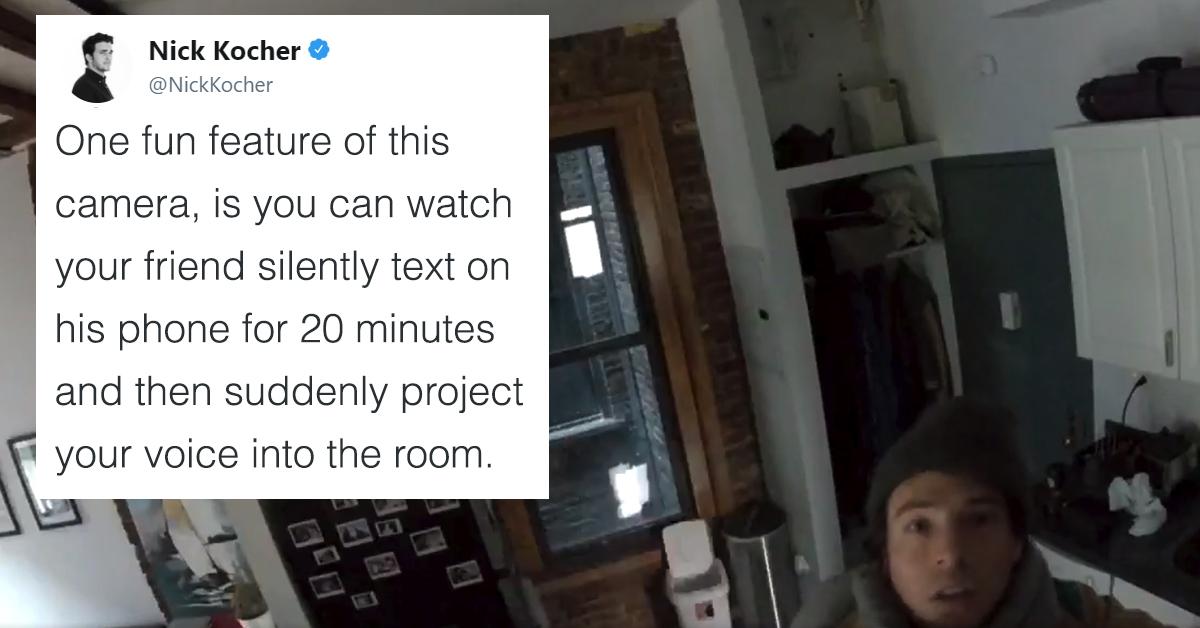 Man Gets His Coat Stolen, And It Eventually Leads To A Fart-Filled Prank War
By Mark Pygas
A month ago, Twitter user Nick Kocher, a writer for Saturday Night Live from New York, lost his coat. That coat just happened to have an envelope addressed to his apartment along with his keys in the pockets. Rather do the sensible thing and change the locks, he installed a Nest security camera so that whoever had the coat wouldn't be able to "murder [his] face off." As he noted, weeks went by and he managed to avoid any break-ins and he didn't get murdered. Overall, it seemed like an overwhelming success. We were all reveling in his victory.
Fast forward a few weeks and Kocher has to leave town, and he lets his friend, Jon Bass, crash at his space. The interesting thing about a Nest security camera is that it texts you a video every time someone enters views.
So as any good friend would do, Kocher decided to spy on Bass.
And then Kocher discovered that he can project his voice through the Nest. It goes without saying that he decided to have some fun... As he explained, he preferred to let his friend sit and enjoy the absolute silence before blarring his voice throughout the house, effectively scaring the s--t out of his pal. You know, like friends are known to do to one another. They had fun with that for a bit until Kocher made an amazing discovery: His friend was under the impression that he was only being recorded when the light was lit up. But he was so very, very wrong. And, of course, Kocher had to have some fun with that.
Well that turned out OK in the end. Who doesn't love a happy ending?!