Meryl Was as Surprised as We Were to Learn Her Ice Cream Scene Got Cut
What happened to the 'Big Little Lies' scene where Reese Witherspoon throws an ice cream cone at Meryl Streep? Here's why it was cut from the show.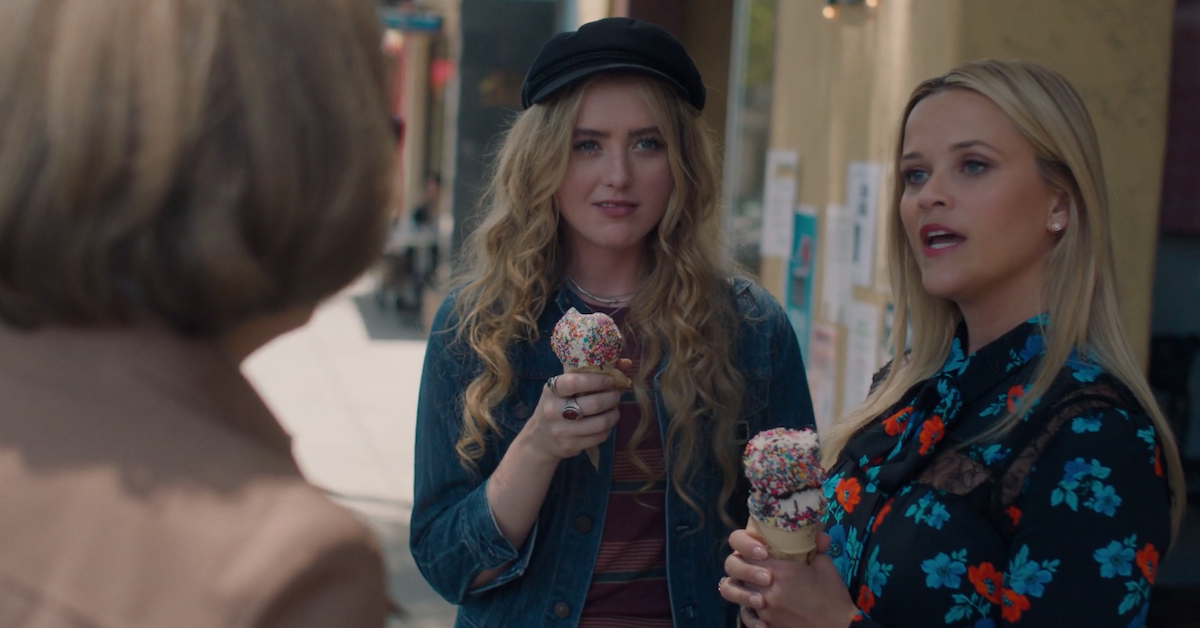 Article continues below advertisement
But pretty much ever since we learned the show was getting renewed, and that Meryl Streep was going to be added to the cast, there circulated a highly memed behind-the-scenes production shot that made all of America certain they'd be tuning into the Big Little Lies reprise.
Of course, we're talking about the unforgettable still of Reese Witherspoon's Madeline pelting an ice cream cone at Meryl Streep's Mary Louise, in a series of images so perfect we couldn't wait to see the scene unfold on screen. Except, when we all tuned into "Kill Me," the ice cream parlor scene between Reese and Meryl did not go as planned.
So why didn't we get to see the anticipated Big Little Lies ice cream scene? Keep reading to find out.
Article continues below advertisement
What happened to the Reese and Meryl ice cream showdown?
Back when we first saw the image of Madeline chucking her double scoop with cookie toppings about a year ago, we couldn't contain our excitement, and neither could anyone, really.
Article continues below advertisement
Even Reese herself gushed about the scene, calling it "one of the top moments of my entire career" in an interview with Good Morning America. "I might or might not have thrown an ice cream cone at Meryl Streep," she continued, "'cause she made me mad."
"And I hit her!" she bragged at the time. "Like, I nailed her! She turned around and she was like, 'Yeah, you got me.'" Even her co-star Adam Scott, who plays the once-loyal-now-potentially-sketchy Ed Mackenzie confirmed our high hopes for this scene.
Article continues below advertisement
"She did throw an ice cream cone at her," he said. "I think that if you're a human being you always up your game if you're around Meryl Streep." Reese admitted the whole process of working together "was intimidating, for sure." "I had to like, sometimes pull myself back and take a deep breath and go, 'OK, she's just a person, she's just a human being!"
Article continues below advertisement
Fans were outraged when the ice cream scene went down without any angry pelts.
As soon as Episode 5 began, we were all excited to see Madeline and Mary Louise having a confrontation over ice cream, because this, of course, implied the throwing scene was impending.
Article continues below advertisement
However, all we got to see was the two of them argue on the street alongside Madeline's daughter Abigail (Kathryn Newton) in a quite anti-climactic, yet tension-building scene. "Are you KIDDING me," one angered fan wrote on Twitter. "Did Big Little Lies fully film and then DELETE the iconic moment where Reese Witherspoon chucked an ice cream Cone at Meryl Streep? I .... don't know who to turn to. I don't know where to go."
Of course, this was made all the worse by the fact that Kathryn Newton herself dished about how long they were all standing around trying to get the perfect ice cream throw in. "I can tell you that it took Reese three times to get her," she said to InStyle, "but let me tell you, she really did get Meryl with that ice cream."
Article continues below advertisement
"The new ep of Big Little Lies was like what... 45 minutes?!" added another. "You can't tell me that there wasn't time to include Madeline throwing her ice cream at Mary Louise??? Come on, HBO!!! I need an explanation!" One fan reasoned that they might have "cut the ice cream throw to pay for the Game of Thrones dragons." Facepalm, indeed.
Article continues below advertisement
But perhaps the most shocking development of them all is that Meryl Streep, aka Mary Louise herself, was fully watching the episode waiting to see herself get whacked with a double scoop cone! "[Reese] just told me it's not in the show!" she told Entertainment Tonight. "It's going to be in the DVD extras."
Well, now we're going to have to purchase the box set even though — given the nature of HBO streaming — we had no intentions of doing it earlier. Sigh, they really know how to get you.
New episodes of Big Little Lies air Sundays at 9 p.m. on HBO.